Random sites
healthy snacks | browse our food
Valet, Clothes Valet Stand
My Cup of Tea | Modern tea specialist
The Royal Commonwealth Society
Home page | iLuv
United Kingdom Hotels | Cheap UK Hotel Deals | Hotwire UK
KDVENUEWIMTennis_Neutral
Grand Slam Tennis 2012: Tournament Schedule, Dates & Other Deets
Now for the US Open The tennis grand slam tournaments start in January in Australia and run through until September in the USA. Here are the tournament details for 2012.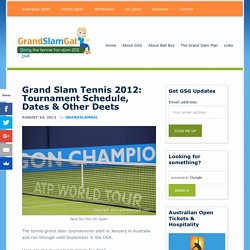 We Are Tea | Buy Award Winning Whole Leaf Tea Online
Two-Letter Word List
Discworld Monthly - The free newsletter about Terry Pratchett and his Discworld novels serving the Discworld community since 1997.
The Adventure Game (TV Series 1980
Host Patrick Dowling (series 2) The Argonds : Darong: Moira Stuart (series 1) The Rangdo of Arg ("Uncle"): Ian Messiter (series 1) Gnoard: Charmian Gradwell (series 1-3) Gandor the Butler: Christopher Leaver (series 1-4) Rongad (Dagnor): Bill Homewood (series 3-4) Dorgan: Sarah Lam (series 4)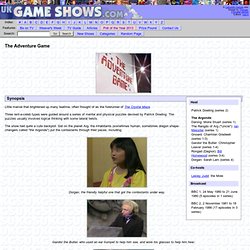 The Adventure Game - UKGameshows
Cult - Classic TV - The Adventure Game
The Adventure Game was a game show , aimed at children but with an adult following, which was originally broadcast on UK television channels BBC1 and BBC2 between 24 May 1980 and 18 February 1986.
The Adventure Game