EM Govt Sites
Center for Strategic Counterterrorism Communications. The Center for Strategic Counterterrorism Communications (CSCC) was established at the direction of the President and the Secretary of State to coordinate, orient, and inform government-wide foreign communications activities targeted against terrorism and violent extremism, particularly al-Qaida and its affiliates and adherents.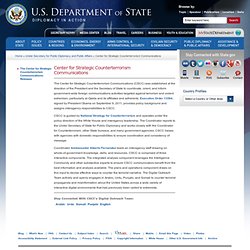 Executive Order 13584, signed by President Obama on September 9, 2011, provides policy background and assigns interagency responsibilities to CSCC. CSCC is guided by National Strategy for Counterterrorism and operates under the policy direction of the White House and interagency leadership. The Coordinator reports to the Under Secretary of State for Public Diplomacy and works closely with the Coordinator for Counterterrorism, other State bureaus, and many government agencies. CSCC liaises with agencies with domestic responsibilities to ensure coordination and consistency of message. Homeland Security & Public Safety Division. About The NGA Center for Best Practices Homeland Security & Public Safety Division provides information, research, policy analysis, technical assistance and resource development for governors and their staff about emerging policy trends across a range of homeland security and public safety issues.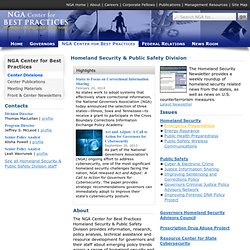 Current issues include cybersecurity, prescription drug abuse, public safety broadband, sentencing and corrections reform, homeland security grant reform, justice information-sharing, and public health preparedness. Diana General Assembly. Diana General Assembly. Senate Public Safety Subcommittee 2013 First Regular Session Members | Legislation Committee Members: Chair: Senator Jim Banks Vice Chair: Members: Crider, Paul, Arnold, Rogers Legislation Assigned to the Committee: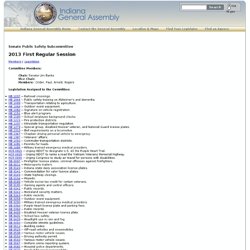 Defense Threat Reduction Agency. National Bio and Agro-Defense Facility. Threats to U.S.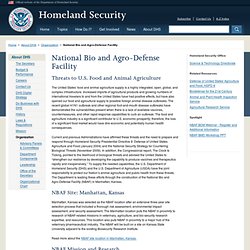 Food and Animal Agriculture The United States' food and animal agriculture supply is a highly integrated, open, global, and complex infrastructure. Increased imports of agricultural products and growing numbers of international travelers to and from the United States have had positive effects, but have also opened our food and agricultural supply to possible foreign animal disease outbreaks. The recent global H1N1 outbreak and other regional foot-and-mouth disease outbreaks have demonstrated the vulnerabilities present when there is a lack of available vaccines, countermeasures, and other rapid response capabilities to curb an outbreak. The food and agriculture industry is a significant contributor to U.S. economic prosperity; therefore, the loss of a significant food market would have dire economic and potentially human health consequences.
USDA - APHIS. CERT : Community Emergency Response Teams (CERT) Follow FEMA: Start of content.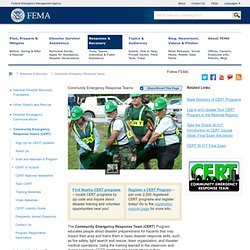 +Share/Email This Page Community Emergency Response Teams Main Content Find Nearby CERT programs -- locate CERT programs by zip code and inquire about disaster training and volunteer opportunities near you! Center for Internet Security. ISDH: ISDH Home. HSEEP Home. NOAA / NWS Space Weather Prediction Center. US Coast Guard. Department of Homeland Security | Preserving our Freedoms, Protecting America. FEMA. IDHS. Indy Homeland Security. Division of Homeland Security Gary Coons, Chief Division of Homeland Security The City of Indianapolis Department of Public Safety established strategic objectives around which "the entire public safety department can mobilize to secure the City of Indianapolis Metropolitan Area from the dangerous and evolving threat of terrorism, prepare and mitigate for natural disasters, develop intelligence competencies, and plan and secure special events."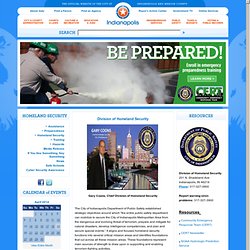 Senate.
---