Work
Uso del Docs por Teletech
Ayudas para conseguir empleo
TrabajoBasura.info - Directorio de empresas
- Cambios en la web10 del 06 de 2011. Tras recibir numerosas quejas refiriéndose al mal uso que hacían algunos usuarios comententando un gran número de empresas de la web, se ha procedido a implantar un sistema por el que los usuarios con un alto porcentaje de comentarios con respecto al total, aparecerán ocultos por defecto. - Ya es posible adjuntar documentos.01 del 12 de 2010. Los usuarios registrados ya pueden utilizar la nueva funcionalidad para adjuntar documentos que puedan apoyar a su comentario, como por ejemplo: enlaces a sencentias judiciales, noticias en periódicos, etc.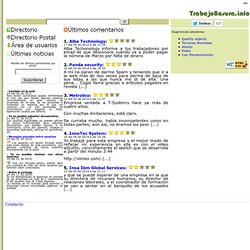 workplace - Intelligence on demand
The Internet platform www.clickworker.com distributes digital tasks to registered users - we call them "Clickworkers". Clickworkers are, in essence, freelancers or contractors, who are providing their services within the workplace on their own account. Similar to any other agency, freelancers are in a confidential relationship with clickworker.