Communication
8 online conference tools | Chinwag - the UK's leading comm
UltraVNC runs under Windows operating systems (95, 98, Me, NT4, 2000, XP, 2003, Vista, Windows 7...***). Its embedded Java Viewer allows you to connect (and make File transfers) from a simple Web Browser on any system supporting Java (Linux, Mac OS...) to an UltraVNC server. ** 95-NT4: only supported with the old 1.0.2** 2000 is still supported as special build (VS2008), VS 2010 compiler is not longer 2000 compatible. Compatibility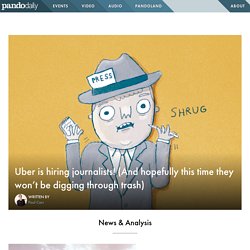 By Dan Raile about 8 hours ago NSA whistleblower Edward Snowden has appeared on Russian state television to ask President Vladimir Putin a "surprise" question as part of an annual live Q&A program titled "the Vladimir Putin Hotline." None of the words in the previous sentence is a joke. The English translation from Russia Today can be watched here. "I've seen little public discussion of Russia's...
Folder sharing is an indispensable part of our professional life. We share code, documents, tools and what not! The 'Sharing and Security' tab in the folder properties is where we do this.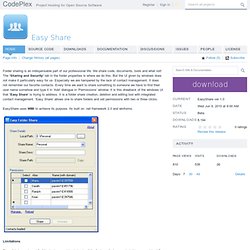 Easy Share
Linux distributions GNOME-based or Ubuntu version 1.3 - Oct 26, 2013 Mac OS X Snow Leopard or later version 1.2 - Oct 6, 2013 Windows Vista or later version 1.2 - Oct 6, 2013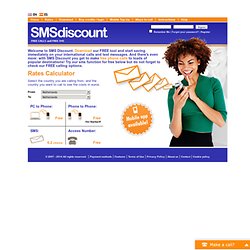 Free international phone calls
Welcome to SMS Discount. Download our FREE tool and start saving immediately on your international calls and text messages. And there's even more: with SMS Discount you get to make free phone calls to loads of popular destinations! Try our sms function for free below but do not forget to check our FREE calling options. Rates Calculator Select the country you are calling from, and the country you want to call to see the costs in euros.
Atienda sus llamadas telefónicas con el más potente asistente virtual. Automatice la atención telefónica desde la web, sin necesidad de adquirir equipos o programas. La mejor imagen para su negocio, pequeño o grande.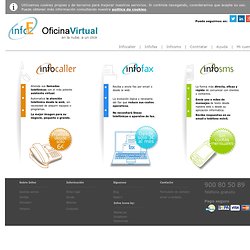 infoe.es - sms, voz y fax por internet
ekko - Every voice has a face