Garden
Pages - AppointmentBasedNeighborhoodCleanup
Residents of the unincorporated Sacramento County area are provided with one free annual, per calendar year, Appointment Based Neighborhood Cleanup Service for pickup of bulky items. This service helps residents keep their property and neighborhoods free from trash, junk and rubbish accumulation. The Appointment Based Neighborhood Cleanup can be scheduled by contacting Customer Service by email utilities@saccounty.net or by calling 916-875-5555; TDD (hearing impaired) 916-875-7105; Toll free 1-800-932-8990 Monday through Friday 7:30 a.m. to 5:30 p.m. You may also visit the Department of Waste Management & Recycling's Neighborhood Services Clean Up website for additional information. When emailing, the next available appointment will be provided via email reply.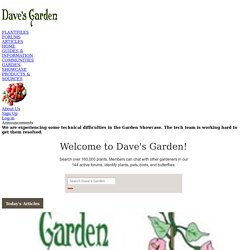 With almost 500,000 members, Dave's Garden is an amazing resource for beginning and experienced gardeners alike. Inside, you'll find over 250 forums dedicated to every type of home and gardening topic you can think of. From annuals and bonsai trees to vegetable gardening and winter sowing; from tips on seeds and planting to advice on regional gardening, this is a gold mine of friendly advice and knowledge shared by experienced gardeners from around the world. Enthusiasts of every gardening niche can put down roots and grow their knowledge. Are you into water gardens, vegetable gardens, hanging gardens, growing flowers or arranging bouquets, container gardens, raised beds, farming, poultry, beekeeping or any other gardening pursuit? If so, you'll find we have forums, articles and videos to help you learn, grow and share advice.
CharMarron Peony Gardens
Chateau CharMarron Peony Gardens is located in San Jose within the San Francisco Bay Area, high above Milpitas overlooking the Calaveras Reservoir. We have more than 240 peony varieties under cultivation. Our bloom season begins in early April with tree peonies and continues from late April through early June with our herbaceous peonies. Garden visits are welcomed most days during our bloom time. We are also available other times of the year by appointment or if you are feeling lucky just drop by as we are working in the gardens throughout the year.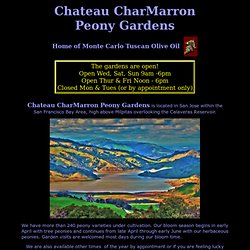 GardenersChoice.com - Live Plants, Flowers, Vegetables, Trees and Shrubs