MANipulations
Open your eyes and look up - Chemtrials (Geo-engineering) Secretly forced brain implanted targets inspired to survive - National Human Rights. Exposing Earth's dark underbelly of no-touch torture and slow-kill, Kansas man courageously battles to win his case for others, especially secretly forced brain implanted children Struggling to survive a crime reporters avoid, police will not touch, and friends repel as lepers knew long ago, Mr.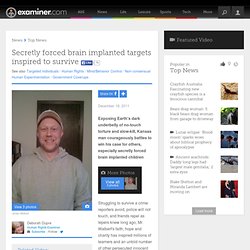 Walbert's faith, hope and charity has inspired millions of learners and an untold number of other persecuted innocent Targeted Individuals (TIs) to survive the same cruel and inhumane treatment he endures, despite five secretly forced implants in his head used to daily torture and slow-kill him. "We only need what makes us stronger in life, and not what is already bringing us down," says no-touch tortured[i] Mr. James Walbert. Incorporated Research Institutions for Seismology. Does THIS LOOK like a NORMAL Sky? "YOU HAVE TO SEE THIS PLEASE SHARE" Supersoldier ants created in the lab by reactivating ancestral genes. (PhysOrg.com) -- There are over 1100 species of Pheidole genus ants, and most individual ants belong to either the worker or soldier caste.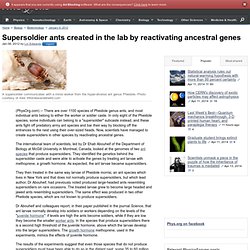 In only eight of the Pheidole species, some individuals can belong to a "supersoldier" subcaste instead, and these ants fight off predatory army ant species and bar their way by blocking off the entrances to the nest using their over-sized heads. Now, scientists have managed to create supersoldiers in other species by reactivating ancestral genes. The international team of scientists, led by Dr Ehab Abouheif of the Department of Biology at McGill University in Montreal, Canada, looked at the genomes of two ant species that produce supersoldiers. They identified the genetics behind the supersoldier caste and were able to activate the genes by treating ant larvae with methoprene, a growth hormone. As expected, the ant larvae became supersoldiers.
---