Masonic brotherhood . Know thy ENEMY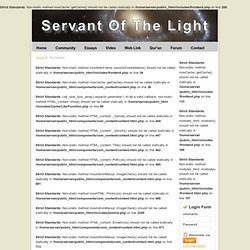 Servant Of The Light. - The Vatican.
Like Vatican City, London's Inner city is also a privately owned corporation, or city state, located right smack in the heart of Greater London. It became a sovereign state in 1694 when King William III of Orange privatized and turned the Bank of England over to the bankers. By 1812 Nathan Rothschild crashed the English stock market and scammed control of the Bank of England. Today the city state of London is the world's financial power centre and the wealthiest square mile on the face of the Earth.
Did the Vatican Create Islam? Part 2
NEW WORLD ORDER.THE DEVIL IN THE VATICAN!! pt2 The Impostor Pope.
Jesuit Order Occult History pt.1_10
Muhammad Biography
NaturalNews publishes names of government agents who masterminded Rawesome Foods raid | One Radio Network