Blog
Seo
Blogsvertise Blog Advertising - Advertise on Blogs Ad Service. Finding and Using Niche Blogs. The author's posts are entirely his or her own (excluding the unlikely event of hypnosis) and may not always reflect the views of Moz.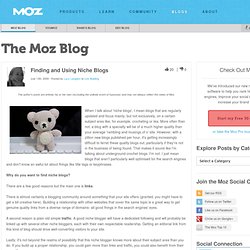 When I talk about 'niche blogs', I mean blogs that are regularly updated and focus mainly, but not exclusively, on a certain subject area like, for example, crocheting or tea. More often than not, a blog with a specialty will be of a much higher quality than your average 'rambling and musings of x' site. However, with a zillion new blogs published per hour, it's getting increasingly difficult to ferret these quality blogs out, particularly if they're not in the business of being found. That makes it sound like I'm talking about underground crochet blogs. Design*Sponge » Blog Archive » biz ladies 09: advice from design. Today i'm thrilled to share a special biz ladies post brought to you by some of my favorite bloggers: allan of core77, joy of oh joy!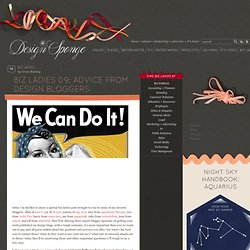 , joanna of cup of jo, amy from apartment therapy, jen from indie fixx, harry from moco loco, jan from poppytalk, julie from remodelista, jean from notcot, and jill from inhabitat. they'll be sharing their expert blogger opinions on getting your work published on design blogs. with a tough economy, it's more important than ever to reach out to any and all press outlets about the products and services you offer. but what's the best way to contact them? What do they want to see (and not see)? What sort of outreach stands out to them? Today they'll be answering these and other important questions (i'll weigh in on a few, too). 100+ SMB Blogging Ideas to Kick Start 2010 | Small Business Tren. With so many social media studies showing that companies are looking to up their involvement in social activities this year, I thought I'd help cure that age-old "what should I blog about today?"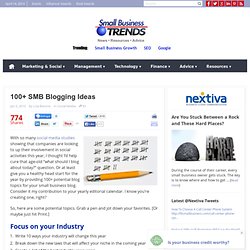 Question. Or at least give you a healthy head start for the year by providing 100+ potential blog topics for your small business blog. Consider it my contribution to your yearly editorial calendar. I know you're creating one, right?
---