Typographie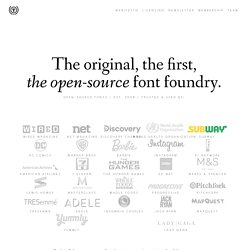 We're done with the tired old fontstacks of yesteryear. The web is no longer limited, and now it's time to raise our standards. Since 2009, The League has given only the most well-made, free & open-source, @font-face ready fonts. Like any revolution, we aim to make progress, & we need help.
Custom Software Development, Web Development - Azoft Company
Every drawback in product efficiency, battery and memory consumption can really affect your app's success. That's why it is critical to develop well-optimized, smooth running apps that never make Android system guard against them. We will not speak about efficient coding, since it goes without saying that the code you write should stand any performance test.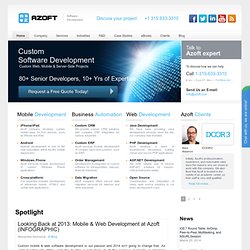 Typography inspiration | #274
Colophon Typographica is a review of typefaces and type books, with occasional commentary on fonts and typographic design. Edited by Stephen Coles and designed by Chris Hamamoto. Founded in 2002 by Joshua Lurie-Terrell.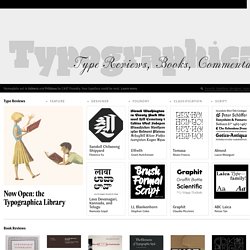 typographical_illustration
This Week in Fonts A monumental family from Hoefler & Co, a casual sans by Type Supply, a seaworthy display from Kyle Wayne Benson, a ferry inspired face by Letters from Sweden, an extensive script family from Martina Flor, a strong grotesk by The Northern Block, a functional slab from ReType, and a bright iconset by Symbolset. Continue reading this article The Sign Painter