Lesson ideas
A Rising Tide. Lesson Plan Radial Design Mandala. Lesson Plan: Radial Design Mandala Teacher: Mr.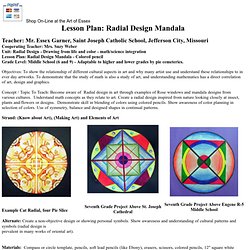 Essex Garner, Saint Joseph Catholic School, Jefferson City, MissouriCooperating Teacher: Mrs. Suzy Weber Unit: Radial Design - Drawing from life and color - math/science integration Lesson Plan: Radial Design Mandala - Colored pencil Grade Level: Middle School (6 and 9) - Adaptable to higher and lower grades by pie cemeteries.
Objectives: To show the relationship of different cultural aspects in art and why many artist use and understand these relationships to in ever day artworks. African Masks - Information and Examples. Hundertwasser Art Lesson. Hundertwasser is inspiring.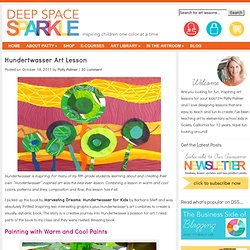 For many of my fifth grade students, learning about and creating their own "Hundertwasser" inspired art was the best ever lesson. Combining a lesson in warm and cool colors, patterns and lines, composition and flow, this lesson has it all. I picked up the book by Harvesting Dreams: Hundertwasser for Kids by Barbara Stieff and was absolutely thrilled. Inspiring text, interesting graphics plus Hundertwasser's art combines to create a visually, dynamic book.
The story is a creative journey into Hundertwasser's passion for art. Egyptian Art Unit. ArtUnitEgyptian ArtGrade: 5/Art Club# of lessons: 3 Art Resources: Egyptian photographs and artifacts from trip, Art and Religion in Ancient Egypt by Leslie Kaplan, teacher products, and visual aide.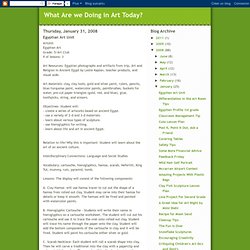 Art Materials: clay, clay tools, gold and silver paint, rulers, pencils, blue/turquoise paint, watercolor paints, paintbrushes, buckets for water, pre-cut paper triangles (gold, red, and blue), glue, toothpicks, string, and scissors. Objectives- Student will:- create a series of artworks based on ancient Egypt.- use a variety of 2-d and 3-d materials.- learn about various types of sculpture.- use hieroglyphics for writing.- learn about life and art in ancient Egypt.
Amate bark painting. Meet the Masters Provides Art Lessons for K-8 Kids (Google Coupon) — Meet the Masters. Welcome to Meet the Masters!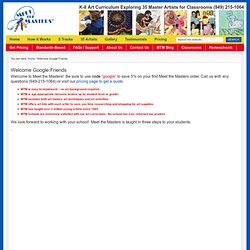 Be sure to use code "google" to save 5% on your first Meet the Masters order. Call us with any questions (949-215-1064) or visit our pricing page to get a quote. MTM is easy to implement – no art background required.MTM is age-appropriate (lessons broken up by student level or grade)MTM includes both art history, art techniques and art activities.MTM offers art kits with each artist to save you time researching and shopping for art supplies.MTM has taught over 2 million young artists since 1985.MTM schools are extremely satisfied with our art curriculum. No school has ever returned our product.
August 2009. 1st Grade Art with Mrs. Brown. We start by reading "Little Blue and Little Yellow".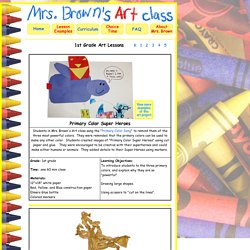 I give each student 1 ball of red, 1 yellow, and 1 blue. Then I have them break each ball into 4 evenly sized balls. So now they have 4 reds, 4 yellows and 4 blues. All together we mix 1 blue and 1 yellow.
---