Linux
Choosing the Best Linux Distro for You | Linux Articles - Linux Ubuntu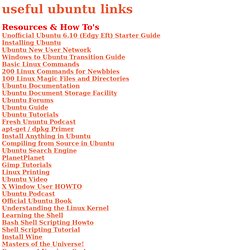 www3.telus.net/lordfoul/pics/useful ubuntu links/useful unbuntu links.html
useful ubuntu links Resources & How To's Unofficial Ubuntu 6.10 (Edgy Eft) Starter Guide Installing Ubuntu Ubuntu New User Network Windows to Ubuntu Transition Guide Basic Linux Commands 200 Linux Commands for Newbbies 100 Linux Magic Files and Directories Ubuntu Documentation Ubuntu Document Storage Facility Ubuntu Forums Ubuntu Guide Ubuntu Tutorials Fresh Ununtu Podcast apt-get / dpkg Primer Install Anything in Ubuntu Compiling from Source in Ubuntu Ubuntu Search Engine PlanetPlanet Gimp Tutorials Linux Printing Ubuntu Video X Window User HOWTO Ubuntu Podcast Official Ubuntu Book Understanding the Linux Kernel Learning the Shell Bash Shell Scripting Howto Shell Scripting Tutorial Install Wine Masters of the Universe!
It's hard to not split our conclusion into two separate parts: Unity as a graphical user interface and Ubuntu 11.04 as a Linux distribution. Let's start with Unity. Unity Unity incorporates some great design concepts, but they are counterbalanced by other concepts that aren't so great. The new Panel is streamlined, and an explanation of the indicator colors is a welcome addition.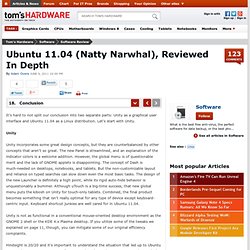 Conclusion : Ubuntu 11.04 (Natty Narwhal), Reviewed In Depth
Ubuntu - Simply Brilliant
Ubuntu Story - Share Your Linux Story!
17 Must-Have Free Apps for New Ubuntu Users Friday, April 27, 2007 at 11:29am by The Free Geek If you haven't tried Ubuntu, the new Ubuntu 7.04 Feisty Fawn offers the PC user a chance to try out this open source software with little fear. UnixTutorials - Ubuntu tutorials
Ubuntu Search Engine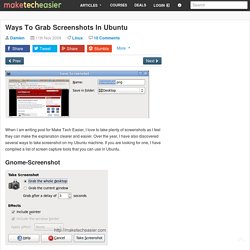 Ways To Grab Screenshots In Ubuntu
When I am writing post for Make Tech Easier, I love to take plenty of screenshots as I feel they can make the explanation clearer and easier. Over the year, I have also discovered several ways to take screenshot on my Ubuntu machine. If you are looking for one, I have compiled a list of screen capture tools that you can use in Ubuntu. Gnome-Screenshot Gnome-screenshot is the default screen capture tool in Ubuntu.
This is a nice collection of 19 open source games for Linux that contains most addictive, fun and refined games. For some of these games, also installation steps are included. Enjoy 1-Astromenace: AstroMenace is my favorite one, it is a modern 3D scrolling space shooter with ship upgrade possibilities. You can improve your ship configuration by installing new weapons, defensive systems, power stations and much more.
19 Awesome Open source games for Linux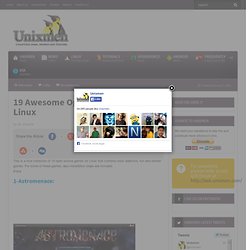 Updated : 16/10/2012 : Ubuntu 12.10 Quantal Quetzal final is almost out. The final release it scheduled to be out in the 18th of October 2012. After you actually get done with the installation, there would likely exist a heap of things you still need to take care of. This post will share some interesting insight and ideas about what you can and should do after a successful installation. If you have already a previous release of Ubuntu installed and you want to upgrade, then follow our step by step guide to upgrade to Ubuntu 12.10 Quantal Quetzal .