SOJA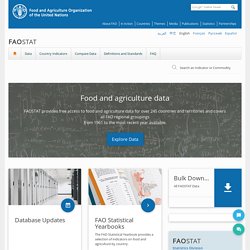 La División de Estadística de la FAO ha lanzado una nueva versión de FAOSTAT, que forma parte de la misión de la organización para mejorar la recopilación y la difusión de datos, para el desarrollo y la lucha contra el hambre y la desnutrición. La nueva plataforma sigue ofreciendo un acceso libre y una forma sencilla de acceder a los datos para 245 países y 35 áreas regionales, desde 1961 hasta el año más reciente disponible. Las características mejoradas incluyen la navegación y el análisis de datos, la descarga de datos interactiva avanzada, y el intercambio de datos mejorados a través de servicios web. A partir del 1 de Junio de 2014, sólo estará disponible la nueva versión de FAOSTAT
FEDIOL
FOSFA | Association for international trading in oils, fats and oilseeds
The Federation of Oils, Seeds and Fats Associations (FOSFA) is a professional international contract issuing and arbitral body concerned exclusively with the world trade in oilseeds, oils and fats with over 1,000 members in 84 countries. These members include producers and processors, shippers and dealers, traders, brokers and agents, superintendents, analysts, shipowners, and others providing services to traders. FOSFA has an extensive range of standard forms of contracts covering goods shipped either CIF, C&F or FOB, for soybeans, sunflowerseeds, rapeseed, and others, vegetable and marine oils and fats, refined oils and fats, from all origins worldwide, for different methods of transportation and different terms of trade. Internationally, 85% of the global trade in oils and fats is traded under FOSFA contracts.
FEFAC - European Feed Manufacturers' Federation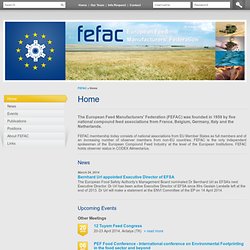 The European Feed Manufacturers' Federation (FEFAC) was founded in 1959 by five national compound feed associations from France, Belgium, Germany, Italy and the Netherlands. FEFAC membership today consists of national associations from EU Member States as full members and of an increasing number of observer members from non-EU countries. FEFAC is the only independent spokesman of the European Compound Feed Industry at the level of the European Institutions. FEFAC holds observer status in CODEX Alimentarius.
Gafta
Advising Industry on Practical Ethics from Farm to Fork
La Pisciculture.com : élevage poisson mer, CIPA, Comité interprofessionnel des produits de l'aquaculture
FACCO - Accueil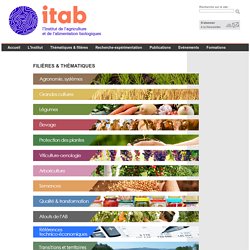 L'ITAB est l'institut technique agricole dédié à la recherche-expérimentation en agriculture biologique ACTUALITES et agenda complet ITAB & Réseau AB Appel à projets européen CORE Organic plus=> manifestation d'intérêt pour le 25 février 2014 Appel à projets Argumentaire pour le maintien d'une dose efficace de cuivre Le programme d'activité de l'ITAB est réalisé avec le soutien financier du Compte d'Affectation Spécial pour le Développement Agricole et Rural (CASDAR) géré par le Ministère de l'Agriculture et de la Pêche (MAP), le Ministère en charge de l'écologie et France Agrimer.
Accueil
Leader mondial des Solutions de Qualité de Vie au Quotidien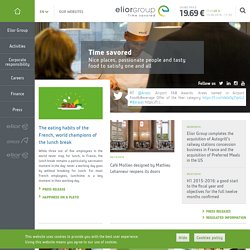 Des attentions quotidiennes et dans l'air du temps Analyse des nouvelles tendances de restauration, prise en compte des préférences alimentaires... Nos chefs proposent chaque jour des menus dans l'air du temps pour les adultes au travail.
Restauration collective et de concession : Elior
site officiel de la viande de porc et des produits de charcuterie
SNRC