Videos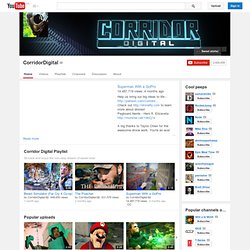 Welcome to YouTube! The location filter shows you popular videos from the selected country or region on lists like Most Viewed and in search results.To change your location filter, please use the links in the footer at the bottom of the page. Click "OK" to accept this setting, or click "Cancel" to set your location filter to "Worldwide". The location filter shows you popular videos from the selected country or region on lists like Most Viewed and in search results. To change your country filter, please use the links in the footer at the bottom of the page. Corridor Digital Playlist
Retrouve toutes les vidéos du Studio Bagel en t'abonnant à la chaîne : http://www.youtube.com/user... Suis-nous sur Facebook : http://www.facebook.com/stu...et sur Twitter : http://www.twitter.com/stud... Crédits :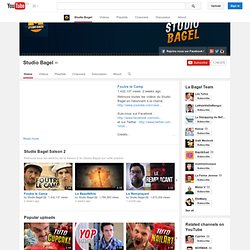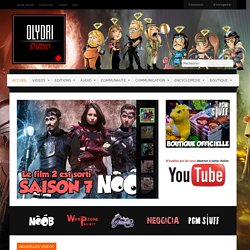 Noob VS RCT dansNOOBle21/12/2013 à 19:23 Pour le fun, voici un petit bonus NOOB VS RCT. Comme vous le savez, nous sommes de Toulon, et nous sommes fans de notre équipe de rugby (il n'y à qu'à voir le clin d'oeil au Pilou Pilou avec Bob Lennon et Joueur du Grenier durant le final de saison 3 ou le nombre de fois où Ystos porte un maillot de l'équipe dans les scènes IRL). Alors quand on nous propose de tourner un petit bonus à la fin d'un de leur entraînement avec Jean-C
Noël J'ai un cadeau de Noël pour vous ! Un petit site pour quand vous vous faites chier avec plein de bonus/bêtisier/scènes coupées dedans : Un gros gros merci à NewQuest pour le site, ils ont assuré !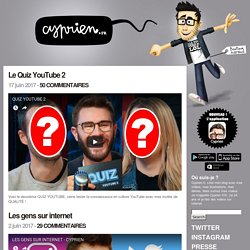 Manu mais pas trop
Chroniques vidéo de Speed Game : videos de jeux sur PC et consoles - Jeuxvideo
Smosh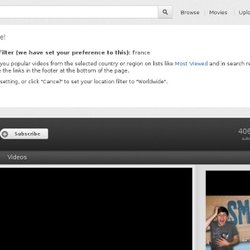 Welcome to YouTube! The location filter shows you popular videos from the selected country or region on lists like Most Viewed and in search results.To change your location filter, please use the links in the footer at the bottom of the page. Click "OK" to accept this setting, or click "Cancel" to set your location filter to "Worldwide".