Archi design
MIR
BIG | Bjarke Ingels Group
Accueil
Visite | Babin+Renaud, de rouille et de plots Comptant 84 logements, un centre social, une halte-garderie, une bibliothèque et un centre d'animation, le bâtiment livré en janvier 2014 par les architectes Jean-François Renaud et Eric Babin dans le XVIIIe arrondissement de Paris ne passe...[Lire la suite] Chronique | Milan 2015, X-TU sur sa faim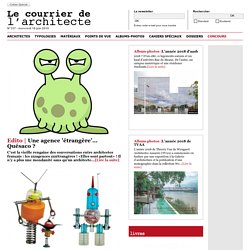 Death by Architecture
Stair Porn .org – Stairs and nothing but
Architonic | architecture and design
L'actualité du Btp et de la construction
Actualités, Emploi, Moteur de recherche BTP & Immobilier
Produits et services du BTP | Batiweb, le site des professionnels du Bâtiment et des Travaux Publics
archicool
Design Observer
Dezeen architecture and design magazine
TREND HUNTER - #1 in Trends - Fashion Trends, Technology, Style,
Architecture Imagine the renovation dilemmas. A huge penthouse of a converted 1930s office building in TriBeCa, New York, is to be turned into a functioning home for a family with three teenagers. In fact, we can not quite imagine the issues that faced Steven Harris Architects when the family showed up, literally, at the doorstep of the celebrated architect and asked if he'd like to work on their home. Harris said yes and proceeded to make his magic. The scale of the apartment is huge and the freedom from budget constraints allowed for some spectacular solutions.
Fusher Design fun fashion art trends technology (page 50)
Luxury Issues - Ultimate Luxury Guide
boiteaoutils
BLDGBLOG
Pruned
PYTR 75
(NDLR)
etapes.com | Le magazine du design graphique
ArchDaily | Broadcasting Architecture Worldwide
Plataforma Arquitectura
A Daily Dose of Architecture
MIMOA | Modern Architecture Guide | Contributed, organised, and mapped by you.
The Funambulist | architectural narratives