Archi design
MIR
BIG | Bjarke Ingels Group
Accueil
Visite | Foster Gran Torino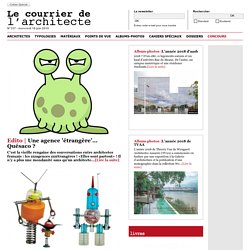 Death by Architecture
Stair Porn .org – Stairs and nothing but
Architonic | architecture and design
L'actualité du Btp et de la construction
Actualités, Emploi, Moteur de recherche BTP & Immobilier
Produits et services du BTP | Batiweb, le site des professionnels du Bâtiment et des Travaux Publics
archicool
Design Observer
Dezeen architecture and design magazine
TREND HUNTER - #1 in Trends - Fashion Trends, Technology, Style,
Architecture We love order and minimalism in buildings.
Fusher Design fun fashion art trends technology (page 50)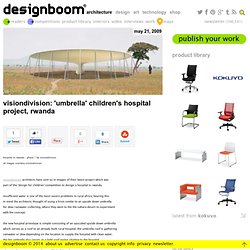 hospital in rwanda - phase 1 by visiondivision all images courtesy visiondivision visiondivision architects have sent us in images of their latest project which was part of the 'design for children' competition to design a hospital in rwanda. insufficient water is one of the most severe problems in rural africa, bearing this in mind the architects thought of using a from similar to an upside down umbrella for dew/rainwater collecting, where they went to the the sahara desert to experiment with the concept. the new hospital prototype is simple consisting of an upscaled upside down umbrella which serves as a roof to an already built rural hospital. the umbrella roof is gathering rainwater or dew depending on the location to supply the hospital with clean water.
visiondivision: 'umbrella' children's hospital project, rwanda
Luxury Issues - Ultimate Luxury Guide
boiteaoutils
BLDGBLOG
Pruned
PYTR 75
(NDLR)
etapes.com | Le magazine du design graphique
ArchDaily | Broadcasting Architecture Worldwide
Plataforma Arquitectura
A Daily Dose of Architecture
MIMOA | Modern Architecture Guide | Contributed, organised, and mapped by you.
The Funambulist | architectural narratives