Archi design
MIR
BIG | Bjarke Ingels Group
We are looking for a full time Front Office Assistant to support our administration and growing staff of 90 by handling the front desk. As Front Office Assistant, you will be part of the Admin Team in New York and will work closely with the Front Office Manager and the Office Assistant. You will have the unique opportunity to interact with every person who visits BIG. You will be responsible for: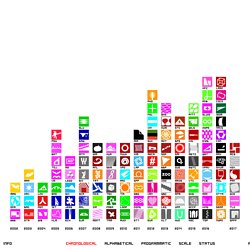 Accueil
Visite | Babin+Renaud, de rouille et de plots Comptant 84 logements, un centre social, une halte-garderie, une bibliothèque et un centre d'animation, le bâtiment livré en janvier 2014 par les architectes Jean-François Renaud et Eric Babin dans le XVIIIe arrondissement de Paris ne passe...[Lire la suite] Chronique | Milan 2015, X-TU sur sa faim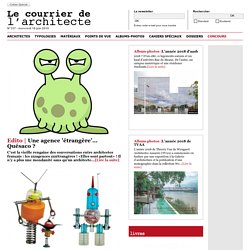 Death by Architecture
Stair Porn .org – Stairs and nothing but
Architonic | architecture and design
L'actualité du Btp et de la construction
Accueil "Toute l'info" en collaboration avec Mise à jour 24/01/2014 : 18:07 « left Feu vert du Conseil constitutionnel pour la loi sur les métropoles Principal sujet de contentieux, la nouvelle métropole du Grand Paris entrera en vigueur... 24/01/14 - 11:19 - Urbanisme et aménagement Travailleurs détachés : Bruxelles accélère Une véritable course contre la montre s'est engagée à Bruxelles sur le projet... 24/01/14 - 17:45 - Emploi / Formation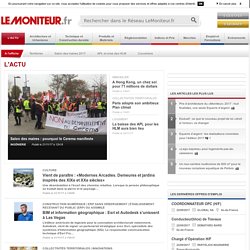 A la une BTP-Chantiers Architecture-Conception Immobilier Etat-Collectivités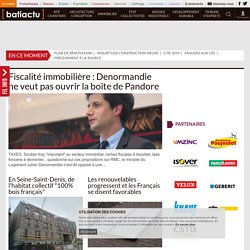 Actualités, Emploi, Moteur de recherche BTP & Immobilier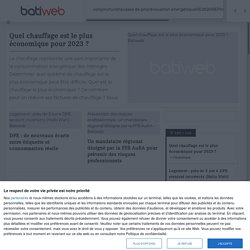 Batiweb est un portail de services et d'informations dédié aux professionnels du bâtiment et des travaux publics. Retrouvez gratuitement la totalité des produits et des nouveautés proposés par les fabricants de tous les secteurs du BTP : isolation, béton, toiture, chape, photovoltaïque... Il n'y a plus qu'à choisir ! Osram OSRAM est l'un des deux principaux fabricants d'éclairage dans le monde.... Kiloutou
Produits et services du BTP | Batiweb, le site des professionnels du Bâtiment et des Travaux Publics
archicool
Observatory By Samantha García Steven Heller kicked off the inaugural "Power of Design" ideas festival in Miami Beach at an altar of Art Deco palm fronds. MC'ed by inimitable writer Kurt Andersen, this year's festival theme was "Complaints." Participants had the mandate to drive "dissatisfaction to action" and "action to innovation" over four days at the Wolfsonian Museum.
Design Observer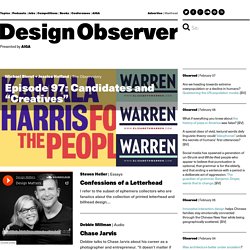 Dezeen architecture and design magazine
TREND HUNTER - #1 in Trends - Fashion Trends, Technology, Style,
Architecture Imagine the renovation dilemmas. A huge penthouse of a converted 1930s office building in TriBeCa, New York, is to be turned into a functioning home for a family with three teenagers. In fact, we can not quite imagine the issues that faced Steven Harris Architects when the family showed up, literally, at the doorstep of the celebrated architect and asked if he'd like to work on their home. Harris said yes and proceeded to make his magic. The scale of the apartment is huge and the freedom from budget constraints allowed for some spectacular solutions.
Fusher Design fun fashion art trends technology (page 50)
PANDA's Asakusa Apartments feature rows of "picture frame" windows Crista Cober photographed by Will Davidson for Vogue Australia, May 2014 BMW vision future luxury integrates augmented reality display Models grow out their armpit hair to challenge female beauty standards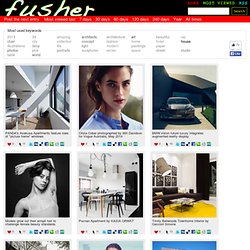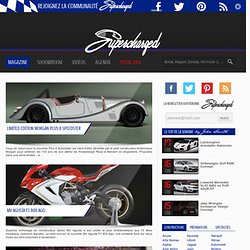 Certainement l'une des plus mythiques Porsche de course, découverte de cette magnifique série de clichés de la Porsche 917, dans sa célèbre livrée Gulf, shootée par le photographe français Laurent Nivalle. La galerie photos complète dans la suite ! Plus… Sobre et discrète tout en conservant son ADN de sportive, une mention toute particulière pour cette jolie préparation sur base de Audi RS5.
Luxury Issues - Ultimate Luxury Guide
boiteaoutils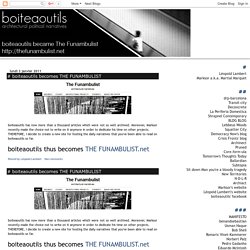 The fifth studio Francois Roche has been tutoring at Columbia University since 2006 recently presented its last projects. One of them drove an interesting conversation between the jury and its authors, Brian Buckner & Loukia Tsafoulia. For this year's studio, Francois Roche was assisted by Ezio Blasetti and Dave Pigram For the second year, this studio was experimenting processes of life and death of an architecture; in this regard, Sadic Apiaries is a system composed by two robots and thousand of bees. The first robot is used as a mobile matrix for the bees to build the hives architecture, while the second robot exercises a sadistic role on the bees via smoke throw in order to orient the construction.With time, the wax loose of its consistency (and color) and eventually disintegrates, thus triggering the death of this architecture.
BLDGBLOG
I interviewed novelist Sol Yurick back in March 2009. Rather than publish the interview on BLDGBLOG as I should have, however, I thought I'd try to find a place for it elsewhere, and began pitching it to a few design magazines. Yurick, after all, was the author of The Warriors—later turned into the cult classic film of the same name, in which New York City is transformed into a ruined staging ground for elaborately costumed gangs—and he was a familiar enough figure amidst a particular crowd of underground readers and independent press aficionados, those of us who might gravitate more toward Autonomedia pamphlets, for example, where you'd find Yurick's strange and prescient Metatron: The Recording Angel, than anything on the bestseller list.
Pruned
"Scientists have connected the brains of a pair of animals and allowed them to share sensory information," reports The Guardian today. This is a "major step towards what the researchers call the world's first 'organic computer.'" The US team fitted two rats with devices called brain-to-brain interfaces that let the animals collaborate on simple tasks to earn rewards, such as a drink of water.In one radical demonstration of the technology, the scientists used the internet to link the brains of two rats separated by thousands of miles, with one in the researchers' lab at Duke University in Durham, North Carolina, and the other in Natal, Brazil. This is "[l]iterally an Internet of Animals," tweeted Anne Galloway. Among many projects, including Vanessa Harden's Mouse Assisted Interplay (2010) and its associated speculative Mousematch social network, I'm reminded of Anna Flagg's Cuddlebot project in which simulant pets are turned into multi-touch devices. Two things interest me here.
PYTR 75
(NDLR)
etapes.com | Le magazine du design graphique
ArchDaily | Broadcasting Architecture Worldwide
Plataforma Arquitectura
A Daily Dose of Architecture
MIMOA | Modern Architecture Guide | Contributed, organised, and mapped by you.
The Funambulist | architectural narratives