Creative people
Psychedelic Illustrations by Anton Semenov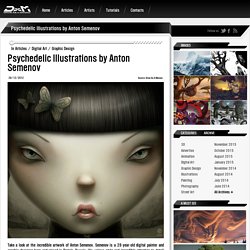 Take a look at the incredible artwork of Anton Semenov. Semenov is a 28-year-old digital painter and graphic designer born and raised in Bratsk, Russia. His unique style and incredible attention to detail have gone into creating artwork for several clients. Anton has also been a contributor to the SlashThree collective's exhibitions since late 2009. Chek him at DeviantArt Enjoy The Gallery
Richard Horton Portfolio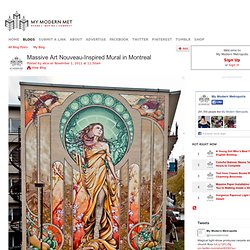 For 16 days straight, from dawn to dusk, five highly determined Montreal-based artists (who make up the artist run collective A'shop) worked on a graffiti mural of a Mother Nature-esque Madonna or a modern-day version of "Our Lady of Grace." Inspired by Czech Art Nouveau painter Alphonse Mucha, the crew created this breathtakingly beautiful five story mural using 500 cans of spray paint in over 50 different colors. "We been doing graffiti for a long time but this is our first large project involving the whole team," Fluke of A'shop told The Montreal Gazette. "We're always busy with other projects so we've never really had time to let [the reactions to] them sink in. But this mural was just so big and also our last of the season.
Extreme Sheep LED Art Video
Bent Objects | Crazy as a Bag of Hammers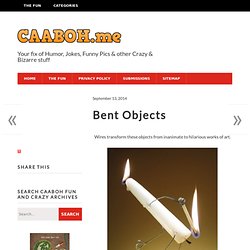 Wires transform these objects from inanimate to hilarious works of art. Little polish girl McDonalds as Sculpture Materials Yeah, this is where those come from Dancing Queens Englishbreakfast
Ignore This Building
Tom Otterness
can't stop looking at this.gif (GIF Image, 280x263 pixels)
26.9.2013: Sivun muutoksia voit seurata täältä: Changelog. Maanantaina julkaisimme tiedotteen tietomurrosta, joka kohdistui yli 100 Suomalaisen sivuston lisäksi myös Riemurasiaan. Riemurasian pingviinien kanssa pidetyssä kokouksessa päätimme yhteistuumin siirtyä jo kehitteillä olleeseen uuteen Riemurasiaan tietoturvasyistä. Tiesimme sivuston olevan pahasti kesken, mutta vanhan sivuston tietoturva-aukkojen tutkiminen olisi ollut ylläpitäjille silkkaa ajanhukkaa. Uusi sivusto on uudistettu täysin tekniikaltaan, joka antaa ylläpitäjille mahdollisuuden kehittää sivustoa entistä käyttäjäystävällisemmäksi.
Ballon Bass And Box Jam