Carnage à Aurora
The gun ownership and gun homicides murder map of the world | News. The Aurora Movie Theatre Shooting and American Gun Culture. The murders—it dignifies them to call them a "tragedy"—in Aurora, Colorado, have hit us all hard, though the grief of the friends and families of the victims is unimaginable.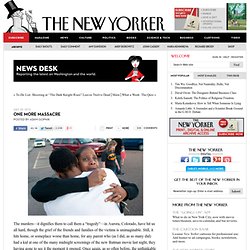 Still, it hits home, or someplace worse than home, for any parent who (as I did, as so many did) had a kid at one of the many midnight screenings of the new Batman movie last night, they having gone to see it the moment it opened. Once again, as so often before, the unthinkable news is disassembled, piece by piece, into its heartbreaking parts. After the Virginia Tech shooting, the horrifying detail, as I wrote at the time, was that the cell phones were still ringing in the pockets of the dead children as their parents tried to call them. In Colorado, you can't expunge the knowledge of the sudden turn from pleasure to horror that those children experienced. Trayvon Martin and America's Gun Laws. Just after seven-thirty on the morning of February 27th, a seventeen-year-old boy named T.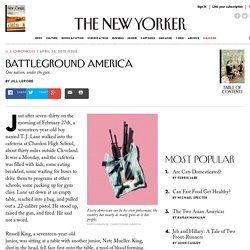 J. Lane walked into the cafeteria at Chardon High School, about thirty miles outside Cleveland. It was a Monday, and the cafeteria was filled with kids, some eating breakfast, some waiting for buses to drive them to programs at other schools, some packing up for gym class. Pourquoi Internet ne nous a rien appris sur James Holmes, le tueur de Denver. - Capture d'écran d'une recherche Google sur James Holmes - Avec Internet, on a été formé à supposer que chaque détail intime de la vie des gens doit forcément être sur le Web, là, quelque part, à attendre que nous entrions la bonne recherche Google ou que nous pêchions dans le bon réseau social.
La nouvelle du massacre à la projection de Batman à Aurora, dans le Colorado ce vendredi matin, a envoyé un millier de journalistes (et de «journalistes citoyens») sur leurs navigateurs, se faisant la course pour être le premier à découvrir le détail qui nous apprendrait quelque chose sur le suspect. S'avèrerait-il que James Holmes a, comme Jared Lee Loughner, le tireur de Tucson, avoué sur un forum de jeux vidéo être agressif «24h sur 24 et 7 jours sur 7»? Carnage d'Aurora: le bon père de famille et les marchands d'armes. Points de repère: Population américaine: 315 millions Nombre de foyers possédant une arme: 47 à 53 millions Nombre d'adultes possédant une arme: 70 à 80 millions Nombre total d'armes à feu détenus par les Américains: 300 millions dont 100 millions d'armes à poing Augmentation de la criminalité à Chicago impliquant des armes à feu depuis le 1er Janvier 2012: +38% Nombre d'Etats américains autorisant le port d'arme à feu sans justification: 40 9 Etats réclament une justification avant de délivrer un permis de port d'armes à feu 1 Etat interdit le port d'armes à feu: l'Illinois (où sévissent rien qu'à Chicago 90 000 gangs pour 3 millions d'habitants) (Sources: NRA, Justfact, Gallup) La coïncidence est à la fois sinistre et révélatrice.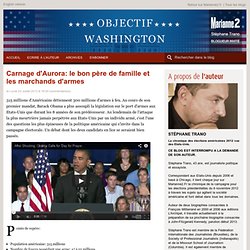 Barack Obama menait campagne à Tucson, en Arizona, lorsque le massacre perpétré par l'étudiant en médecine de 24 ans James Holmes, lors de la première du nouveau Batman dans un cinéma d'Aurora, dans le Colorado, l'a rattrapé. Darrenmcmullen : Cannont believe the ad at...
---