Texture Packs
[32x32] [1.2] SummerFields v21.a -Added jungle wood & jungle leave [20/01/2012] [+350K Download]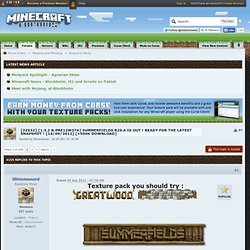 DaEliminator, on 04 July 2011 - 05:59 PM, said: Great texture pack. Will be using this for a while.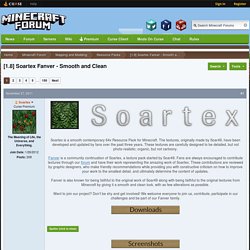 [64x64][1.0.0] Soartex Fanver Community - HD & Smooth Texture Pack !
Soartex Fanver is the fan continuation of Soartex, a smooth 64x texture pack made by Soar49! Install Optifine or MCPatcher for additional features . Main Download The best Soartex Fanver textures for vanilla Minecraft! Soartex Modded Downloads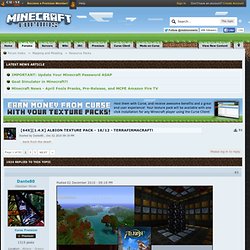 ▲ ALBION 64x texture pack ▲ V 2.48 24/9 ▲ 1.9 ready▲ MC Customizer ▲ 2 pack variants ▲ Millenaire, BTW, Aether and more ▲
Royal said: Nice work, but when i read Albion, i had to think about fable. Hehe, I guess I might get a lot of that...
0.0][update 11/13] MCPatcher HD fix 2.2.2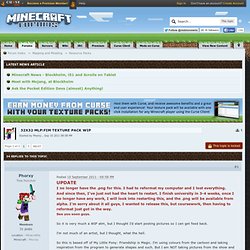 32x32 MLP:FiM Texture pack WIP
UPDATE I no longer have the .png for this. I had to reformat my computer and I lost everything. And since then, I've just not had the heart to restart. I finish university in 3-4 weeks, once I no longer have any work, I will look into restarting this, and the .png will be available from alpha. I'm sorry about it all guys, I wanted to release this, but coursework, then having to reformat just got in the way.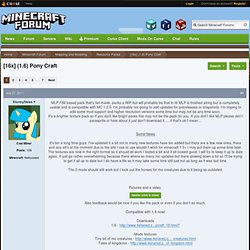 [16x] (1.8.1) Pony Craft
MLP FIM based pack that's fan made, packs a WIP but will probably be that in till MLP is finished airing but is completely usable and is compatible with MC 1.2.5. I'm probably not going to add updates for prereleases or snapshots. I'm hoping to add some mod support and higher resolution versions some time but may not be any time soon. It's a brighter texture pack so if you dont like bright packs this may not be the pack for you .If you don't like MLP please don't parasprite or hate about it just don't download it......if that's ok I mean...
***My Little Pony Inspired Textures -WIP -Feedback really appreciated***
Hi everyone! Ok so after seeing so many awesome packs, I decided to give it a go. My Little Pony - Friendship is Magic inspired me:)