Gaming
Ars Guide: How to ruin your PC port in five easy steps. It's hard to be a PC gamer these days.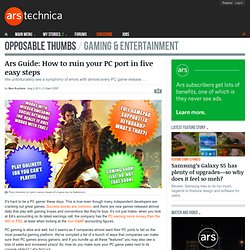 This is true even though many independent developers are cranking out great games. Success stories are common, and there are new games released almost daily that play with gaming tropes and conventions like they're toys. It's not just indies; when you look at EA's accounting on its latest earnings call, the company has the PC earning more money than the 360 or PS3, at least when looking at the non-GAAP accounting figures. Video Galleries : The Big Picture. 4.3 Preview: Warrior Tier 13 Colossal Dragonplate. Video Galleries : The Big Picture. Orcs Must Die | Robot Entertainment. Buy Orcs Must Die!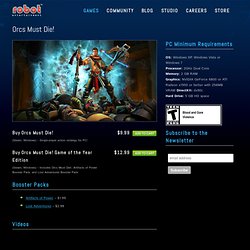 (Steam, Windows) – Single-player action strategy for PC! Buy Orcs Must Die! Game of the Year Edition (Steam, Windows) – Includes Orcs Must Die! , Artifacts of Power Booster Pack, and Lost Adventures Booster Pack.
Become a VIP for Only £6.99/per month! | RPGamer - "This isn't slutty, it's... strategically placed.". Welcome to the Academy Of Interactive Arts & Sciences. Game Developers Choice Awards. Community. Personal. General.
---