Games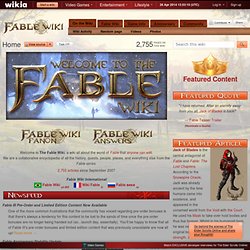 Fable Anniversary Stability Update Fable Anniversary released just about two weeks ago and in that time the team has been hard at work getting a patch out to fix some of the commonly reported issues. Thanks to members being diligent in helping the Fable Anniversary team by reporting bugs and troubleshooting issues, a stability update has now been released. Read more →
The Fable Wiki - Fable, Fable 2, Fable 3, and more
This wiki was created with the intention of creating a complete and readily available repository of fan-based information about both the 3rd and 4th editions of the Eberron setting developed by Wizards of the Coast and Keith Baker. Please be warned that although we try our best there is still some articles with spoiler content and no warning tags. We apologize for any player's destroying your awesome campaign by knowing the final boss' weaknesses and agendas.
Eberron Wiki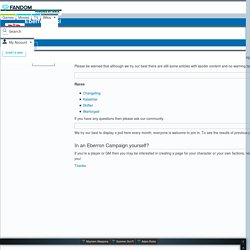 Welcome to White-Wolf.com. White Wolf Publishing has produced gaming universes for over 20 years including World of Darkness, Exalted, Trinity, and many more. White Wolf merged with CCP Games to focus on translating the World of Darkness IP into a massively multiplayer experience, and the North American office is fully dedicated to making this evolution a reality. In order to continue to support our existing RPG and LARP communities, we have entered into a number of partnerships with individuals and groups who can focus their full attention on the art forms White Wolf created and lived in. Digital Publishing and Print On Demand
Main Page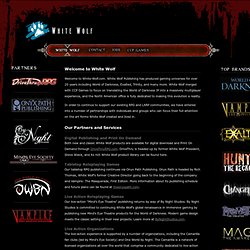 The White Wolf Wiki: A Canon Encyclopedia for the World of Darkness, Exalted, Trinity Universe and Sword & Sorcery
The Silent Hill Wiki - Your special place about everyone's favorite resort town.
The Forgotten Realms Wiki - Books, races, classes, and more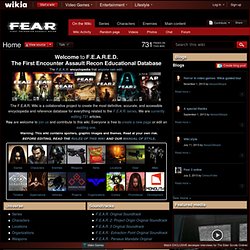 F.E.A.R.
Featured Article Paxton Fettel is the main antagonist of F.E.A.R. First Encounter Assault Recon, and plays a key role in both the Monolith and Vivendi Timelines, as well as appearing in F.E.A.R. 2: Reborn. He returns in F.E.A.R. 3, this time as a protagonist rather than an antagonist, and as a playable character working alongside the Point Man. He is voiced by Peter Lurie. Paxton Fettel was born to a powerful psionic named Alma Wade when she was 16 years old, as part of a secretive experiment known as Project Origin, sometime in late 1995 or early 1996.
The Darksiders Wiki is a collaborative encyclopedia for everything related to the Darksiders series. There are 395 articles and growing since this wiki was founded in November 2009. The wiki format allows anyone to create or edit any article, so we can all work together to create a comprehensive database for the Darksiders series. Content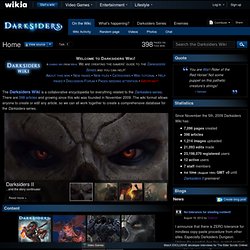 Darksiders Wiki - Wrath of War, Weapons, Enemies, Collectibles, Abilities, and more!