Cracked 6
5 Amazing Buildings of the Future (And How They'll Kill You)
Every couple of months you hear about some new, fantastic space-age construction project they're building somewhere in the world.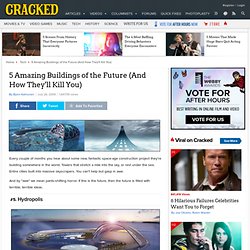 We all understand that action movies are cheesy escapism.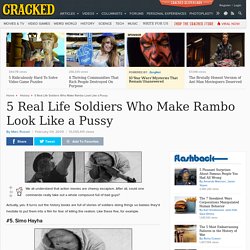 5 Real Life Soldiers Who Make Rambo Look Like a Pussy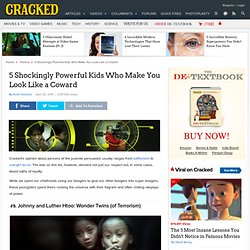 5 Shockingly Powerful Kids Who Make You Look Like a Coward
Cracked's opinion about persons of the juvenile persuasion usually ranges from bafflement to outright terror.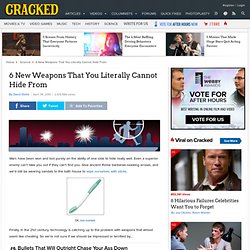 Wars have been won and lost purely on the ability of one side to hide really well. Even a superior enemy can't take you out if they can't find you. Give ancient Rome barbarian-seeking arrows, and we'd still be wearing sandals to the bath house to wipe ourselves with sticks.
6 New Weapons That You Literally Cannot Hide From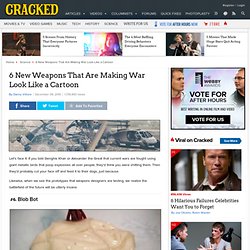 6 New Weapons That Are Making War Look Like a Cartoon
Let's face it: If you told Genghis Khan or Alexander the Great that current wars are fought using giant metallic birds that poop explosives all over people, they'd think you were shitting them. Then they'd probably cut your face off and feed it to their dogs, just because.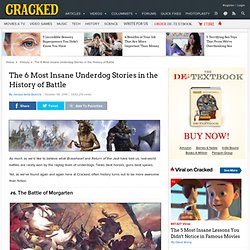 As much as we'd like to believe what Braveheart and Return of the Jedi have told us, real-world battles are rarely won by the ragtag team of underdogs.
The 6 Most Insane Underdog Stories in the History of Battle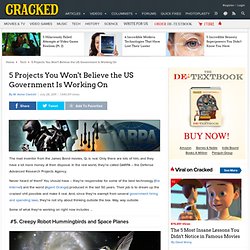 The mad inventor from the James Bond movies, Q, is real. Only there are lots of him, and they have a lot more money at their disposal.
5 Projects You Won't Believe the US Government Is Working On
Forget about Stephanie Meyer or JK Rowling or Stephen King--at the end of the day, they just write stories and make billions of dollars.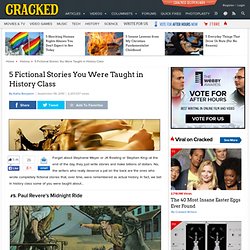 5 Fictional Stories You Were Taught in History Class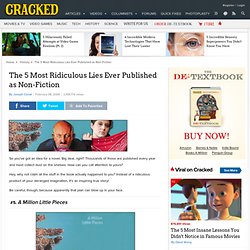 So you've got an idea for a novel.
The 5 Most Ridiculous Lies Ever Published as Non-Fiction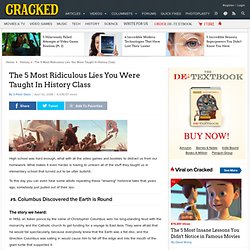 High school was hard enough, what with all the video games and boobies to distract us from our homework. What makes it even harder is having to unlearn all of the stuff they taught us in elementary school that turned out to be utter bullshit.
The 5 Most Ridiculous Lies You Were Taught In History Class
When we reach the age of 2, we start to have a few questions about our bodies. At first they're simple.
6 Lies About the Human Body You Learned in Kindergarten
8 Scenes That Prove Hollywood Doesn't Get Technology
As we have previously mentioned, hilarious things happen when writers try to write characters who are smarter than themselves.
6 Subtle Ways The News Media Disguises Bullshit As Fact
As anybody who has ever wistfully imagined Keith Olbermann and Bill O'Reilly fighting to the death over a pit of lava knows, most media outlets are biased.
5 Things The Media Loves Pretending Are News
Reporting the news is really hard.
5 Reasons Life Actually Does Get Better
In the last year you've probably heard "It gets better" used as a motto to encourage gay teens who've been the victims of bullying.