Sciences Industrielles
Strategic planning. Strategic planning is an organization's process of defining its strategy, or direction, and making decisions on allocating its resources to pursue this strategy.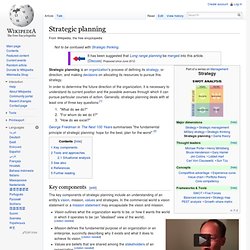 In order to determine the future direction of the organization, it is necessary to understand its current position and the possible avenues through which it can pursue particular courses of action. Generally, strategic planning deals with at least one of three key questions:[1] "What do we do? ""For whom do we do it? "" Mind map. Hand-drawn and computer-drawn variations of a mind map.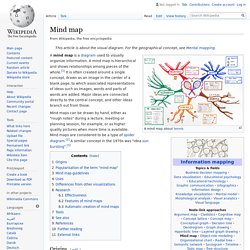 Mind maps can be drawn by hand, either as "rough notes" during a lecture or meeting, for example, or as higher quality pictures when more time is available. An example of a rough mind map is illustrated. Mind maps are considered to be a type of spider diagram.[2] A similar concept in the 1970s was "idea sun bursting".[3] Origins[edit]
QR Code. Un article de Wikipédia, l'encyclopédie libre.
Pour les articles homonymes, voir QR. Publié au Japon en 1999 sous un format de données libre, le code QR fait l'objet d'une normalisation ISO 18004. En France, les opérateurs de téléphonie mobile ont créé le format flashcode, mais sont les seuls à l'utiliser. Histoire[modifier | modifier le code] Origine[modifier | modifier le code]
---