Sciences Industrielles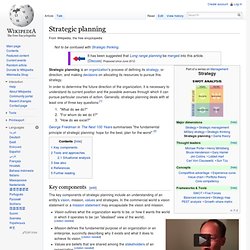 Strategic planning is an organization's process of defining its strategy, or direction, and making decisions on allocating its resources to pursue this strategy. In order to determine the future direction of the organization, it is necessary to understand its current position and the possible avenues through which it can pursue particular courses of action. Generally, strategic planning deals with at least one of three key questions:[1] "What do we do?""For whom do we do it?""
Hand-drawn and computer-drawn variations of a mind map. A mind map is a diagram used to visually outline information. A mind map is often created around a single word or text, placed in the center, to which associated ideas, words and concepts are added. Major categories radiate from a central node, and lesser categories are sub-branches of larger branches.[1] Categories can represent words, ideas, tasks, or other items related to a central key word or idea. Mind maps can be drawn by hand, either as "rough notes" during a lecture or meeting, for example, or as higher quality pictures when more time is available.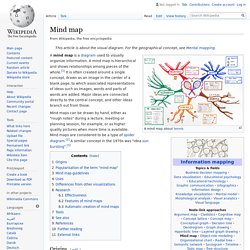 Un article de Wikipédia, l'encyclopédie libre. Pour les articles homonymes, voir QR. L'une des plus de 1000 plaques du « Monmouthpedia » du village de Monmouth (chef-lieu du comté du Monmouthshire au Pays de Galles). Cette plaque porte un Code QR (dites « QRpedia », et permettant aux touristes ou autres usagers d'accéder directement à la page Wikipédia présentant le Shire Hall (Monmouth), en complément des guides touristiques existants Le code QR est un type de code-barres en deux dimensions (ou code matriciel datamatrix) constitué de modules noirs disposés dans un carré à fond blanc. L'agencement de ces points définit l'information que contient le code.QR (abréviation de Quick Response) signifie que le contenu du code peut être décodé rapidement après avoir été lu par un lecteur de code-barres, un téléphone mobile, un smartphone, ou encore une webcam.