Stratégie
Social Science Research Network (SSRN) Home Page - www.ssrn.com (HTTP) Mateo Aboy Blog - www.mateoaboy.com (HTTP) 2012/// Filed in: Contract Law (UK) Below are a few relevant principles and leading cases regarding the exclusion of liability for misrepresentation: S Pearons v Dublin Corporation: It is not possible to exclude liability for fraudulent misrepresentation.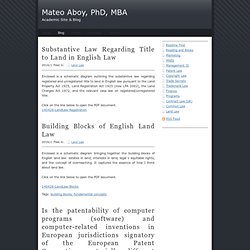 Walker v Boyle: The exclusion clause will only be effective if the party seeking to rely on it can prove the clause was reasonable (MA1967 s(2), UCTA 1977). Inntrepreneur Pub Co v East Crown: `Entire Agreement' clauses fall within the scope of s.3 as far as liability for misrepresentation is concerned (i.e., such term has no effect except in so far it satisfies the reasonableness as stated in section 11(1) of the UCTA 1997).
Tags: misrepresentation, case law. Competitor analysis - Wikipedia, the free encyclopedia - en.wikipedia.org (HTTP) Competitor analysis is an essential component of corporate strategy.[2] It is argued that most firms do not conduct this type of analysis systematically enough.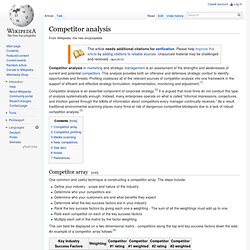 Instead, many enterprises operate on what is called "informal impressions, conjectures, and intuition gained through the tidbits of information about competitors every manager continually receives." As a result, traditional environmental scanning places many firms at risk of dangerous competitive blindspots due to a lack of robust competitor analysis.[3] Competitor array[edit] One common and useful technique is constructing a competitor array. The steps include: List of benchmarking methods and software tools - Wikipedia, the free encyclopedia - en.wikipedia.org (HTTP) Benchmarking requires the use of specific valuation methods.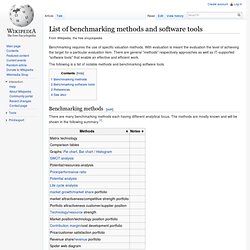 With evaluation is meant the evaluation the level of achieving the target for a particular evaluation item. There are general "methods" respectively approaches as well as IT-supported "software tools" that enable an effective and efficient work. The following is a list of notable methods and benchmarking software tools. Benchmarking methods[edit] There are many benchmarking methods each having different analytical focus. Innovation Theory, Innovation White Papers, Innovation Practices - www.strategyn.com (HTTP) Outcome-Driven Innovation The ultimate innovation upgrade White Papers Strategyn's white papers provide deep insight into our innovation theory and practices.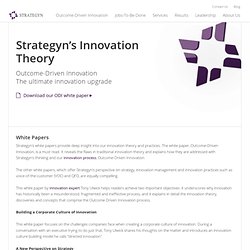 Business Model
Porter Pestel. Marketing. Entrepreunariat. The Manager's Handbook: 80+ Open Courseware Collections to Help You Be a Better Leader. Although becoming a leader may seem simple, the fact is that there's a lot of consideration that goes into management.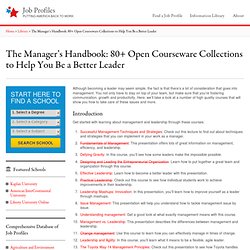 You not only have to stay on top of your team, but make sure that you're fostering communication, growth and productivity. Here, we'll take a look at a number of high quality courses that will show you how to take care of these issues and more. Stratégie d'entreprise pratique - www.slideshare.net (HTTP) Start-up Strategy: To Change the Game, Change the Economics of How It's Played. (photo: laffy4k) Several weeks ago, I found myself in the passenger seat of a car going nowhere fast.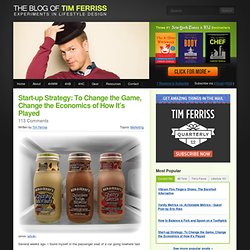 My friend, Peter Sims, who had earlier introduced me to the Stanford D.School, was leading the charge into the unknown, hurtling us (hopefully) towards dinner in exotic Burlingame, where people from SF and Palo Alto compromise to break bread. The "us" included Alan M. Webber, whom I'd never met. ScenarioThinking. A Manifesto for Agile Strategy: oxymoron or innovation? « Made by Many. You can talk and think about stuff for ages and ages before doing something or other.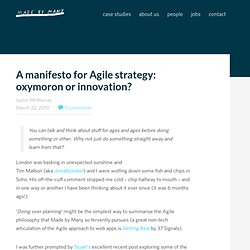 Why not just do something straight away and learn from that? London was basking in unexpected sunshine and Tim Malbon (aka @malbonster) and I were wolfing down some fish and chips in Soho. His off-the-cuff comment stopped me cold – chip halfway to mouth – and in one way or another I have been thinking about it ever since (it was 6 months ago!). 'Doing over planning' might be the simplest way to summarise the Agile philosophy that Made by Many so fervently pursues (a great non-tech articulation of the Agile approach to web apps is Getting Real by 37 Signals). Remapping your strategic mind-set - McKinsey Quarterly - Strategy - Globalization. Senior executives need better mental maps to navigate our unevenly globalized world.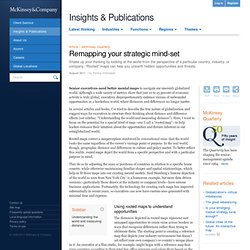 Although a wide variety of metrics show that just 10 to 25 percent of economic activity is truly global, executives disproportionately embrace visions of unbounded opportunities in a borderless world, where distances and differences no longer matter. In several articles and books, I've tried to describe the true nature of globalization and suggest ways for executives to structure their thinking about distance and difference effects (see sidebar, "Understanding the world and measuring distance").
Here, I want to focus on the potential for a special kind of map—one I call a "rooted map"—to help leaders enhance their intuition about the opportunities and threats inherent in our semiglobalized world. Rooted maps correct a misperception reinforced by conventional ones: that the world looks the same regardless of the viewer's vantage point or purpose. Mentorat et Parrainage - www.merkapt.com (HTTP)
In this short white paper, I will endeavour to answer the key questions you may have about entrepreneurial mentoring and the implementation of a programme: Is this new support relationship for entrepreneurs just trendy or does it have a real impact for new entrepreneurs?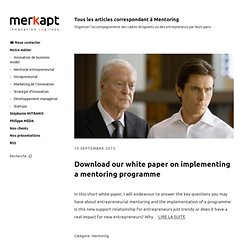 Why… Lire la suite Reviewing our latest missions and discussions with large corporations such as: Airbus, Alcatel Lucent, CEA, CMA-CGM, Eurocopter, Gemalto, Pernod Ricard, and Renault, in 2013 here are the main 3 trends that keep coming back in our perspective: Mentoring, community and networks Corporations have finally realized… Lire la suite Le 21 juin je suis intervenue pour le réseau des CCI de France sur la mise en place d'un programme de mentorat entrepreneurial.
Après une présentation générale sur le sujet (qu'est-ce que le mentorat ?
---