Mobile Advertising
« SFR Market Place » vient compléter l'offre initiale de SFR Régie qui s'appuie sur les portails mobiles SFR (Vodafone Live, iPhone, Android) et ceux de ses partenaires (MTV, Allociné, Index…).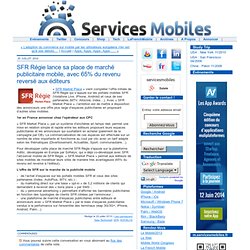 SFR Régie lance sa place de marché publicitaire mobile, avec 65% du revenu reversé aux éditeurs
CPA - Cost Per Action - is a relatively new type of ad pricing that is starting to make some headway in the mobile world.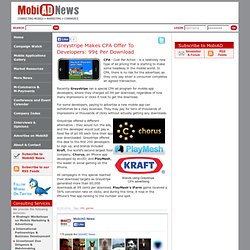 Greystripe Makes CPA Offer To
Optimisez vos campagnes pour mobile avec Google Analytics
The Social Analyst is a weekly column by Mashable Co-Editor Ben Parr, where he digs into social media trends and how they are affecting companies in the space.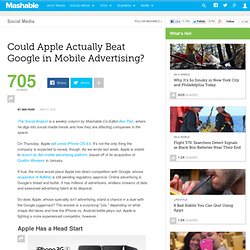 Could Apple Actually Beat Google in Mobile Advertising?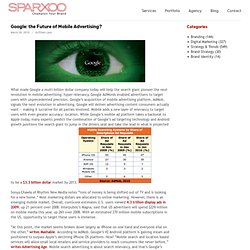 What made Google a multi-billion dollar company today will help the search giant pioneer the next revolution in mobile advertising: hyper-relevancy. Google AdWords enabled advertisers to target users with unprecedented precision.
Google: the Future of Mobile Advertising? : Sparxoo