Mobile Advertising
« SFR Market Place » vient compléter l'offre initiale de SFR Régie qui s'appuie sur les portails mobiles SFR (Vodafone Live, iPhone, Android) et ceux de ses partenaires (MTV, Allociné, Index…). Avec « SFR Market Place », l'ambition est de mettre à disposition des annonceurs une offre plus large d'espaces publicitaires en proposant d'autres sites mobiles. 1er en France annoncer chez l'opérateur aux CPC « SFR Market Place », par un système d'enchères en temps réel, permet une mise en relation simple et rapide entre les éditeurs proposant leurs espaces publicitaires et les annonceurs qui souhaitent en acheter (paiement de la campagne par CB).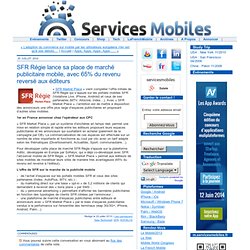 SFR Régie lance sa place de marché publicitaire mobile, avec 65% du revenu reversé aux éditeurs
CPA - Cost Per Action - is a relatively new type of ad pricing that is starting to make some headway in the mobile world. In CPA, there is no risk for the advertiser, as they only pay when a consumer completes an agreed transaction. Recently Greystripe ran a special CPA ad program for mobile app developers, where they charged $0.99 per download, regardless of how many impressions or clicks it took to get the download. For some developers, paying to advertise a new mobile app can sometimes be a risky business.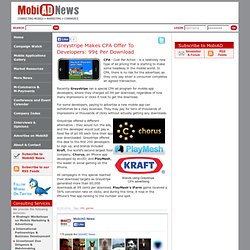 Greystripe Makes CPA Offer To
Optimisez vos campagnes pour mobile avec Google Analytics
The Social Analyst is a weekly column by Mashable Co-Editor Ben Parr, where he digs into social media trends and how they are affecting companies in the space. On Thursday, Apple will unveil iPhone OS 4.0. It's not the only thing the company is expected to reveal, though. As we wrote last week, Apple is slated to launch its iAd mobile advertising platform, based off of its acquisition of Quattro Wireless in January.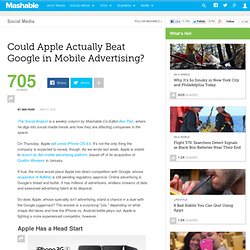 Could Apple Actually Beat Google in Mobile Advertising?
Today's post will provide guidance on using time bid adjustments. It is the fourth post in a bidding best practices series. Previous posts covered optimization strategies for setting location and mobile bid adjustments as well as prioritization. In our constantly connected world, people are searching on multiple devices throughout the day for places to go, things to buy, and ways to stay entertained. People often use similar search results in different ways depending on the time of day that they search.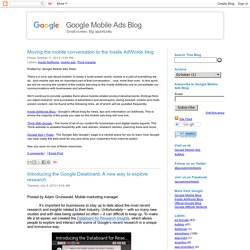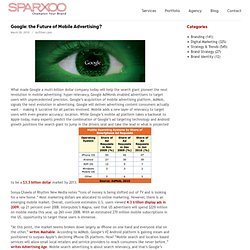 What made Google a multi-billion dollar company today will help the search giant pioneer the next revolution in mobile advertising: hyper-relevancy. Google AdWords enabled advertisers to target users with unprecedented precision. Google's acquisition of mobile advertising platform, AdMob, signals the next evolution in advertising. Google will deliver advertising content consumers actually want — making it lucrative for all parties involved. Mobile adds a new layer of relevancy to target users with even greater accuracy: location. While Google's mobile ad platform takes a backseat to Apple today, many experts predict the combination of Google's ad targeting technology and Android growth positions the search giant to jump in the drivers seat and take the lead in what is projected to be a $3.3 billion dollar market by 2013.
Google: the Future of Mobile Advertising? : Sparxoo