Tools
Google Webmaster Tools provides you with detailed reports about your pages' visibility on Google. To get started, simply add and verify your site and you'll start to see information right away. Learn more » Get Google's view of your site and diagnose problems See how Google crawls and indexes your site and learn about specific problems we're having accessing it. Discover your link and query traffic View, classify, and download comprehensive data about internal and external links to your site with new link reporting tools.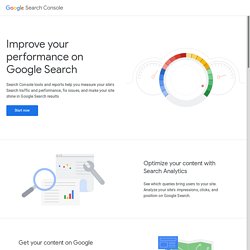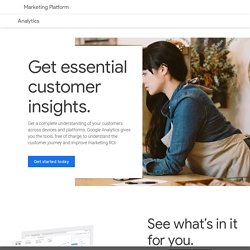 Surveillez l'activité de votre site au moment même où elle a lieu : identifiez immédiatement les éléments performants et ceux qui ne le sont pas. En savoir plus Vos investissements dans les médias sociaux méritent mieux que des tâtonnements. Procurez-vous des données et des informations directement exploitables.
Communicate results or ask questions easily with the built-in messenger. Campaign performance is automatically assessed using statistical modeling. And get a look into the future with end-of-week and end-of-month forecasts. Switch between the morning coffee view for a quick overview and the detailed analysis page. Information visualization - in grids and dataviz - lies at the core of the platform. All data is fetched from Google's AdWords API, encrypted and securely stored on our servers.
Intelligence | Smart performance management & reporting for AdWords campaigns | Sign in