Gamification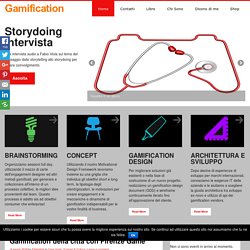 Diverse volte abbiamo affrontato il tema del ruolo del cervello nei nostri processi decisionali. I videogiochi nascono per soddisfare differenti esigenze innate come socializzare, auto-esprimersi, collezionare, crescere umanamente ed i game designers hanno ben in mente come suscitare acquisti d'impulso soprattutto in titoli free to play. A fronte di una componente irrazionale rappresentata simbolicamente, e non solo, dal lato destro del nostro cervello ci ritroviamo costantemente a fare i conti con il nostro grillo parlante ubicato nell'area sinistra del cervello.
Gamification - I videogiochi nella vita quotidiana - Blog di Fabio Viola
As social games represent a very new hybrid game genre, research on them is still few and far between. Therefore, the Hans Bredow Institute for Media Research convened a one-day academic workshop with selected researchers at the 2010 Games Convention Online in Leipzig, Germany to build a solid overview of the current state of the field, and to identify promising areas and methodological approaches of future research. The report firstly summarises the background, motivation and proceedings of the workshop to then elaborate emerging observations and themes, touching on the technology, economics, design and usage of social games, as well as the general discourse about social games and research opportunities. Together with the growing bibliography and research map on this site, the report presents the results of this workshop. Recommended CitationDeterding, S. (2010): Social Game Studies: A Workshop Report. With contributions by S.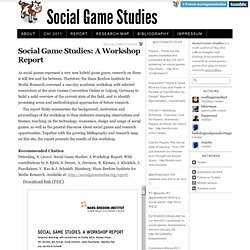 Social Game Studies · Social Game Studies: A Workshop Report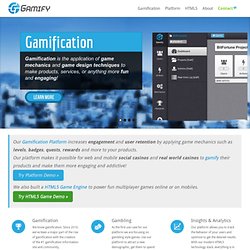 Gamification Gamification is the application of game mechanics and game design techniques to make products, services, or anything more fun and engaging! Learn more
Gamification Q&A | MetaGamify
Groupe Compas
Gametuned Weekly Newsletter
April 28th, 2011 by Tommaso De Benetti Sometimes the simplest things are the hardest to define. Everyone knows what a game is, but agreeing on a definition is another story. Wikipedia's no-nonsense entry defines a game as: "structured playing, usually undertaken for enjoyment…with goals, challenges, rules and interactions." Jesse Schell is somewhat more fun, saying it is simply "a problem solving activity, approached with a playful attitude".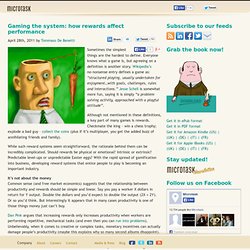 Gaming the system: how rewards affect performance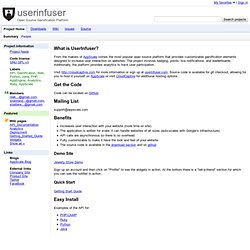 What is UserInfuser? From the makers of AppScale comes the most popular open source platform that provides customizable gamification elements designed to increase user interaction on websites. The project involves badging, points, live notifications, and leaderboards. Additionally, the platform provides analytics to track user participation.
userinfuser - Open Source Gamification Platform
Google tests game-mechanics strategies with Recyclebank | The Social
It looks like Google has taken an interest in a start-up called Recyclebank, which offers points and rewards for "green" actions like joining curbside recycling programs and installing eco-friendly appliances--it's using it as a test bed for a new beta version of its Google Analytics tracking tool . More specifically, along with a consumer research company called ROI Research, Google Analytics will be parsing the progress and results of Recyclebank's impending "Green Your Home Challenge," and then releasing a research paper about the whole process. The contest in question is taking place over the course of April for "Earth Month." It's the first time that the Google Analytics team has done a partnership like this, product marketing manager Sophie Chesters told CNET.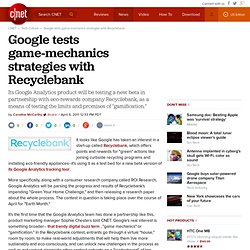 tp://www.zdnet.com/blog/gamification/how-would-you-gamify-8230-moving/299
How the World's Biggest Brands Are Gamifying Our World - Walletpop Canada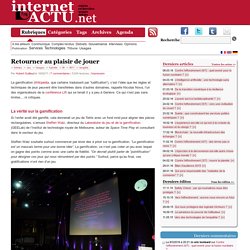 Par Hubert Guillaud le 16/02/11 | 7 commentaires | 4,653 lectures | Impression La gamification (Wikipédia, que certains traduisent par "ludification"), c'est l'idée que les règles et techniques de jeux peuvent être transférées dans d'autres domaines, rappelle Nicolas Nova, l'un des organisateurs de la conférence Lift qui se tenait il y a peu à Genève. Ce qui n'est pas sans limites… ni critiques. La vérité sur la gamification
Game guru Jane McGonigal says "gamification" should make tasks hard, not easy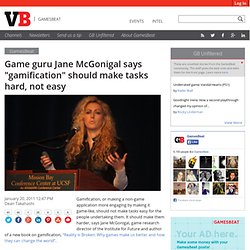 Gamification, or making a non-game application more engaging by making it game-like, should not make tasks easy for the people undertaking them. It should make them harder, says Jane McGonigal, game research director of the Institute for Future and author of a new book on gamification, "Reality is Broken: Why games make us better and how they can change the world". McGonigal says Web site owners — including those of major corporations — should make tasks challenging, so that the sense of achievement upon completing them is greater. The assertion is related to McGonigal's definition of a game, which she talked about at the Gamification Summit today in San Francisco. She said that "games are unnecessary obstacles that we volunteer to tackle."
HomoLudens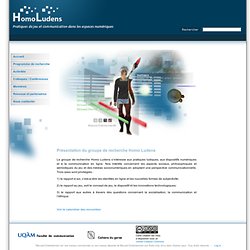 Le groupe de recherche Homo Ludens s'intéresse aux pratiques ludiques, aux dispositifs numériques et à la communication en ligne. Nos intérêts concernent les aspects sociaux, philosophiques et sémiotiques du jeu et des médias socionumériques en adoptant une perspective communicationnelle. Trois axes sont privilégiés : 1) le rapport à soi, c'est-à-dire les identités en ligne et les nouvelles formes de subjectivité; 2) le rapport au jeu, soit le concept de jeu, le dispositif et les innovations technologiques;
Un article de Wikipédia, l'encyclopédie libre. Johan Huizinga Biographie[modifier | modifier le code] Huizinga a fait ses études de lettres à Groningue, et a passé ensuite quelques mois à Leipzig, où il a suivi les cours du linguiste allemand Karl Brugmann. Durant ses études, il s'intéresse à l'Inde et apprend le sanskrit. Il soutient en 1897 une thèse sur le rôle du bouffon dans la dramaturgie indienne.
Johan Huizinga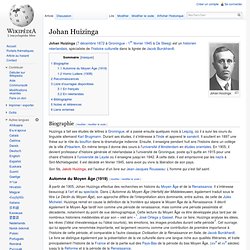 The world is getting more distracting with each second that passes by. Businesses are having a challenging time competing for both the attention of their consumers and employees. It's affecting everyone, in every department and in every industry: customer loyalty, human resources, retail, government, healthcare, education, philanthropy, startups & more--everyone wants to increase user engagement. Join 1000+ attendees and 50+ speakers for 4-days of GSummit SF 2014 (June 10-13) to learn how YOU can bring effective engagement strategies & design back to YOUR company to conquer this user engagement crisis. Register Now Content + Workshops For Everyone
Gamification Summit 2011 - Game Mechanics, Gamification, Gamify Your Business
Gamification Gamification is the application of game mechanics and game design techniques to make products, services, or anything more fun and engaging! Learn more Platform Gamify has developed the first ever Gamification Platform designed primarily for the Casino Gaming Industry. Gamify your casino or casino games today!
Portail:Jeu vidéo
Ceci est un jeu
Glisser du challenge dans chaque interstice du quotidien ? C'est tout l'enjeu de la gamification, nouvelle expression à la mode et alléchante potentielle machine à cash. La gamification est un des gros buzz du moment. En janvier 2011 s'est tenu d'ailleurs le premier "Gamification Summit". Elle consiste essentiellement à se demander ce qui nous attire tant dans les jeux, puis d'en extraire les recettes fondamentales, afin de les appliquer hors du cadre ludique. Au coeur de ce processus se trouve l'idée que le gain de points, l'acquisition d'un statut, sont des moteurs d'amusement suffisants pour encourager les utilisateurs à recourir à un service.
Gartner Redefines Gamification: What Do You Think? Gamification is considered a relatively new term. As a new term, its definition is in flux and is continually changing. The popular media and different professionals continue to offer different and sometimes competing definitions. As different definitions are offered, it is up to everyday people to accept or reject those definitions. Gartner, a leader in information technology research and advisory, has recently offered a new definition of gamification.
Notes sur le séminaire : « Jeu vidéo et médiations des savoirs : regards croisés sur le serious game » » Ceci est un jeu
Parcours-jeu au musée des confluences
10 Lessons in Creativity From the ArtGame Weekend in Paris
Les Fusibleus: l'ARG de Monet
Mozilla Firefox
décembre 2010
Le colloque international sur la réalité virtuelle se poursuit à Caen
Serious Games : quelques perspectives pour 2011
Les jeux virtuels prolongent l'expérience de la marque