Data vizualisation
Hans Rosling's 200 Countries, 200 Years, 4 Minutes (The Joy of Stats)
chrono
velt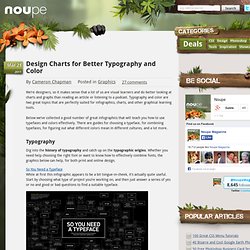 Mar 21 2011 We're designers, so it makes sense that a lot of us are visual learners and do better looking at charts and graphs than reading an article or listening to a podcast. Typography and color are two great topics that are perfectly suited for infographics, charts, and other graphical learning tools.
Design Charts for Better Typography and Color - Noupe Design Blog
Make your Excel data interactive!