Data vizualisation
Information Is Beautiful | Ideas, issues, knowledge, data - visualized! The Infographics Showcase - Data Visualization - Infographic Design. Les 50 meilleures infographics et data visualization. Visualizing.org. Visualize This: The FlowingData Guide to Design, Visualization, and Statistics.
A visual exploration on mapping complex networks. Visual.ly | Infographics & Visualizations. Create, Share, Explore. Hans Rosling's 200 Countries, 200 Years, 4 Minutes (The Joy of Stats) Chrono. Velt. Design Charts for Better Typography and Color - Noupe Design Blog. Mar 21 2011 We're designers, so it makes sense that a lot of us are visual learners and do better looking at charts and graphs than reading an article or listening to a podcast.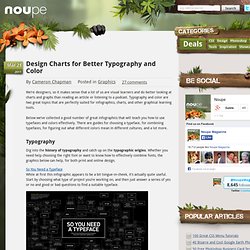 Typography and color are two great topics that are perfectly suited for infographics, charts, and other graphical learning tools. FlowingData | Data Visualization, Infographics, and Statistics. VIZUALIZE. Infographics. A Periodic Table of Visualization Methods. Make your Excel data interactive!
---