Photography
Los discípulos de Helmut Newton emulan al maestro | Fotogalería | | EL PAÍS. Before and After D-Day: Rare Color Photos From England and France, 1944. It's no mystery why images of unremitting violence spring to mind when one hears the deceptively simple term, "D-Day."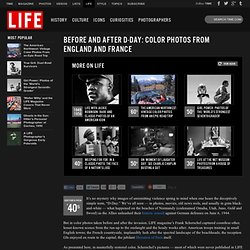 We've all seen — in photos, movies, old news reels, and usually in grim black-and-white — what happened on the beaches of Normandy (codenamed Omaha, Utah, Juno, Gold and Sword) as the Allies unleashed their historic assault against German defenses on June 6, 1944. But in color photos taken before and after the invasion, LIFE magazine's Frank Scherschel captured countless other, lesser-known scenes from the run-up to the onslaught and the heady weeks after: American troops training in small English towns; the French countryside, implausibly lush after the spectral landscape of the beachheads; the reception GIs enjoyed en route to the capital; the jubilant liberation of Paris itself.
As presented here, in masterfully restored color, Scherschel's pictures — most of which were never published in LIFE — feel at-once profoundly familiar and somehow utterly, vividly new. Cinemagraphs: Images that come alive. 40 Of The Most Powerful Photographs Ever Taken.
Fulgurator-action : Julius von Bismarck. People's great trust in their photographic reproductions of reality was what motivated me to develop the *Image Fulgurator*.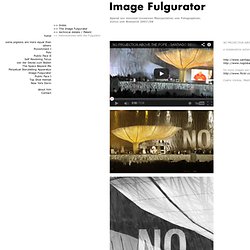 A camera can be used as a personal memory tool, since people do not doubt the veracity of their own photographs. Hence, photos can reproduce the reality of an individual environment or public space. At sacred or popular locations, or those having a political connotation, an intervention with the Fulgurator can be particularly effective. Especially objects with a special aura or great symbolic power are good targets for this kind of manipulation. Washington DC Photography, Photographs, stock photography, dc, images, pictures, photos, washington | Washington DC Stock Photography, Photographs, Inked Up Self Portraits. Sweet and Sexually Charged Photography (20 photos) Originally from Tegucigalpa, Honduras, Carlos Nunez is an LA-based photographer whose gorgeous shots can easily range from sweet and demure to downright sexy.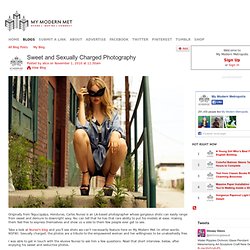 You can tell that he has that rare ability to put his models at ease, making them feel free to express themselves and show us a side to them few people ever get to see. Take a look at Nunez's blog and you'll see shots we can't necessarily feature here on My Modern Met (in other words, NSFW). Sexually charged, the photos are a tribute to the empowered woman and her willingness to be unabashedly free. I was able to get in touch with the elusive Nunez to ask him a few questions.
Read that short interview, below, after enjoying his sweet and seductive photos. The Other Me. In 2008, fresh out of high school, Karla Read picked up a hobby that would ultimately change the course of her life.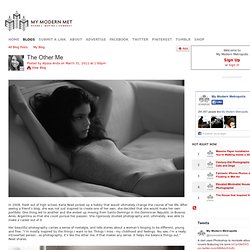 After seeing a friend's blog, she was not just inspired to create one of her own, she decided that she would make her own portfolio. One thing led to another and she ended up moving from Santo Domingo in the Dominican Republic to Buenos Aires, Argentina so that she could pursue her passion. She rigorously studied photography and, ultimately, was able to make a career out of it. Beautifully Offbeat Photography (13 photos) Samuel Bradley's photos cannot be neatly categorized.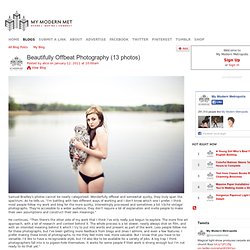 Wonderfully offbeat and somewhat quirky, they truly span the spectrum. As he tells us, "I'm battling with two different ways of working and I don't know which one I prefer. I think most people follow my work and blog for the more quirky, interestingly processed and sometimes a bit 'cliché vintage' photographs. Paris in Magnificent Black and White (16 photos) "Tour Eiffel" Paris is known to be one of the most romantic cities in the world.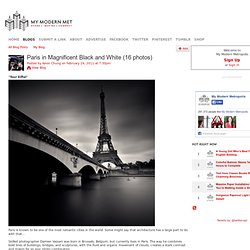 Some might say that architecture has a large part to do with that... Skilled photographer Damien Vassart was born in Brussels, Belgium, but currently lives in Paris. The way he combines bold lines of buildings, bridges, and sculptures, with the fluid and organic movement of clouds, creates a stark contrast and makes for an epic photo combination. "My interest of photography began in 2007," says Vassart. Marc Pagani Photography | Portraits. 99 Excellent Examples of Forced Perspective Photography | Photography. Forced perspective is a technique that employs optical illusion to make an object appear farther away, closer, larger or smaller than it actually is.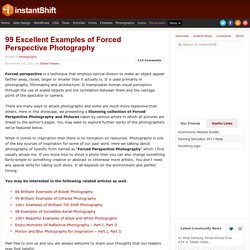 It is used primarily in photography, filmmaking and architecture. It manipulates human visual perception through the use of scaled objects and the correlation between them and the vantage point of the spectator or camera. There are many ways to attack photography and some are much more expensive than others. Eloquent Pixels | Photography. 500px / Home. Follow the Colours. One big photo » a picture is worth a thousand words. Recent posts.
In Focus. On Wednesday, on a hill in China's Chongqing municipality, 34-year-old beekeeper She Ping covered himself in 460,000 bees weighing 45.65kg (100 pounds) in a publicity stunt to promote his honey sales.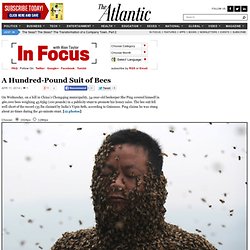 The bee suit fell well short of the record 135 lbs claimed by India's Vipin Seth, according to Guinness. Ping claims he was stung about 20 times during the 40-minute stunt. [12 photos] Choose:
---