SEO
Mobile SEO
Keyword Tools. Tools. Link Building. Content SEO. The New SEO Process (Quit Being Kanye) The author's posts are entirely his or her own (excluding the unlikely event of hypnosis) and may not always reflect the views of Moz.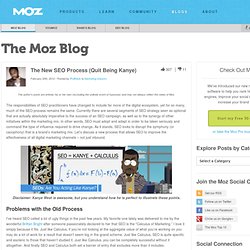 The responsibilities of SEO practitioners have changed to include far more of the digital ecosystem, yet for so many, much of the SEO process remains the same. Currently there are several segments of SEO strategy seen as optional that are actually absolutely imperative to the success of an SEO campaign, as well as to the synergy of other initiatives within the marketing mix. In other words, SEO must adopt and adapt in order to be taken seriously and command the type of influence required to drive change.
As it stands, SEO looks to disrupt the symphony (or cacophony) that is a brand's marketing mix. Let's discuss a new process that allows SEO to improve the effectiveness of all digital marketing channels – not just inbound.
SEO Ninja. Multilingual SEO: Things to Remember. Google has recently done a series on the usability of multilingual websites and it got me thinking about multilingual SEO.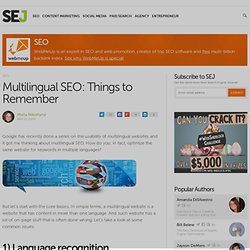 How do you, in fact, optimize the same website for keywords in multiple languages? But let's start with the core basics. In simple terms, a multilingual website is a website that has content in more than one language. And such website has a lot of on-page stuff that is often done wrong. Let's take a look at some common issues:
SEO Ranking Tools
---