SEO Excel
Visualize Your Backlinks with Google Fusion Tables
Data can be boring.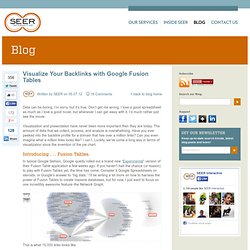 Keyword Research - Using Categories to Make Your Process More Actionable
The author's posts are entirely his or her own (excluding the unlikely event of hypnosis) and may not always reflect the views of SEOmoz, Inc.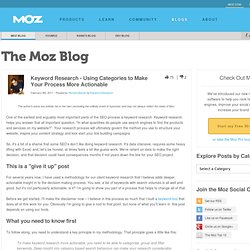 Excel and Google Docs: Tools for the Ultimate SEO Dashboard
I love SEO tools. I'm sort of a pack-rat when it comes to Google Docs tools and Excel add-ins.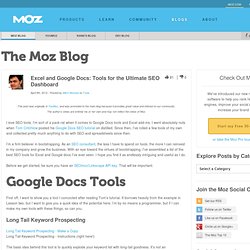 Competitive Analysis in Under 60 Seconds Using Google Docs
Integrate Google Analytics data into Excel workbooks - no plugin installation needed.
Excel functions for fetching Google Analytics data | AutomateAnalytics.com
How to Build an Advanced Keyword Analysis Report in Excel - YouMoz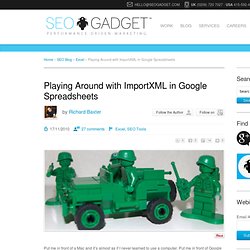 Playing Around with ImportXML in Google Spreadsheets
Put me in front of a Mac and it's almost as if I never learned to use a computer. Put me in front of Google Spreadsheets and all of the time I've spent working with Excel feels a little like time wasted, and not in a good way.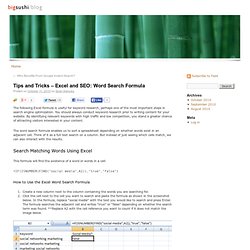 Tips and Tricks – Excel and SEO: Word Search Formula | Big Sushi Blog
The following Excel formula is useful for keyword research, perhaps one of the most important steps in search engine optimization. You should always conduct keyword research prior to writing content for your website.
Using Excel for SEO – the Grand Collection of Tips
You probably know that I am a big Excel fanatic (though not an expert). To me, Excel has always been the ultimate SEO, guest blogging and productivity tool. I've been collecting Excel tutorials for years and this post lists the most useful (yet, the least geeky) of them: no matter which SEO task you have come across, chances are you'll find one of the following tutorials handy: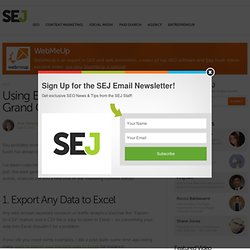 Table of Contents Excel for SEO is a guide we wrote up to help SEO professionals get meaningful information from mountains of data. This guide was originally written to be read from start to finish, as some examples are worked on through different lessons.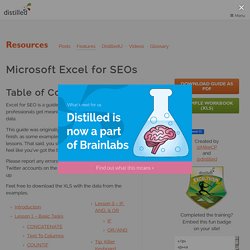 p.ost
In the past few years innovations on the web have made it incredibly easy for regular people like you and I to enter the world of coding. For example, right at the end of 2010 I started dabbling with Google Appengine and shipped a fully functional interactive site in 4 weeks.