Magasines
BIENNALE. Studio de création à Bordeaux - design interactif - 2Roqs. Campus de la Fonderie de l'Image. ÉESI // École européenne supérieure de l'image / European School of Visual Arts • Angoulême & Poitiers. Née de la volonté d'Angoulême et de Poitiers d'unir leurs ressources pour créer une école d'art à échelle régionale, l'ÉESI est subventionnée par le ministère de la Culture et de la Communication, le Conseil régional de Poitou-Charentes et les deux villes qui l'accueillent.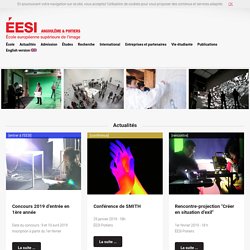 Au-delà du Diplôme national d'arts plastiques, obtenu en trois ans, l'ÉESI prépare au Diplôme supérieur d'expression plastique, au grade de master. Les trois mentions de son option Art – bande dessinée, création numérique, pratiques émergentes – privilégient l'exploration des rapports entre pensée critique, production plastique et recherche. AMUSEMENT.NET. Digital art international: the international portal & community dedicated to digital art. RAN | Réseau arts numériques - Digital arts network. Association - AADN - Arts numériques - Digital arts. Accueil | Culture digitale et technologies impertinentes. Interactive Art & Computational Design / Spring 2011. About Time: Mondays/Wednesdays 8:30am-11:30amLocation: CFA-303 (Seminar Room) and CFA-318 (Mac Cluster)Course Numbers: 60110-A (Art), 51-482 (Design), 62-726 (CFA) Instructor: Golan Levin (contact information)Office Hours: T/Th mornings, 9-10amOffice Locations: CFA-405 (office) or CFA-111 (Studio for Creative Inquiry)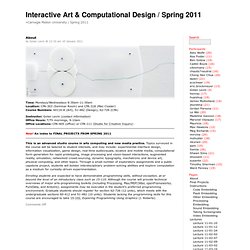 ELEKTRA 12. Dédale / Art Culture Technologies. Transmediale. CreativeApplications.Net | Apps That Inspire... Lightrhythm visuals: news and events | news and events. UK – ARCHIVE : a retrospective audiovisual compilation Jude Greenaway (a.k.a.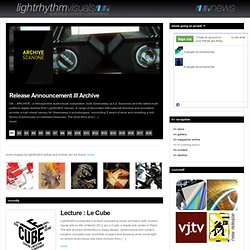 Scanone) and the latest multi-platform digital release from Lightrhythm Visuals. A range of decorated international directors and animators provide a lush visual canopy for Greenaway's soundscapes, concluding 5 years of work and unveiling a rich library of previously un-released treasures. Computer Arts magazine | Inspiration, Technique, Great Design. Computerlove - Contemporary Creative Culture. Designers interactifs - Magazine.
---