Magasines
BIENNALE
10 Octobre 2013 Célèbre Maison de négoce en vins de Bordeaux depuis 1815, Cordier Mestrezat Grands Crus se distingue par sa démarche d'innovation dans le marketing des Grands Vins. Pour compléter le voyage Oeno-émotionnel proposé par la Maison Cordier Mestrezat lors de visites privées, celle-ci s'est dotée d'une surprenante application en réalité augmentée sur tablette, dont la réalisation nous a été confiée. 21 Juin 2013 Une galerie de cartes postales anciennes dans lesquelles ont peut "entrer": c'est à voir à l'Office de Tourisme du Grand Villeneuvois. Trois lieux emblématiques animés en 3 dimensions, pour un voyage immersif dans les années 1900.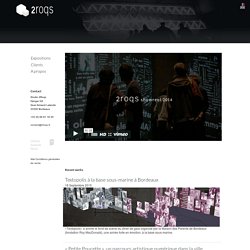 Studio de création à Bordeaux - design interactif - 2Roqs
Campus de la Fonderie de l'Image
ÉESI // École européenne supérieure de l'image / European School of Visual Arts • Angoulême & Poitiers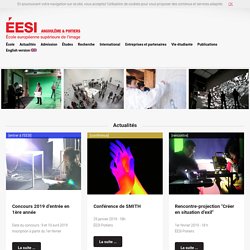 Née de la volonté d'Angoulême et de Poitiers d'unir leurs ressources pour créer une école d'art à échelle régionale, l'ÉESI est subventionnée par le ministère de la Culture et de la Communication, le Conseil régional de Poitou-Charentes et les deux villes qui l'accueillent. Au-delà du Diplôme national d'arts plastiques, obtenu en trois ans, l'ÉESI prépare au Diplôme supérieur d'expression plastique, au grade de master. Les trois mentions de son option Art – bande dessinée, création numérique, pratiques émergentes – privilégient l'exploration des rapports entre pensée critique, production plastique et recherche.
Now / Art & Design, Tech By AMUSEMENT [DIGITALLY-INSPIRED] Take the time to watch the video and to appreciate the beauty of the landscapes created by the laser projections before racking your brain a bit to understand the technology at work behind it. Now / Art & Design
RAN | Réseau arts numériques - Digital arts network
Interactive Art & Computational Design / Spring 2011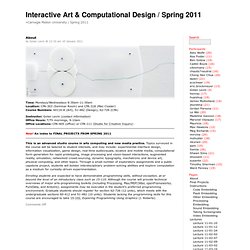 About Time: Mondays/Wednesdays 8:30am-11:30amLocation: CFA-303 (Seminar Room) and CFA-318 (Mac Cluster)Course Numbers: 60110-A (Art), 51-482 (Design), 62-726 (CFA) Instructor: Golan Levin (contact information)Office Hours: T/Th mornings, 9-10amOffice Locations: CFA-405 (office) or CFA-111 (Studio for Creative Inquiry)
ELEKTRA 12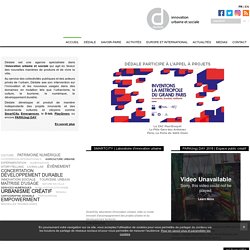 Dédale / Art Culture Technologies
Dédale est une agence dédiée à la culture, aux nouvelles technologies et à l'innovation sociale en Europe. Son champ d'activité recouvre la production artistique, l'événementiel, la recherche, le conseil aux collectivités publiques et aux institutions européennes. Elle s'intéresse tout particulièrement à l'innovation et aux nouveaux usages dans des domaines en mutation tels que l'urbanisme, les médias, la création artistique, le patrimoine culturel, l'environnement ou encore l'éducation.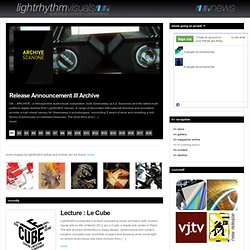 lightrhythm visuals: news and events | news and events
UK – ARCHIVE : a retrospective audiovisual compilation Jude Greenaway (a.k.a. Scanone) and the latest multi-platform digital release from Lightrhythm Visuals. A range of decorated international directors and animators provide a lush visual canopy for Greenaway's soundscapes, concluding 5 years of work and unveiling a rich library of previously un-released treasures.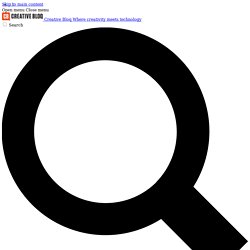 Computer Arts is the magazine for people who believe design matters, and has been inspiring and informing graphic designers and illustrators since 1995. With both a deluxe print edition and a fully-interactive, bespoke iPad edition, Computer Arts brings you behind-the-scenes access to cutting-edge design projects, in-depth analysis and incisive opinions from the design world's thought leaders, plus the very best new work from the global design community. Whether it's a shift in creative thinking or a change to the business of design, you can rely on Computer Arts to bring you detailed analysis of the pivotal events. We'll introduce you to the industry's most exciting trailblazers as well as highlighting the world's freshest new talent, digging deep to discover what makes each of them special.