Gardening
Seed Savers Exchange. Biodome Revolution. Heirloom Storable Non-Hybrid Vegetable Seed Garden Seed Herbs Non-GMO. Ballantyne/Red Feather is the world's largest producer of canned butter.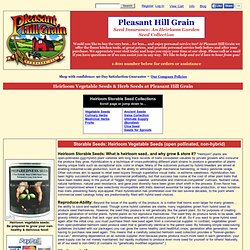 Sealed airtight for maximum freshness, their canned butter delivers convenience in the form of extended shelf life and easy distribution without the necessity of refrigeration. It has also proven ideal for disaster preparedness, camping, boating and remote areas where refrigeration isn't available. Each can holds 12 ounces of pure creamery butter. New Zealand's free range farming system allows Ballantyne to produce butter of the highest quality. Non-hybrid heirloom seeds. Non-hybrid seeds are untreated seeds as far as genetic tampering goes.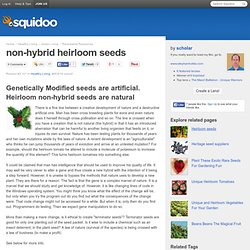 They can also be heirlooms if they come from an original source that has not had the seeds tampered with. Grown season to season the seeds are only modified by the weather and the growing conditions. People have fed off the crop for thousands of years. But manipulating the DNA of the plant can have unexpected results. An example that should be checked on. Emergency Preparedness: Non-Hybrid Seeds, Heirloom Seeds, Non GMO Seeds, Survival Garden Seeds. HEIRLOOM SEEDS - over 1400 varieties of heirloom (non-hybrid) seeds including heirloom vegetable seeds, heirloom flower seeds and heirloom herb seeds. Survival Seeds - The Survival Seed Bank Provides a Lifetime Food Solution for Families. Non-Hybrid Seeds | Non-Hybrid Vegetable Fruit Grain Herb Seeds. Welcome to eFoodsDirect - Your number one source for high quality food storage needs.
---