Gardening
Biodome Revolution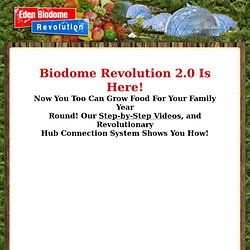 Biodome Revolution 2.0 Is Here! Now You Too Can Grow Food For Your Family Year Round! Our Step-by-Step Videos, and Revolutionary Hub Connection System Shows You How! Special Price: $49.95 Lifetime 100% Money-Back Guarantee
Heirloom Storable Non-Hybrid Vegetable Seed Garden Seed Herbs Non-GMO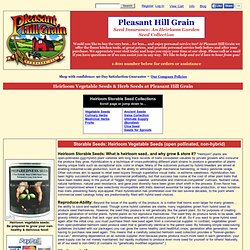 Ballantyne/Red Feather is the world's largest producer of canned butter. Sealed airtight for maximum freshness, their canned butter delivers convenience in the form of extended shelf life and easy distribution without the necessity of refrigeration. It has also proven ideal for disaster preparedness, camping, boating and remote areas where refrigeration isn't available. Each can holds 12 ounces of pure creamery butter. New Zealand's free range farming system allows Ballantyne to produce butter of the highest quality.
Non-hybrid seeds are untreated seeds as far as genetic tampering goes. They can also be heirlooms if they come from an original source that has not had the seeds tampered with. Grown season to season the seeds are only modified by the weather and the growing conditions. People have fed off the crop for thousands of years. But manipulating the DNA of the plant can have unexpected results. An example that should be checked on.
non-hybrid heirloom seeds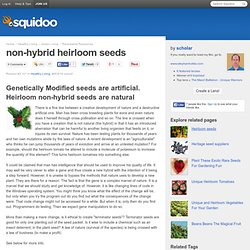 Emergency Preparedness: Non-Hybrid Seeds, Heirloom Seeds, Non GMO Seeds, Survival Garden Seeds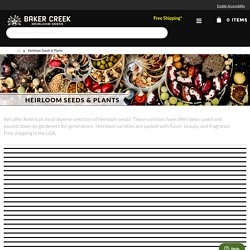 * All the varieties of seeds we sell are open pollinated (non-hybrid) and untreated.* None of the seeds we sell are genetically engineered. ALL NON-GMO.* Selection of gardening books for the beginner or experienced gardener.* A variety of garden supplies and non-toxic products for insect control.* Quality heirloom seeds at low prices.Gift Certificates available Past garden trivia THANK YOU FOR VISITING OUR WEB SITE !!!
Now you can grow all the survival food you will ever need anywhere in the country with a kit that contains a special seed bank of hard to find, open pollinated... super seeds, grown by small, fiercely independent farmers. Let's face it. If the stories coming out on the world's food supply are even half right, we've got real problems and they aren't going to go away quickly. Here are a couple stories that I ran across recently: WorldNet Daily cites strong evidence that some government agencies are stockpiling huge amounts of canned food. Jim Randas, former U.S.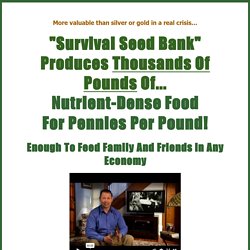 Nutritional Integrity Many vegetables today lack nutrition from over-hybridization. Recent tests are showing that many of the vegetables, grains and other produce you buy, INCLUDING ORGANIC PRODUCE, are nutrient-deficient. If you want to truly be in charge of your nutritional intake, you must home garden. If you want the higher nutrition of original varieties you must use non-hybrids. Economic security and independence Growing your own food, now, is becoming an economic necessity for many.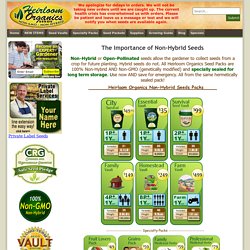 Welcome to eFoodsDirect - Your number one source for high quality food storage needs.
How much food do you need in your food supply to feed your family? With the NEW Food Planning Pack from eFoodsDirect, determine your emergency food storage needs, plus get some free meals in the process. The Free Food Planning Pack includes: Three (3) Pouches of Quick-Fix Meals Four (4) 1-cup Servings, or Two (2) Hearty Meals per Pouch Food Planning Guide Helps Calculate How Much Food You Need 30-Minute Audio CD by Steve Shenk, eFoodsDirect Co-Founder Catalog of Products