Photoshop
50 Stunning Pixel Perfect PSD Freebies #3. Would You Eat That? The Secrets Of Successful Food Packaging Design. We all see it every day.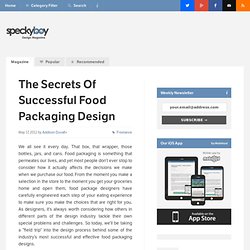 That box, that wrapper, those bottles, jars, and cans. Food packaging is something that permeates our lives, and yet most people don't ever stop to consider how it actually affects the decisions we make when we purchase our food. From the moment you make a selection in the store to the moment you get your groceries home and open them, food package designers have carefully engineered each step of your eating experience to make sure you make the choices that are right for you. As designers, it's always worth considering how others in different parts of the design industry tackle their own special problems and challenges.
So today, we'll be taking a "field trip" into the design process behind some of the industry's most successful and effective food packaging designs. iOS icon corner radii. When designing app icons for iOS it's useful to know the corner radius for each size to preview it correctly – even though the exported png needs to have sharp corners.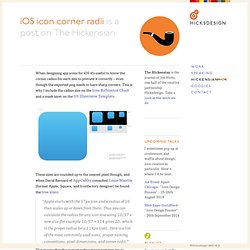 This is why I include the radius size on the Icon Reference Chart and a mask layer on the OS Illustrator Template. These sizes are rounded up to the nearest pixel though, and when David Barnard of AppCubby consulted Louie Mantia (former Apple, Square, and Iconfactory designer) he found the true sizes: Apple starts with the 57px icon and a radius of 10 then scales up or down from there. 26 Free Adobe Photoshop Similar and Alternative Software. EmailShare 22EmailShare Adobe Photoshop is one of the most powerful image editing programs around.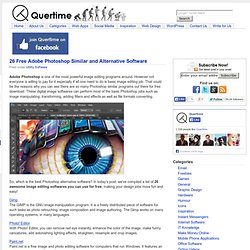 However not everyone is willing to pay for it especially if all one need to do is basic image editing job. That could be the reasons why you can see there are so many Photoshop similar programs out there for free download. Photoshop App for iPad How to Use Instruction. Let's continue getting acquainted with Adobe Photoshop Touch app for iPad.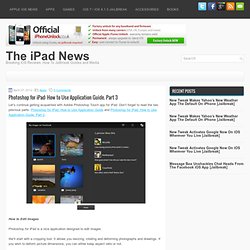 Don't forget to read the two previous parts: Photoshop for iPad: How to Use Application Guide and Photoshop for iPad: How to Use Application Guide. Part 2. How to Edit Images. 25+ Fabulous Photoshop Tutorials For Brilliant Photo Effects. Now days the process of learning Photoshop tutorial has become very easy way on the web.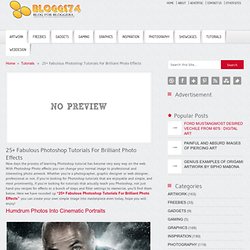 With Photoshop Photo effects you can change your normal image to professional and interesting photo artwork. Whether you're a photographer, graphic designer or web designer, professional or not, if you're looking for Photoshop tutorials that are enjoyable and simple, and most prominently, if you're looking for tutorials that actually teach you Photoshop, not just hand you recipes for effects or a bunch of steps and filter settings to memorize, you'll find them below.
Here we have rounded up "25+ Fabulous Photoshop Tutorials For Brilliant Photo Effects" you can create your own simple image into masterpiece even today, hope you will enjoy! 25 Detailed Web Layout PSD Templates. Today we have a 25 fully-layered PSD web layout templates that have not only been designed with current web design trends in mind, but are also so detailed and professional you simply won't believe they are free to download.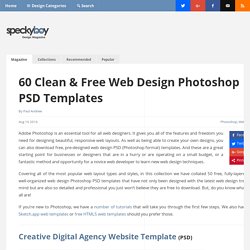 But, do you know something, they all are! Enjoy.
Icons. Illustrations | Vector Illustrations. Illustrations displayed on Templates.com are the two dimensional representation of the compositions of design elements made by professional illustrators.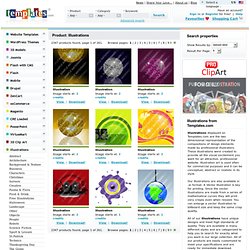 These illustrations were created to provide all the visual excitement you want for an attractive, professional website. Illustration art is used often for commercial purposes and it can be conceptual, abstract or realistic in its style. Our Illustrations are also available in .ai format. A Vector Illustration is key for printing. Since the vector illustrations are made from a series of mathematical curves they will print very crisply even when resized. Create an Animated 3D Bar Chart/Graph. The Truematter team was recently tasked with creating a fun, sexy web app that presents numerical data in an engaging way.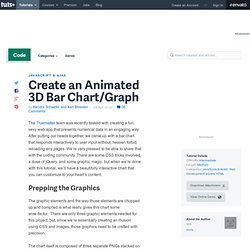 After putting our heads together, we came up with a bar chart that responds interactively to user input without, heaven forbid, reloading any pages. We're very pleased to be able to share that with the coding community. There are some CSS tricks involved, a dose of jQuery, and some graphic magic, but when we're done with this tutorial, we'll have a beautifully interactive chart that you can customize to your heart's content.
Logos. 20 Brand New PSD Business Cards Templates For Free Download. A business card is not a standalone piece of advertising; it has a very distinctive context (meeting, conversation) and function.
You can't compare it with a flyer. Being a creative professional, you have the license to play with meaning and format to be original and remarkable. When talking to someone you give your business card, it should be quick to read and understand, and it can be a conversation starter, never an obstacle. Fresh Multi color Logo Design Ideas For Designers. Posted Hybrid.Ahsan in Graphics , Inspiration on April 16th, 2012 / 5 Comments Advertisement Logo design ideas are too much supportive for designers to create an inspiring and creative logo.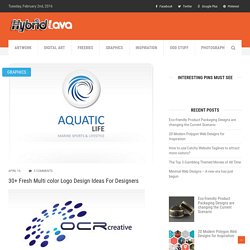 Is the essential part of your business corporate identity. Designers are working too hard for fresh and creative ideas. Today we have compiled here you can discover lot of creative ideas and get an for your business logo design. Beyond The Healing Brush – Removing Objects From Photos. The healing brush and clone tool are fine for fixing blemishes or removing certain things in an open area, but get near a hard edge and these tools become less useful. To realistically remove a large object, it takes careful attention to detail, its just The Healing Brush and Clone tools are fine for fixing blemishes or removing certain things in an open area, but get near a hard edge and these tools become less useful.
Realistically removing a large object takes careful attention to detail, and it's just something Photoshop can't quite automate. Here is the finished "Matrix" effect: And here is the starting photo, a really simple timer-shot of me leaning on a chair: Make Everyone Jealous with Green Themes, Palettes and Artworks. Soon you'll make everyone green with envy by showing off your newfound knowledge of this month's colour! Read on for some interesting bits of trivia, tips, puns and finally, as always, a showcase with a little something for everybody. Enough beating around the bush, let's get to it! Other color of the month you might enjoy: December - Colour Chronicles: Bold BrownJanuary - Colour Chronicles: Brilliant BlueFebruary - Set Your Website on Fire with Red Themes, Photos, and Palettes. Princess Elisabeth Antarctica.
Stock Photos and Royalty Free Image Subscription from 123RF Stock Photography.
---