Augmented Reality
Google Glasses Design Patents and Other Wearables. Google was granted three different design patents for augmented reality glasses today, showing slightly different looks from one to the other.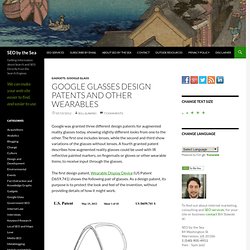 The first one includes lenses, while the second and third show variations of the glasses without lenses. A fourth granted patent describes how augmented reality glasses could be used with IR reflective painted markers, on fingernails or gloves or other wearable items, to receive input through the glasses. Google's Project Glass Not As Full-On As Preview Suggested. It seems that Google's augmented reality specs, codenamed Project Glass and revealed early last month, won't be quite as full-on as the initial promotional video indicated.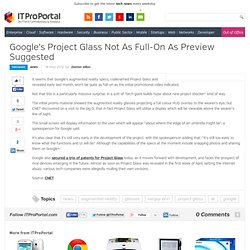 Not that this is a particularly massive surprise, in a sort of "tech giant builds hype about new project shocker" kind of way. The initial promo material showed the augmented reality glasses projecting a full colour HUD overlay to the wearer's eye, but CNET discovered on a visit to the big G, that in fact Project Glass will utilise a display which will be viewable above the wearer's line of sight. The small screen will display information to the user which will appear "about where the edge of an umbrella might be", a spokesperson for Google said.
It's also clear that it's still very early in the development of the project, with the spokesperson adding that: "It's still too early to know what the functions and UI will be. " Projects | Augmented Environments Lab. Mos.futurenet.com/pdf/computerarts/CAP125_tut_augreal.pdf. Augmented Environments Lab » Projects. Medical app uses augmented reality and camera phone to detect skin cancer.
Here at iMedicalApps, we are especially interested in any developments in the mobile world which we can utilize as physicians to provide better healthcare and better outcomes for our patients.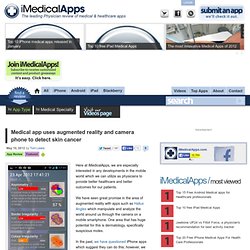 We have seen great promise in the area of augmented reality with apps such as Hallux Angles which manipulate and analyze the world around us through the camera on a mobile smartphone. One area that has huge potential for this is dermatology, specifically suspicious moles. In the past, we have questioned iPhone apps which suggest they can do this; however, we do recognize that this technology has a fundamental role to play in future years. DoctorMole is a free Android app that uses augmented reality to analyze suspicious moles using the standard ABCDE approach in order to determine risk. While we and the app's developers recognize this is absolutely and equivocally no substitute for qualified professional advice, we are intrigued by the innovation and promise this app holds. Seven awesome augmented reality campaigns. Augmented reality ads are slowly making their way into the mainstream, with more and more brands using the technology to engage consumers with hidden digital content.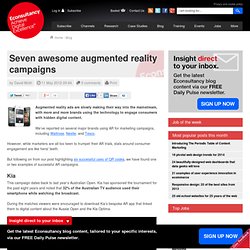 We've reported on several major brands using AR for marketing campaigns, including Waitrose, Nestle, and Tesco. However, while marketers are all too keen to trumpet their AR trials, stats around consumer engagement are like hens' teeth. Augmented Reality Placemats Announce Upcoming Events. UK restaurant chain Wagamama is using augmented reality in its latest marketing campaign, allowing diners to scan their placemats with their smartphones to find out more about the restaurant's participation at this summer's music festivals.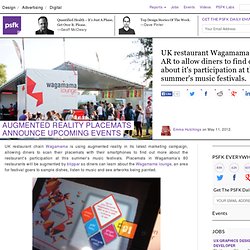 Placemats in Wagamama's 80 restaurants will be augmented by blippar so diners can learn about the Wagamama lounge, an area for festival goers to sample dishes, listen to music and see artworks being painted. The lounge appeared at Parklife in Manchester and Summer Sundae in Leicester last year, and more events are due to be announced for the 2012 festival season. The placemats provide links to further information on Facebook and YouTube, and customers can also enter a competition to win a meal. The AR placemats will feature in Wagamama restaurants across the UK until June 3rd and they work via 3G or the restaurants' free wi-fi. Marketing And Augmented Reality: The Real Deal? Absolut Inspire: Augmented Reality Street Art  Check out this Future Lions 2012 entry by Iris Gavric & Daniel Otterbein… Proposed for Absolut Vodka, they've attempted to create movement called Absolut Inspire, an Augmented Reality Street Art App designed to create a new world without creative limitations.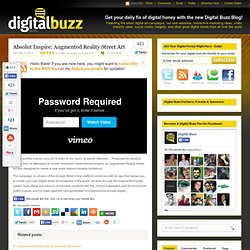 The campaign is a fusion of the Google Street View platform combined with an app that allows you to create your own digital street art anywhere in the world, all seen through the augmented reality viewer. Sure, there are a bunch of concepts out there like this, but the integration with the brand and bottle is great, and I'm really glad the next generation of creatives are already digital… Into the Matrix: the future of augmented reality (and you) The growth of augmented reality (AR) will almost certainly change the way we visually experience the everyday world.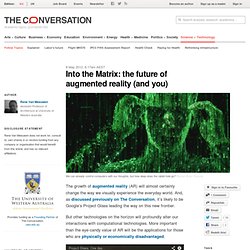 And, as discussed previously on The Conversation, it's likely to be Google's Project Glass leading the way on this new frontier. But other technologies on the horizon will profoundly alter our interactions with computational technologies. More important than the eye-candy value of AR will be the applications for those who are physically or economically disadvantaged. Metaio Creator: Augmented Reality Software for Non-Developers. The metaio Creator is a new software that will enable non-developers to create and deploy Augmented Reality experiences with no coding necessary.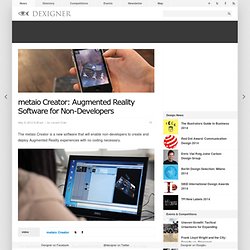 The application is the next step in Augmented Reality content production, and was specifically designed for non-developers, designers and people who have the desire to create amazing AR experience but wish to do so without using a hard-coding environment. The metaio Creator is compatible with junaio and can be used to quickly deploy custom, cloud-based AR content to Android and iOS devices. Developers and Creator users alike will benefit from an upcoming junaio update that will allow for HTML and JavaScript interactions and dramatically increase the possibilities for mobile experiences. News - MirageTable: Microsoft presents augmented reality device. 9 May 2012Last updated at 07:57 ET Researchers used the device to collaborate on how to build an object out of blocks Microsoft has shown off an augmented reality system that allows users at different locations to work together on tabletop activities, sharing objects which they can both handle.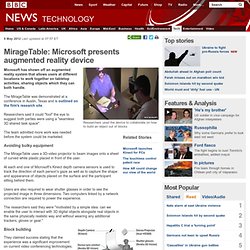 The MirageTable was demonstrated at a conference in Austin, Texas and is outlined on the firm's research site. Researchers said it could "fool" the eye to suggest both parties were using a "seamless 3D shared task space". Nokia's City Lens Brings Augmented Reality to Windows Phone. By Shawn Ingram | Nokia's newest exclusive Windows Phone app is City Lens, an augmented reality app that looks like it could replace Local Scout for Lumia owners.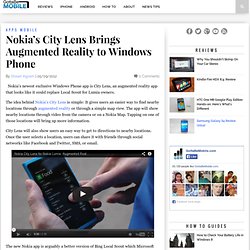 The idea behind Nokia's City Lens is simple: It gives users an easier way to find nearby locations through augmented reality or through a simple map view. The app will show nearby locations through video from the camera or on a Nokia Map. Pioneer intros car head units with augmented reality screen. Pioneer GPS head units due in July for nearly $4,000 Pioneer introduced two new Cyber Navi head units for vehicles that can display augmented reality (AR) information in front of the driver, Tech-On reported.
The AVIC-VH99HUD is composed of two single-din pieces of hardware and is the flagship, while the AVIC-ZH99HUD is double-DIN sized. The first products of their kind would use a Head Up Display (HUD) to show the AR information, like some vehicles. The HUD displays a near 37-inch image about 10 feet in front of the driver at a 720x260 resolution and 12,000cd/m2 brightness. The HUD can be installed in about 70 percent of all vehicles on the market, Pioneer estimates. Pioneer touts world's first car GPS with augmented reality HUD (video) We've seen augmented reality, and GPS with augmented reality, but we haven't seen the two combined at the front of a car's windshield.
A pair of Cyber Navi rigs from Pioneer promise to change all that, using an add-on, laser-projected heads-up display from MicroVision that shows driving directions just above the road itself, making sure that you focus on what's in front rather than squinting at the LCD off to the side. If you do need to look at that LCD, however, you'll get yet another augmented reality view if your car has a camera up front, more detail about the route and a new speed limit sign alert system.
LuminAR. Microsoft Applies for Patent on Augmented Reality, 3-D Audio | Gadget Lab. Microsoft's 3D audio patent application could add new features to the Kinect. Photo: USPTO Surround-sound systems are great for playing games and watching movies when you're in the "sweet spot" of focused audio. Innovega Inc. - HOME. My wallet is open, Google, now hand over Project Glass. Project Glass has opened my eyes and my wallet: Google, please, come help yourself to my credit card.
The much-rumored wearable augmented reality system has emerged from the Google[x] skunkworks and it's even more than we hoped for. No clunky headset like a bad pair of swollen sunglasses, but a sleek slice of transparent display with just enough Star Trek: TNG hints to keep the geeks happy. With a concept video and a handful of rumors, though, there are still plenty of questions remaining.
Google hasn't talked technology regarding Project Glass, focusing instead on the potential user experience, but there's enough here to slot together a few suggestions. Google testing heads-up display glasses in public, won't make you look like Robocop. The good news: Google has started testing those augmented reality glasses we heard about earlier in the year.
The bad news: if the artsy shots of the test units are to be believed, they won't make you look like some '80s cinematic anti-hero. In fact, the things wouldn't look too out of place in a New York Times style story.
---