Augmented Reality
Google Glasses Design Patents and Other Wearables
By Bill Slawski , on May 15, 2012, at 8:45 am Google was granted three different design patents for augmented reality glasses today, showing slightly different looks from one to the other.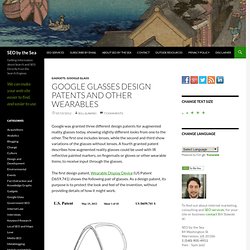 It seems that Google's augmented reality specs, codenamed Project Glass and revealed early last month, won't be quite as full-on as the initial promotional video indicated.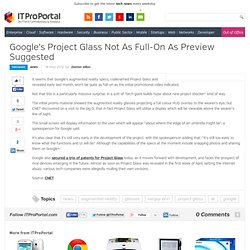 Google's Project Glass Not As Full-On As Preview Suggested
Projects | Augmented Environments Lab
mos.futurenet.com/pdf/computerarts/CAP125_tut_augreal.pdf
Augmented Environments Lab » Projects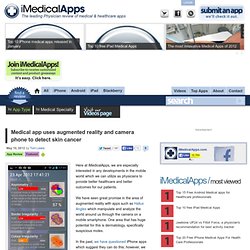 Here at iMedicalApps, we are especially interested in any developments in the mobile world which we can utilize as physicians to provide better healthcare and better outcomes for our patients. We have seen great promise in the area of augmented reality with apps such as Hallux Angles which manipulate and analyze the world around us through the camera on a mobile smartphone.
Medical app uses augmented reality and camera phone to detect skin cancer
Seven awesome augmented reality campaigns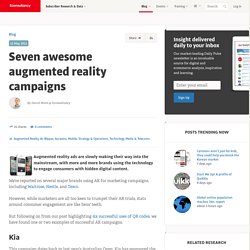 Augmented reality ads are slowly making their way into the mainstream, with more and more brands using the technology to engage consumers with hidden digital content.
Augmented Reality Placemats Announce Upcoming Events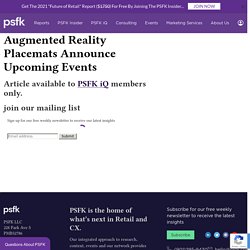 UK restaurant chain Wagamama is using augmented reality in its latest marketing campaign, allowing diners to scan their placemats with their smartphones to find out more about the restaurant's participation at this summer's music festivals. Placemats in Wagamama's 80 restaurants will be augmented by blippar so diners can learn about the Wagamama lounge , an area for festival goers to sample dishes, listen to music and see artworks being painted. The lounge appeared at Parklife in Manchester and Summer Sundae in Leicester last year, and more events are due to be announced for the 2012 festival season.
Marketing And Augmented Reality: The Real Deal?
Check out this Future Lions 2012 entry by Iris Gavric & Daniel Otterbein… Proposed for Absolut Vodka, they've attempted to create movement called Absolut Inspire, an Augmented Reality Street Art App designed to create a new world without creative limitations. The campaign is a fusion of the Google Street View platform combined with an app that allows you to create your own digital street art anywhere in the world, all seen through the augmented reality viewer. Sure, there are a bunch of concepts out there like this, but the integration with the brand and bottle is great, and I'm really glad the next generation of creatives are already digital…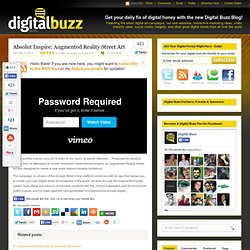 Absolut Inspire: Augmented Reality Street Art 
Into the Matrix: the future of augmented reality (and you)
The growth of augmented reality (AR) will almost certainly change the way we visually experience the everyday world.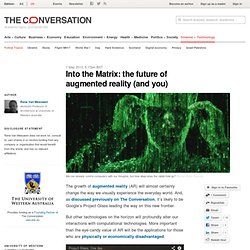 May 8, 2012 | by Levent Ozler 72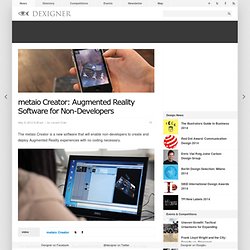 metaio Creator: Augmented Reality Software for Non-Developers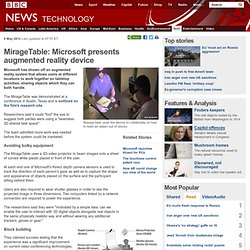 News - MirageTable: Microsoft presents augmented reality device
9 May 2012 Last updated at 11:57 GMT
Email Share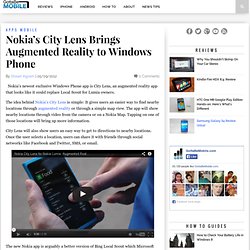 Nokia's City Lens Brings Augmented Reality to Windows Phone
Pioneer GPS head units due in July for nearly $4,000 Pioneer introduced two new Cyber Navi head units for vehicles that can display augmented reality (AR) information in front of the driver, Tech-On reported .
Pioneer intros car head units with augmented reality screen
Pioneer touts world's first car GPS with augmented reality HUD (video)
We've seen augmented reality , and GPS with augmented reality , but we haven't seen the two combined at the front of a car's windshield. A pair of Cyber Navi rigs from Pioneer promise to change all that, using an add-on, laser-projected heads-up display from MicroVision that shows driving directions just above the road itself, making sure that you focus on what's in front rather than squinting at the LCD off to the side. If you do need to look at that LCD, however, you'll get yet another augmented reality view if your car has a camera up front, more detail about the route and a new speed limit sign alert system.
LuminAR | Fluid Interfaces
Microsoft Applies for Patent on Augmented Reality, 3-D Audio | Gadget Lab
Surround-sound systems are great for playing games and watching movies when you're in the "sweet spot" of focused audio. When you're sitting off-center, however, the audio sounds less like all-enveloping 3-D surround sound, and more like a garbled aural mess. But now it looks like Microsoft may have a solution.
Innovega Inc. - HOME
My wallet is open, Google, now hand over Project Glass
Project Glass has opened my eyes and my wallet: Google, please, come help yourself to my credit card.
The good news: Google has started testing those augmented reality glasses we heard about earlier in the year. The bad news: if the artsy shots of the test units are to be believed, they won't make you look like some '80s cinematic anti-hero. In fact, the things wouldn't look too out of place in a New York Times style story.
Google testing heads-up display glasses in public, won't make you look like Robocop