Agile Testing
Outsourced Software Product Development Company | GlobalLogic
Pivotal Labs is an agile software development consulting firm with headquarters in San Francisco and offices in Manhattan and Boulder, Colorado .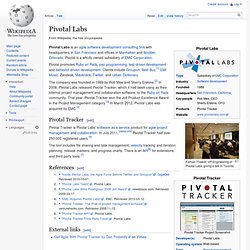 Pivotal Tracker
Cucumber is a tool for running automated acceptance tests written in a behavior driven development (BDD) style. Cucumber is written in the Ruby programming language . [ 6 ] [ 7 ] Cucumber projects are available for other platforms beyond Ruby.
Cucumber (software)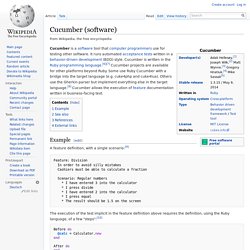 Continuous integration ( CI ) is the practice, in software engineering , of merging all developer workspaces with a shared mainline several times a day. It was first named and proposed as part of extreme programming (XP). Its main aim is to prevent integration problems, referred to as "integration hell" in early descriptions of XP. CI can be seen as an intensification of practices of periodic integration advocated by earlier published methods of incremental and iterative software development, such as the Booch method . CI isn't universally accepted as an improvement over frequent integration by supporters of the latter.
Continuous integration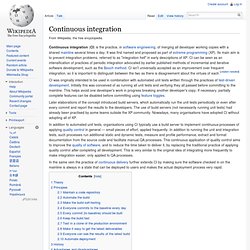 Regression testing is any type of software testing that seeks to uncover new software bugs , or regressions , in existing functional and non-functional areas of a system after changes, such as enhancements, patches or configuration changes, have been made to them. The intent of regression testing is to ensure that a change such as those mentioned above has not introduced new faults. [ 1 ] One of the main reasons for regression testing is to determine whether a change in one part of the software affects other parts of the software. [ 2 ] Common methods of regression testing include rerunning previously-completed tests and checking whether program behavior has changed and whether previously-fixed faults have re-emerged. Regression testing can be used to test a system efficiently by systematically selecting the appropriate minimum set of tests needed to adequately cover a particular change. [ edit ] Background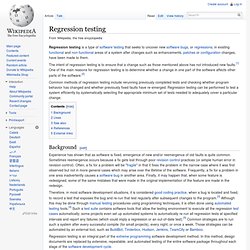 In computer programming , unit testing is a method by which individual units of source code , sets of one or more computer program modules together with associated control data, usage procedures, and operating procedures, are tested to determine if they are fit for use. [ 1 ] Intuitively, one can view a unit as the smallest testable part of an application. In procedural programming a unit could be an entire module but is more commonly an individual function or procedure. In object-oriented programming a unit is often an entire interface, such as a class, but could be an individual method. [ 2 ] Unit tests are created by programmers or occasionally by white box testers during the development process.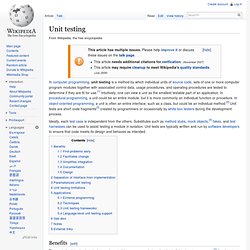 Integration testing (sometimes called Integration and Testing, abbreviated "I&T") is the phase in software testing in which individual software modules are combined and tested as a group. It occurs after unit testing and before validation testing . Integration testing takes as its input modules that have been unit tested , groups them in larger aggregates, applies tests defined in an integration test plan to those aggregates, and delivers as its output the integrated system ready for system testing . [ edit ] Purpose The purpose of integration testing is to verify functional, performance, and reliability requirements placed on major design items.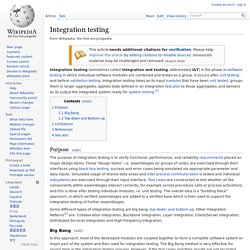 Integration testing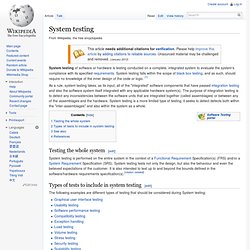 System testing
System testing of software or hardware is testing conducted on a complete, integrated system to evaluate the system's compliance with its specified requirements . System testing falls within the scope of black box testing , and as such, should require no knowledge of the inner design of the code or logic. [ 1 ] As a rule, system testing takes, as its input, all of the "integrated" software components that have successfully passed integration testing and also the software system itself integrated with any applicable hardware system(s). The purpose of integration testing is to detect any inconsistencies between the software units that are integrated together (called assemblages ) or between any of the assemblages and the hardware. System testing is a more limited type of testing; it seeks to detect defects both within the "inter-assemblages" and also within the system as a whole.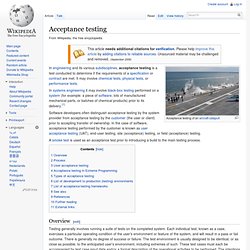 In engineering and its various subdisciplines , acceptance testing is a test conducted to determine if the requirements of a specification or contract are met. It may involve chemical tests , physical tests , or performance tests . In systems engineering it may involve black-box testing performed on a system (for example: a piece of software , lots of manufactured mechanical parts, or batches of chemical products) prior to its delivery. [ 1 ] Software developers often distinguish acceptance testing by the system provider from acceptance testing by the customer (the user or client) prior to accepting transfer of ownership.
Acceptance testing