Sustainability tech and thinking
Hemp Foods Australia | HempSeeds, Buy Hemp Seeds, Hemp Oil. 1ℓimit – Faucet Design by Yonggu Do, Dohyung Kim & Sewon Oh. One Liter Limited 1ℓimit faucet looks more like an elegant test tube inverted on top of a tap.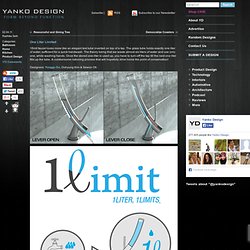 The glass tube holds exactly one liter of water, sufficient for a quick handwash. The theory being that we waste almost six liters of water and use only one, while washing hands. Once the stored one-liter is used up, you have to turn-off the tap till the next one liter fills up the tube. A cumbersome rationing process that will hopefully drive home the point of conservation! MIT's artificial leaf is ten times more efficient than the real thing. Speaking at the National Meeting of the American Chemical Society in California, MIT professor Daniel Nocera claims to have created an artificial leaf, made from stable and inexpensive materials, which mimics nature's photosynthesis process.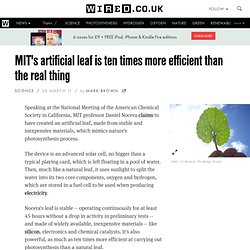 The device is an advanced solar cell, no bigger than a typical playing card, which is left floating in a pool of water. Then, much like a natural leaf, it uses sunlight to split the water into its two core components, oxygen and hydrogen, which are stored in a fuel cell to be used when producing electricity. Nocera's leaf is stable -- operating continuously for at least 45 hours without a drop in activity in preliminary tests -- and made of widely available, inexpensive materials -- like silicon, electronics and chemical catalysts. It's also powerful, as much as ten times more efficient at carrying out photosynthesis than a natural leaf. ‪Trumpf - Direct Metal Deposition‬‏ ‪Rotundus GroundBot on a parking lot.‬‏ ‪Nissans EPORO - Cutting-edge vehicle collision prevention technology : DigInfo‬‏ ‪Cyberdyne HAL Robot Suit and Cybernics research #DigInfo‬‏
---