Seanwjesus
sean
How to Crack a Wep Protected Wi Fi With Airoway and Wifislax
Edit Edited by Liljozee, MA, Eric, Maluniu and 7 others This tutorial shows how to crack a WEP key using Airoway in Wifislax 3.1. For this process it is necessary to have an IPW3945 as chipset of the NIC (Network Interface Card). Edit Steps 1 Download Wifislax from the official page . 2 Burn the downloaded .iso into a CD in order to boot it. 3 Reboot the computer (if necessary) and boot it . 4 Press Enter when necessary . 5 Elect the option no pcmcia and press Enter . 6 Introduce root as user and toor as password in order to login . 7 Introduce now startx to start the operative system in graphics mode . 8 Go to Start> Wifislax> Asistencia Chipset> Asistencia intel pro wireless> Cargar ipw3945 inyección - ipwray-ng; to start injection mode .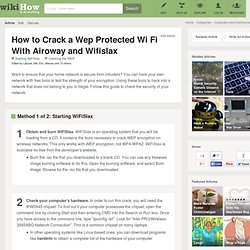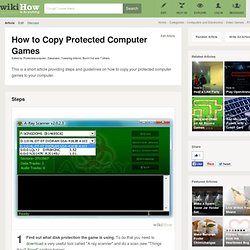 Edit Edited by Protectedcomputer, Zakanator, Towering Inferno, Burnt Out and 6 others This is a short article providing steps and guidelines on how to copy your protected computer games to your computer.
How to Copy Protected Computer Games
Edit Edited by Horses4Ever, Jimmy Davey, Flickety, Sondra C and 19 others It is very normal to lose disks for computer games, and sometimes you have the disk but you're just too lazy to get them. This wikiHow will show you how to make it so all you have to do is double-click the desktop icon and the game will start up. No more of getting up to play computer games.
How to Play Your Computer Games Without Any Discs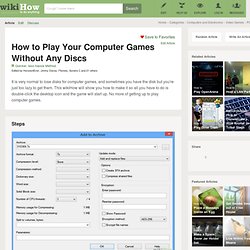 Win Free, Win Big, Free Prizes, Free Giveaway Contests - EZWinGame
zShare is one of the oldest free file hosting service on the Web, offering a space for easy uploading and sharing of your media files such as music, pictures and video's. You can also transfer your personal documents to zShare to have an online backup, safely stored within the cloud. Simply click the button below to select those files you wish you upload and start sharing them with your friends, family and colleagues all over the world!
my-uploads
Origami Green Tea Cup