Outside the Box
Michio Kaku ( pron.: / ˈ m iː tʃ i oʊ ˈ k ɑː k uː / ) ( 加来 道雄 , Kaku Michio ? , born January 24, 1947) is an American theoretical physicist , the Henry Semat Professor of Theoretical Physics in the City College of New York of City University of New York , a futurist , and a communicator and popularizer of science. He has written several books about physics and related topics; he has made frequent appearances on radio, television, and film; and he writes extensive online blogs and articles. He has written two New York Times Best Sellers , Physics of the Impossible (2008) and Physics of the Future (2011).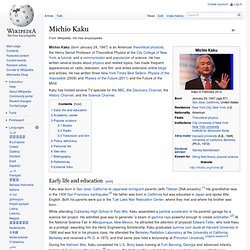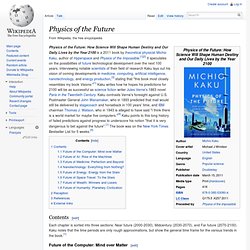 Physics of the Future: How Science Will Shape Human Destiny and Our Daily Lives by the Year 2100 is a 2011 book by theoretical physicist Michio Kaku , author of Hyperspace and Physics of the Impossible . [ 1 ] [ 2 ] It speculates on the possibilities of future technological development over the next 100 years. Interviewing notable scientists of their field of research Kaku lays out his vision of coming developments in medicine , computing , artificial intelligence , nanotechnology , and energy production , [ 3 ] stating that "this book most closely resembles my book Visions ." [ 1 ] Kaku writes how he hopes his predictions for 2100 will be as successful as science fiction writer Jules Verne's 1863 novel Paris in the Twentieth Century . Kaku contrasts Verne's foresight against U.S. Postmaster General John Wanamaker , who in 1893 predicted that mail would still be delivered by stagecoach and horseback in 100 years' time, and IBM chairman Thomas J.
Physics of the Future
Stephen William Hawking , CH , CBE , FRS , FRSA (born 8 January 1942) is a British theoretical physicist , cosmologist , and author. Among his significant scientific works have been a collaboration with Roger Penrose on gravitational singularities theorems in the framework of general relativity , and the theoretical prediction that black holes emit radiation, often called Hawking radiation . Hawking was the first to set forth a cosmology explained by a union of the general theory of relativity and quantum mechanics . He is a vocal supporter of the many-worlds interpretation of quantum mechanics.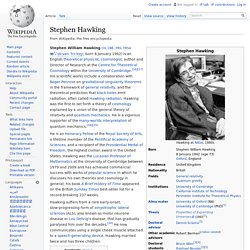 A Brief History of Time
A Brief History of Time (subtitled "From the Big Bang to Black Holes") is a popular-science book written by British physicist Stephen Hawking and first published by the Bantam Dell Publishing Group in 1988. [ 1 ] It became a best-seller and has sold more than 10 million copies. [ 2 ] It was also on the London Sunday Times best-seller list for more than four years. [ 3 ] [ edit ] Overview A Brief History of Time attempts to explain a range of subjects in cosmology , including the Big Bang , black holes and light cones , to the nonspecialist reader.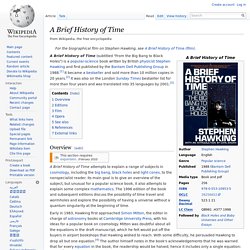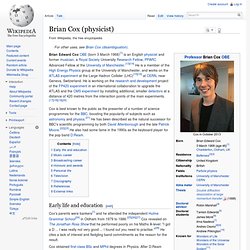 Brian Edward Cox , OBE (born 3 March 1968) [ 1 ] is a British particle physicist , a Royal Society University Research Fellow , PPARC Advanced Fellow and Professor at the University of Manchester . [ 8 ] [ 9 ] He is a member of the High Energy Physics group at the University of Manchester, and works on the ATLAS experiment at the Large Hadron Collider (LHC) [ 10 ] [ 11 ] at CERN , near Geneva, Switzerland. He is working on the R&D project of the FP420 experiment in an international collaboration to upgrade the ATLAS and the CMS experiment by installing additional, smaller detectors at a distance of 420 metres from the interaction points of the main experiments. [ 12 ]
Brian Cox (physicist)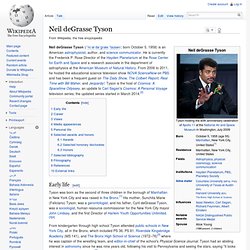 Neil deGrasse Tyson ( pron.: / ˈ n iː ə l d ə ˈ ɡ r æ s ˈ t aɪ s ə n / born October 5, 1958) is an American astrophysicist and science communicator . He is currently the Frederick P. Rose Director of the Hayden Planetarium at the Rose Center for Earth and Space and a research associate in the department of astrophysics at the American Museum of Natural History . From 2006 to 2011 he hosted the educational science television show NOVA ScienceNow on PBS and has been a frequent guest on The Daily Show , The Colbert Report , Real Time with Bill Maher , and Jeopardy! . It was announced on August 5, 2011, that Tyson will be hosting a new sequel to Carl Sagan 's Cosmos: A Personal Voyage television series. [ 2 ]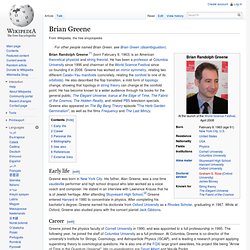 Brian Greene
Brian Greene (born February 9, 1963) is an American theoretical physicist and string theorist . He has been a professor at Columbia University since 1996. Greene has worked on mirror symmetry , relating two different Calabi–Yau manifolds (concretely, relating the conifold to one of its orbifolds ). He also described the flop transition, a mild form of topology change, showing that topology in string theory can change at the conifold point.
The Elegant Universe: Superstrings, Hidden Dimensions, and the Quest for the Ultimate Theory is a book by Brian Greene published in 1999, which introduces string and superstring theory , and provides a comprehensive though non-technical assessment of the theory and some of its shortcomings. In 2000, it won the Royal Society Prize for General and was a finalist for the Pulitzer Prize Nonfiction. A new edition was released in 2003, with an updated preface. [ edit ] Table of contents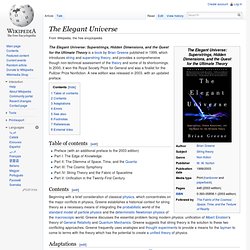 The Elegant Universe
The Hidden Reality: Parallel Universes and the Deep Laws of the Cosmos
Brian Greene talks about The Hidden Reality on Bookbits radio. The Hidden Reality is a book by Brian Greene published in 2011 which explores the concept of the multiverse and the possibility of parallel universes . It has been nominated for the Royal Society Winton Prize for Science Books for 2012. [ edit ] Content In his book, Greene discussed nine types of parallel universes : The quilted multiverse only works in an infinite universe.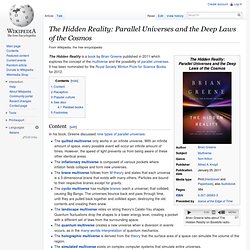 Antony Garrett Lisi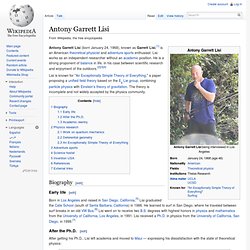 Antony Garrett Lisi (born January 24, 1968), known as Garrett Lisi , [ 1 ] is an American theoretical physicist and adventure sports enthusiast. Lisi works as an independent researcher without an academic position. He is a strong proponent of balance in life, in his case between scientific research and enjoyment of the outdoors. [ 2 ] [ 3 ] [ 4 ] Lisi is known for " An Exceptionally Simple Theory of Everything ," a paper proposing a unified field theory based on the E 8 Lie group , combining particle physics with Einstein's theory of gravitation . The theory is incomplete and not widely accepted by the physics community.
Garry Davis
Garry Davis (born 27 July 1921, Bar Harbor, Maine ) is a peace activist who created the first World Passport . [ edit ] Early life Davis was the son of Meyer and Hilda Davis.
Defending Yourself Against "Legal Fiction"
We as living people no longer know or understand who we are and everything has been inverted upside down. We have lost our identities and once again have given away our birthright for "bowl of pottage." First Comment: Paul Greetings Henry, In our work to date, we have come across these claims several times: it's important to realize that some of them can be substantiated with good authority, while others appear to be theories that have somehow "morphed" into fact primarily for the one(s) asserting such claims.
Timothy Francis Leary (October 22, 1920 – May 31, 1996) was an American psychologist and writer, known for his advocacy of psychedelic drugs . During a time when drugs such as LSD and psilocybin were legal, Leary conducted experiments at Harvard University under the Harvard Psilocybin Project , resulting in the Concord Prison Experiment and the Marsh Chapel Experiment . Both studies produced useful data, but Leary and his associate Richard Alpert were fired from the university nonetheless because of the public controversy surrounding their research. Leary believed LSD showed therapeutic potential for use in psychiatry . He popularized catchphrases that promoted his philosophy such as " turn on, tune in, drop out "; " set and setting "; and " think for yourself and question authority ".
George Denis Patrick Carlin (May 12, 1937 – June 22, 2008) was an American stand-up comedian , social critic , satirist , actor , and writer / author who won five Grammy Awards for his comedy albums. [ 22 ] Carlin was noted for his black humor as well as his thoughts on politics , the English language , psychology , religion , and various taboo subjects. Carlin and his " Seven Dirty Words " comedy routine were central to the 1978 U.S. Supreme Court case F.C.C. v. Pacifica Foundation , in which a 5–4 decision by the justices affirmed the government's power to regulate indecent material on the public airwaves . The first of his 14 stand-up comedy specials for HBO was filmed in 1977.
Atheism is, in a broad sense, the rejection of belief in the existence of deities . [ 1 ] [ 2 ] In a narrower sense, atheism is specifically the position that there are no deities. [ 3 ] [ 4 ] [ 5 ] Most inclusively, atheism is simply the absence of belief that any deities exist. [ 4 ] [ 5 ] [ 6 ] [ 7 ] Atheism is contrasted with theism , [ 8 ] [ 9 ] which in its most general form is the belief that at least one deity exists . [ 9 ] [ 10 ] The term atheism originated from the Greek ἄθεος ( atheos ), meaning "without god(s)", used as a pejorative term applied to those thought to reject the gods worshipped by the larger society. With the spread of freethought , skeptical inquiry , and subsequent increase in criticism of religion , application of the term narrowed in scope. The first individuals to identify themselves using the word "atheist" lived in the 18th century. Arguments for atheism range from the philosophical to social and historical approaches.
The God Delusion
Penn Jillette