Alternative media
Chapin's INFERNO is a "wandering cauldron of politically incorrect commentary" that addresses cultural and political issues. It will continue...until I kick it. Hey, Nonviolence is the ONLY way. Primary Political View: ANTI-SOCIALIST Leftists, don't subscribe, save us all time.
pinegrove33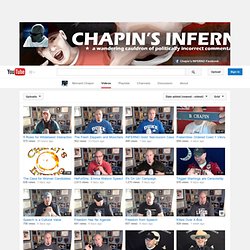 悩み アルギニンサプリメントというサプリメントはご存じでしょうか!このアルギニンサプリメントちう商品はさまざまなお悩みを持っている方に合わせてたくさんのサプリメントがあります! まず、アルギニンというというのは、アミノ酸の一種で天然成分となるのです。 お子様などには、オススメしたいですね!なぜなら、成長ホルモンを分泌してくれるというありがたい成分なのです!
Bernard Chapin - Author and Columnist
Facebook
Mark Dice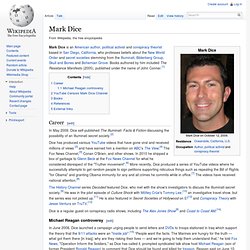 Career[edit] In May 2009, Dice self-published The Illuminati: Facts & Fiction discussing the possibility of an Illuminati secret society.[2] The History Channel series Decoded featured Dice, who met with the show's investigators to discuss the Illuminati secret society.[9] He was in the pilot episode of Culture Shock with Mötley Crüe's Tommy Lee,[10] an investigative travel show, but the series was not picked up.[11] He is also featured in Secret Societies of Hollywood on E![12] and Conspiracy Theory with Jesse Ventura on TruTV.[13] Dice is a regular guest on conspiracy radio shows, including The Alex Jones Show[8] and Coast to Coast AM.[14]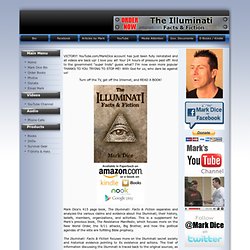 Mark Dice - Official Website - MarkDice.com
VICTORY! YouTube.com/MarkDice account has just been fully reinstated and all videos are back up! I love you all! Your 24 hours of pressure paid off!
MarkDice
4:43 Jay-Z is NOT in the Illuminati - SHOCKING EVIDE... 4,497 views 16 hours ago 2:44 Justin Bieber: My Owl Tattoo Has a Secret Meani... 6,100 views 22 hours ago 4:47 Let's Pretend There Was no Election Fraud for a... 3,007 views 1 day ago 5:38 Justin Bieber: "I'm not in the Illuminati" 9,116 views 1 day ago 4:34 Hidden Cameras at Kevin Trudeau's Global Inform... 3,723 views 2 days ago 19:23 Conspiratainment - Conspiracy Entertainment, Fe... 3,025 views 2 days ago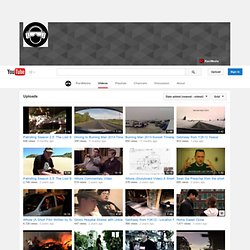 rantmedia
RantMedia is an independent media organization and serves as the host company for various audio/video projects by James O'Brien and Sean Kennedy. RantMedia has also distributed content via torrent, various video hosting services, private download, and viral physical media dispersement since its inception in 1999. RantMedia is an independent media organization and serves as the host company for various audio/video projects by James O'Brien and Sean Kennedy.
In celebration of RantMedia's 15 year anniversary we're having a blowout sale on all the DVDs and TShirts in the RantStore! All DVD sets are down from $15 to ONLY $5!!! TShirts are down from $18 to ONLY $10!! Also if you buy ALL FOUR DVD s...ets, you pay only $15!! That's over 31 hours of SKTFM goodness for only $15, how can you beat that?? Once these DVDs and shirts are gone, they're gone forever!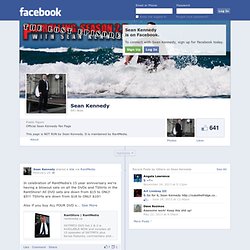 Facebook
-=NEWSREAL=-
Dark Atlas
Who is this Sean Kennedy guy anyways? The charismatic voice and face at the forefront of almost every RantMedia project. Sean's myriad of projects stretch from the early beginnings of RantRadio with the WhatTheHell?!? Show to his award winning animation 'Tales from the Afternow: Little Rocks'. Whether it be controversial issues, or the latest piece of technology, Sean has probably ranted about it. Sean's fame is rooted in his now classic 2-4 minute rantings in which he furiously discusses daily issues in his interesting life.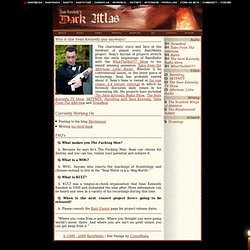 LarkenRose.com
LarkenRose
Tax protester history in the United States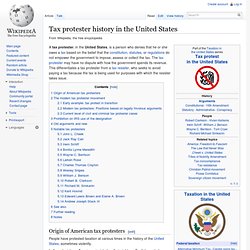 Origin of American tax protesters[edit] People have protested taxation at various times in the history of the United States, sometimes violently. In the colonial era, Americans insisted on their rights as Englishmen to have their own legislature raise all taxes. Tax loads were very light. Beginning in 1765 the British Parliament asserted its supreme authority to lay taxes, and a series of American protests began that led directly to the American Revolution.
4409
RP4409
Max Igan
aodscarecrow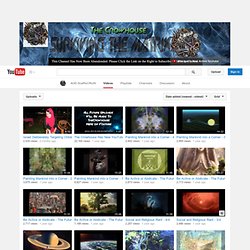 This is Max Igan's Official YouTube Channel. Hideous new corporate and non user friendly channel design brought to you by YouTube as part of the ongoing initiative to curtail freedom of expression and social interaction. The illusion of freedom will continue for as long as it's profitable to continue the illusion. At the point where the illusion becomes too expensive to maintain, they will take down the scenery, move the tables and chairs out of the way, they will pull back the curtains and you will see the brick wall at the back of the theater. - Frank Zappa Universal Law
Welcome to The CrowHouse.
By Stewart Rhodes, Former Ron Paul Staffer and Founder of Oath Keepers. Today, on election day, Denny Rehberg deserves to go down in flames just like Conrad Burns did in 2006. Conrad Burns lost to Tester precisely because he lost the liberty vote in Montana. And Burns lost the liberty vote because he had abandoned the Constitution and violated his oath by voting for unconstitutional laws, such as the Patriot Act.
Dirt Rhodes Scholar
Oath Keepers – Guardians of the Republic
Cowboys And GovThugs: The Cows Come Home They mounted up and rode into the face of the BLM's guns, and by their determination and courage, the cows came home. Add this video to your already abundant love for the American spirit.
OathKeepersOK
Oath Keepers video clips montage DVD now available at http://www.onedollardvdproject.com About Oath Keepers: Oath Keepers is a non-partisan association of currently serving military, veterans, and peace officers who will fulfill the oath we swore to support and defend the Constitution against all enemies, foreign and domestic, so help us God.
Webster Tarpley
Webster Griffin Tarpley (born 1946) is an American historian, economist, journalist, lecturer and a critic of U.S. foreign and domestic policy. He is a member of the Maryland Democratic Party and a former high-ranking member of Lyndon LaRouche's U.S. Labor Party.[1] Education[edit] Tarpley speaks fluently in Italian, German, French, Latin and Russian.[3] Career[edit]
Webster G. Tarpley, Ph.D. TARPLEY.net April 5, 2014 News reports on the reaction in Kiev to the reunification of the Crimean peninsula with Russia have included the idea that some Ukrainians resent the failure of the United States or the western European powers to intervene militarily against Russia in favor of the new Kiev fascist government. At the same time, it appears that Ukrainian military units have uniformly refused to fight for their borders, their bases, their headquarters, or other strategic assets under their control.
TARPLEY.net
Webster Tarpley Blog
Jason Bermas
theintelhub
NotForSale2NWO
Stefan Molyneux
stefbot
Freedomain Radio – The Home Page
www.BenLowrey.com | Welcome to Sovereigns, Voluntarists & Free men and women
benlowreyhimself
Ben Lowrey
The Corbett Report
corbettreport
Dan Dicks
Dean Clifford
DCDOTCF
Dean Clifford Freeman CLasses
weavingspider
PRESS FOR TRUTH
Alex Jones (radio host)
TheAlexJonesChannel
Alex Jones
Planet Infowars
Truth Broadcast Network - The Truth Shall Set You Free!
Superbigbadman
Luke Rudkowski
wearechange
We Are Change | Be the Change You Wish to See in the World | WeAreChange.org
Adam Kokesh
AdamKokesh
Adam Vs The Man | Anchoring the Internet 7 Days a Week
thetruthergirls
Home Page
Facebook