Themes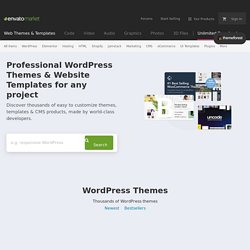 12,750 Site Templates and Themes from $3 HTML, Email, WordPress, PSD, Joomla, Magento Start Browsing Popular Files Learn More Weekly Features Next Free File!
Full Wordpress 3.0, 3.1, 3.2, 3.2.1, 3.3.1, 3.3.2, 3.4 and 3.4.2 Compatibility! Mobility is an iPad-ready WordPress theme with finger sliding capabilities and a custom drag-and-drop gallery admin. Both the regular and iPad versions have seven color options and the choice between a single or three-way JavaScript slider on the homepage. The iPad version can switch between portrait and landscape mode upon rotation.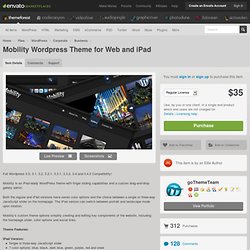 Mobility Wordpress Theme for Web and iPad - WordPress
Thirty Ten | Just another Twenty Ten Child Theme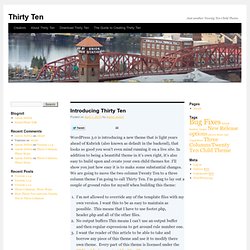 Introducing Thirty Ten WordPress 3.0 is introducing a new theme that is light years ahead of Kubrick (also known as default in the backend), that looks so good you won't even mind running it on a live site. In addition to being a beautiful theme in it's own right, it's also easy to build upon and create your own child themes for. I'll show you just how easy it is to make some substantial changes. We are going to move the two column Twenty Ten to a three column theme I'm going to call Thirty Ten. I'm going to lay out a couple of ground rules for myself when building this theme:
This online generator creates your own custom unique WordPress Theme. Without any need for HTML, JS, PHP, or CSS knowledge. Change the colors, settings, layout, preview live, click "save" and download your unique Wordpress theme zip-file.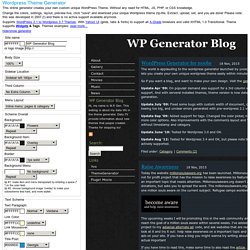 Wordpress theme me! » Blog Archive » Quality Magazine Themes