Random
Can You Call a 9-Year-Old a Psychopath?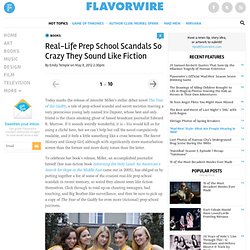 Today marks the release of Jennifer Miller's stellar debut novel The Year of the Gadfly, a tale of prep school scandal and secret societies starring a very precocious young lady named Iris Dupont, whose best and only friend is the chain-smoking ghost of famed broadcast journalist Edward R. Murrow. If it sounds weirdly wonderful, it is – Iris would kill us for using a cliché here, but we can't help but call the novel compulsively readable, and it feels a little something like a cross between The Secret History and Gossip Girl, although with significantly more masturbation scenes than the former and more dusty tomes than the latter. To celebrate her book's release, Miller, an accomplished journalist herself (her non-fiction book Inheriting the Holy Land: An American's Search for Hope in the Middle East came out in 2005), has obliged us by putting together a list of some of the craziest real-life prep school scandals in recent memory, so weird they almost seem like fiction themselves.
Real-Life Prep School Scandals So Crazy They Sound Like Fiction
Image credit: VisitWV.com One January afternoon in 1897, Erasmus (aka Edward) Shue, a blacksmith, sent his neighbor's young boy to see if Elva, Shue's wife of three months, needed anything from the market. When the neighbor boy walked through the front door of the Shues' rural Greenbrier County, West Virginia, log house, he found Elva's lifeless body at the foot of the stairs.
Elva Zona Heaster: The Ghost Who Helped Solve Her Own Murder
Theodore Roosevelt on the campaign trail in 1912. Photo: Library of Congress What brought them together in Milwaukee—Theodore Roosevelt and his would-be killer, John Flammang Schrank—on that cool night in October of 1912, was their differing opinions on whether any man should serve three terms in office as president of the United States. And what saved Roosevelt were the things he carried—a steel eyeglass case and a 50-page manuscript of his speech—tucked close to his chest, which absorbed the force of Schrank's bullet and prevented a lethal wound.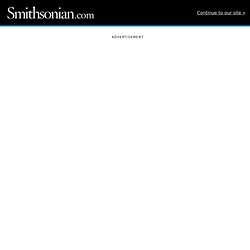 Theodore Roosevelt's Life-Saving Speech | Past Imperfect
Dartmouth Sorority Girl Goes Public With Her Hazing Nightmare
SeanaSteve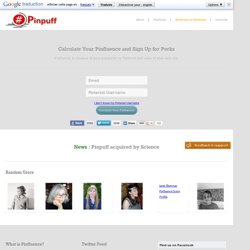 Calculate Your Pinfluence and Sign Up for Perks Pinfluence is measure of your popularity on Pinterest and value of your each pin. I don't know my Pinterest Username News : Pinpuff acquired by Science Random Users What is Pinfluence?
Pinpuff - Your Influence Score on Pinterest and Your Pin Worth - Pin Clout - Advertise on Pinterest
Archipelago Cinema, A Floating Auditorium in a Thai Lagoon
Confessions of an Ivy League Frat Boy: Inside Dartmouth's Hazing Abuses | Culture News | Rolling Stone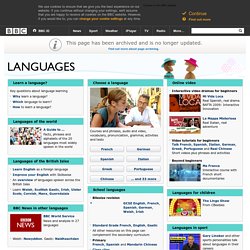 Languages - Homepage: All you need to start learning a foreign language
@import '/languages/includes/widgets/potd/css/potd.css'; @import '/languages/css/phase2/shared.css'; British Broadcasting Corporation Home Accessibility links This page hasn't been updated for a while.
Hunger Games Wedding Inspiration
33 Ways To Stay Creative
The Colour Clock
Comic-Con to open with 136-mile Olympics-style lightsaber relay
Feb. 09, 2012 | 9:10 a.m. Chris Hardwick, front, and Peter Levin pose with Nerdist audience members.(Gina Ferazzi / Los Angeles Times) The costume party that is Comic-Con International just got a major new photo op — fans and celebrities will participate in a 136-mile Olympics-style torch run in the days leading up to massive San Diego pop-culture expo but, of course, instead of torches they'll be holding aloft their lightsabers.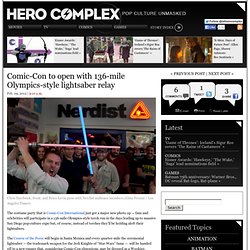 Once again, your internet connection's broadband speed will determine how fast these photos load. The 1890s was a very interesting time in advertising and, with the boom in bicycle manufacture and sales, there was plenty of money to spend on glorious posters and advertisements, particularly in America. By 1900 the bicycle boom was over in the USA, but advertising was still dominant, this time because of a more competitive market.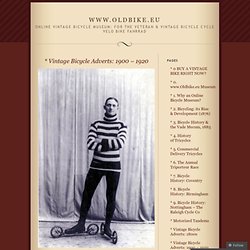 * Vintage Bicycle Adverts: 1900 – 1920 « www.Oldbike.eu
The 7 Stupidest Things That Make People Proud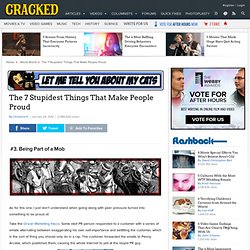 #3. Being Part of a Mob As for this one, I just don't understand when going along with peer pressure turned into something to be proud of. Take the Ocean Marketing fiasco. Some idiot PR person responded to a customer with a series of emails alternating between exaggerating his own self-importance and belittling the customer, which is the sort of thing you should only do in a rap. The customer forwarded the emails to Penny Arcade, which published them, causing the whole Internet to yell at the stupid PR guy.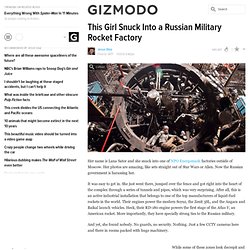 This Girl Snuck Into a Russian Military Rocket Factory
SExpand Her name is Lana Sator and she snuck into one of NPO Energomash factories outside of Moscow. Her photos are amazing, like sets straight out of Star Wars or Alien. Now the Russian government is harassing her.