Norman Reedus
Interview: Director Michelle Danner ('Hello Herman') Christian Toto DENVER, May 13, 2011 — Michelle Danner came across something unusual while auditioning pre-teens for roles in her new film "Hello Herman."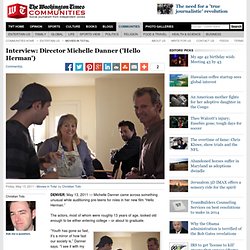 The actors, most of whom were roughly 13 years of age, looked old enough to be either entering college – or about to graduate. "Hello Herman" director Michelle Danner on the set "Youth has gone so fast, it's a mirror of how fast our society is," Danner says. "I see it with my [own] kids." 'The Dark Tower' gets a stay of execution -- for now. Last week, Stephen King fans were disappointed to learn that Ron Howard's plans to turn King's seven- (and soon to be eight-) book epic into a hybrid film-and-TV project might be derailed by budgetary concerns.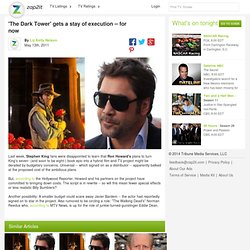 Universal -- which signed on as a distributor -- apparently balked at the proposed cost of the ambitious plans. But, according to the Hollywood Reporter, Howard and his partners on the project have committed to bringing down costs. The script is in rewrite -- so will this mean fewer special effects or less realistic Billy Bumblers? Lady Gaga Was 'Spontaneous' On 'Judas' Set, Norman Reedus Says. When Norman Reedus, who played the title character in Lady Gaga's "Judas" video, stopped by the MTV News offices Friday (May 6), he told us Gaga had everyone on their toes on set — in the best way possible.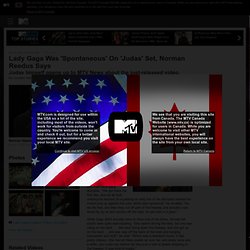 "I like the lipstick part, because that was sort of last minute," the "Walking Dead" star said. "She just jumped up [and was like], 'I have this great idea. I'm gonna put lipstick in front of you, and right before you kiss Jesus, I'm going to pull out this gun, and I'm gonna pull the trigger, and then a lipstick's [gonna come out], and then I'm going to put it on you like I'm enabling the kiss!'
'Judas' Star Norman Reedus Talks Behind-The-Scenes Action. Star of Lady Gaga's 'Judas' Reveals Secrets of the Set. Interview with Norman Reedus : Movie Mikes. Norman Reedus Interview. Cigarette Burns-On set interview with Norman Reedus. The Boondock Saints Norman Reedus Interview - StarCam. Q&A - Norman Reedus (Daryl Dixon) The actor talks about making a racist redneck likable, compares Daryl to a pet snake and describes the strangest meal he ever ate (it wasn't squirrel).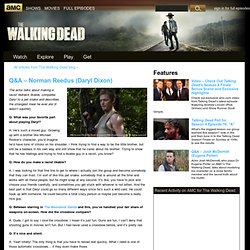 Q: What was your favorite part about playing Daryl? A: He's such a mixed guy. [Exclusive Interview] Norman Reedus on The Boondock Saints II: All Saints Day | Atomic Popcorn. After all these years the Boondock Saints sequel is finally coming out.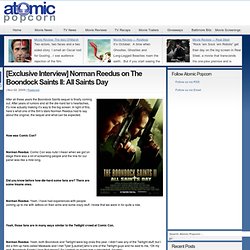 After years of rumors and all the die-hard fan's heartaches, it's now actually making it's way to the big screen. In light of this, here's what one of the film's stars Norman Reedus had to say about the original, the sequel and what can be expected. The Walking Dead. Norman Reedus.
---