Social commerce
Online Fundraising and Donations for Nonprofits | Razoo. Gravity.com. Online Fashion – Sales, Brands And Style Trends | Designer Sales | Styloko.com. GetVega - Remember Everything You Love. Moodboard Creator by Olioboard. Nuji - Your social wish list. Lyst - a better way to shop. Trending. Pinterest / Home. Buyosphere — People Helping People Shop. Mulu. Dwolla For Consumers. 8thBridge. Social Commerce Technologies | Product Reviews & Customer Reviews Software | Bazaarvoice. Three New Social Commerce Reports [Downloads] Hoffman, Altimeter & ATG.
The last few days have seen the publication of three new social commerce reports, two entirely dedicated to the subject (both embedded/downloadable below), and one e-commerce report addressing social commerce (download link).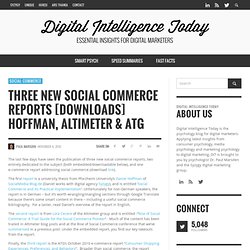 The first report is a university thesis from Pforzheim University's Daniel Hoffman of SocialMedia-Blog.de (Daniel works with digital agency Syzygy), and is entitled 'Social Commerce and its Practical Implementation'. Unfortunately for non-German speakers, the report is in German – but it's worth wrangling/mangling sections through Google Translate because there's some smart content in there – including a useful social commerce bibliography.
For a taster, read Daniel's overview of the report in English. The second report is from Lora Cecere of the Altimeter group and is entitled :"Rise of Social Commerce: A Trail Guide for the Social Commerce Pioneer". Social Media & Ecommerce.
---