News
New Rules for the New Internet Bubble. Carpe Diem We're now in the second Internet bubble.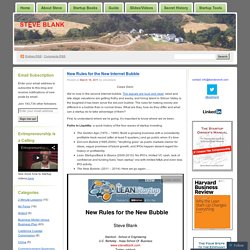 The signals are loud and clear: seed and late stage valuations are getting frothy and wacky, and hiring talent in Silicon Valley is the toughest it has been since the dot.com bubble. iPhone Tracks Your Every Move, and There's a Map for That | Gadget Lab. An unencrypted file stored in iPhones and iPads constantly records location data.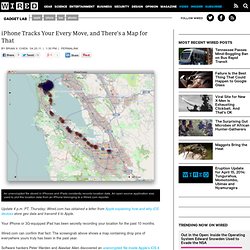 An open source application was used to plot the location data from an iPhone belonging to a Wired.com reporter. Update 4 p.m. PT, Thursday: Wired.com has obtained a letter from Apple explaining how and why iOS devices store geo data and transmit it to Apple. Your iPhone or 3G-equipped iPad has been secretly recording your location for the past 10 months. Wired.com can confirm that fact: The screengrab above shows a map containing drop pins of everywhere yours truly has been in the past year. App Store subscription policy could send apps packing while drawing lawyers. A day after Apple (AAPL) released its new policy for subscription-based apps to operate in the iTunes App Store and on iOS, there's a bit of an air of panic floating around.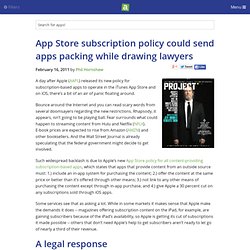 Bounce around the Internet and you can read scary words from several doomsayers regarding the new restrictions. Rhapsody, it appears, isn't going to be playing ball. Fear surrounds what could happen to streaming content from Hulu and Netflix (NFLX). E-book prices are expected to rise from Amazon (AMZN) and other booksellers. And the Wall Street Journal is already speculating that the federal government might decide to get involved.
A deeper dive into Do-Not-Track. You may also download this file.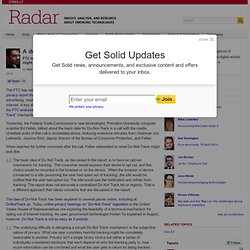 Running time: 59:54 The FTC has released a new online privacy report that could reshape advertising, media and business on the Internet. A key element of the report is the FTC endorsement of a "Do-Not-Track" mechanism for web browsers. Yesterday, the Federal Trade Commission's new technologist, Princeton University computer scientist Ed Felten, talked about the basic idea for Do-Not-Track in a call with the media. Unedited audio of that call is embedded above, featuring extensive remarks from chairman Jon Leibowitz, Jessica Rich, deputy director of the Bureau of Consumer Protection, and Felten. CRM Daily. 2011 Trends: Content Marketing Is Critical.
Next year, marketers will need to rethink their approach to advertising and marketing and intensify their focus on creating magnetic content that will naturally attract consumers, rather than relying solely on the interruption model of advertising, which consumers are responding to less and less.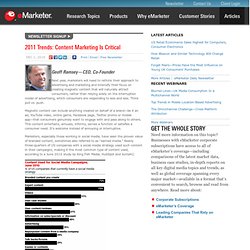 Think pull vs. push. Magnetic content can include anything created on behalf of a brand—be it an ad, YouTube video, online game, Facebook page, Twitter promo or mobile app—that consumers genuinely want to engage with and pass along to others. This content entertains, amuses, informs, serves a function or satisfies a consumer need. Delicious mass exodus. On news that Delicious is on Yahoo's sunset list, thousands of people decided it was time to take a look at simplified competitor Pinboard.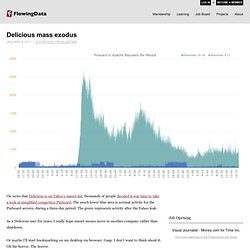 The much lower blue area is normal activity for the Pinboard servers, during a three-day period. The green represents activity after the Yahoo leak. As a Delicious user for years, I really hope sunset means move to another company rather than shutdown. Or maybe I'll start bookmarking on my desktop via browser. The App Market Is Heading For An App Store Showdown: Tech News and Analysis « Independent, off-deck, app stores will become the major driver of mobile app downloads by 2015, eclipsing on-deck app store.
That's the word of a new report from research firm MarketsandMarkets, which forecasts the growth of the mobile app market. The report estimates the global market will be worth $25 billion by 2015, with Apple's App Store accounting for 20.5 percent of total revenues. While on-deck stores like Android Market and the App Store represent 3/4 of app revenues, off-deck application downloads are expected to grow faster through independent stores like GetJar and others and will ultimately eclipse on-deck stores by 2015. Amazon.com lets you play with an Android virtual machine, try apps before you buy them. When Amazon's Appstore rolled out last week, we glossed over one detail that merely seemed neat.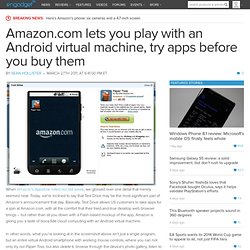 Today, we're inclined to say that Test Drive may be the most significant part of Amazon's announcement that day. Basically, Test Drive allows US customers to take apps for a spin at Amazon.com, with all the comfort that their tried-and-true desktop web browser brings -- but rather than sit you down with a Flash-based mockup of the app, Amazon is giving you a taste of bona fide cloud computing with an Android virtual machine. In other words, what you're looking at in the screenshot above isn't just a single program, but an entire virtual Android smartphone with working mouse controls, where you can not only try out Paper Toss, but also delete it, browse through the device's photo gallery, listen to a few tunes, or even surf the web from the working Android browser -- as difficult as that may be without keyboard input.
Amazon explains: Comcast internet down in the midwest, DNS servers to blame again. Deja vu all over again?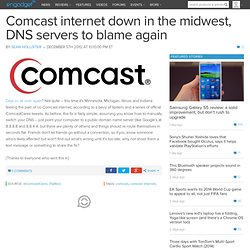 Not quite -- this time it's Minnesota, Michigan, Illinois and Indiana feeling the pain of no Comcast internet, according to a bevy of tipsters and a series of official ComcastCares tweets. As before, the fix is fairly simple, assuming you know how to manually switch your DNS -- just point your computer to a public domain name server (like Google's at 8.8.8.8 and 8.8.4.4, but there are plenty of others) and things should re-route themselves in seconds flat. Which Apps Are Threatened by Apple's Upgrades? Beck Diefenbach/ReutersAmong the updates to Apple's OS X operating system was a Safari reading list that works much like Instapaper.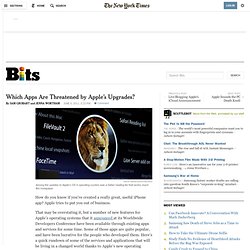 How do you know if you've created a really great, useful iPhone app? Apple tries to put you out of business. That may be overstating it, but a number of new features for Apple's operating systems that it announced at its Worldwide Developers Conference have been available through existing apps and services for some time. Some of those apps are quite popular, and have been lucrative for the people who developed them. Milestone: The Web (Finally) Surpasses Newspapers As Source for Americans' News. Although digital technologies have been changing the face of the news for at least the last decade, we have finally reached a important milestone: more people now get their news from online sources than they do from physical newspapers.
That's according to the Pew Research Center's Project for Excellence in Journalism, which has just released its latest report on the "State of the Media. " The study finds that, "By several measures, the state of the American news media improved in 2010," but that improvement did not extend to one important sector - newspapers - which continued to see a decline in revenues, readership and newsroom jobs. According to the survey, 46% of people now say they get their news online at least three times a week, surpassing newspapers (40%) for the first time. Only local television is more popular among Americans, with 50% indicating that's their regular source for news. Long Live the Web: A Call for Continued Open Standards and Neutrality. The world wide web went live, on my physical desktop in Geneva, Switzerland, in December 1990.
It consisted of one Web site and one browser, which happened to be on the same computer. The simple setup demonstrated a profound concept: that any person could share information with anyone else, anywhere. In this spirit, the Web spread quickly from the grassroots up. Today, at its 20th anniversary, the Web is thoroughly integrated into our daily lives. We take it for granted, expecting it to "be there" at any instant, like electricity. Tim O'Reilly: Cynical but accurate: New...
---