Location Based
Google Ditches Barcodes for NFC
Google is moving away from barcodes and towards NFC (near field communication) if a pair of stories about the search company are tied together. Yesterday, news broke out about Google's decision to officially end support for the use of QR codes, the 2D barcodes readable by camera-equipped mobile phones, in its business listings service Google Places. Today, non-profit industry association NFC Forum announced that Google has joined its ranks as a new member with voting privileges. If you've been waiting to see momentum surrounding NFC, here it is. Killing the QR Code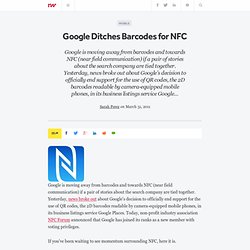 The Introductory Guide to Location-Based Marketing
Jason Dempsey | April 8, 2011 | 3 Comments inShare23 Location-based services can focus on a variety of engagement and marketing aspects. It's important to define your objectives as you migrate into these services.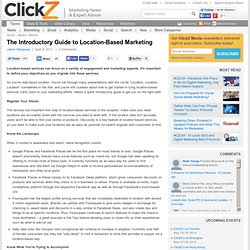 Changing consumer behavior is very difficult. Making things more efficient, easier, faster, or more convenient isn't enough if it requires a change in normal consumer behavior. Many tech startups fail because they don't consider the user experience and behavior changes required to use their amazing tech solutions. NFC (Near Field Communications) enables your smartphone to make digital payments. But will consumers care? Jean-Louis Gassee has an interesting take on NFC on Techmeme today.
NFC Digital Payments - what's in it for consumers?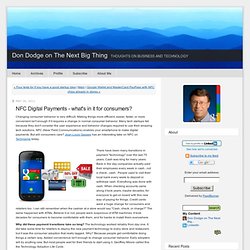 "Magic" Angry Birds Could Give NFC-Powered Nokia Phones A Bump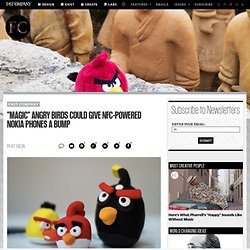 Rovio's incredibly popular Angry Birds game is about to take the next technological step with the Magic edition for Nokia phones. The secret here? You have to bang two NFC-enabled phones together to unlock game levels. Angry Birds is so popular, there's even been some scientific prying into exactly why flinging digital birds at pigs is so addictive. Rovio's also smart about exploiting the games' success, and has been expanding it across platforms and trying clever tricks to promote the game and keep the cash rolling in.