Location Based
Google Ditches Barcodes for NFC
The Introductory Guide to Location-Based Marketing
Jason Dempsey | April 8, 2011 | 3 Comments <a href="http://ad.doubleclick.net/jump/clickz.us/media/mobile;page=article;artid=2041824;topcat=media;cat=mobile;static=;sect=site;tag=facebook;tag=gowalla;tag=groupon;tag=living-social;tag=foursquare;tag=google;pos=txt1;tile=8;sz=2x1;ord=123456789?" target="_blank"><img src="http://ad.doubleclick.net/ad/clickz.us/media/mobile;page=article;artid=2041824;topcat=media;cat=mobile;static=;sect=site;tag=facebook;tag=gowalla;tag=groupon;tag=living-social;tag=foursquare;tag=google;pos=txt1;tile=8;sz=2x1;ord=123456789?" border="0" alt="" /></a>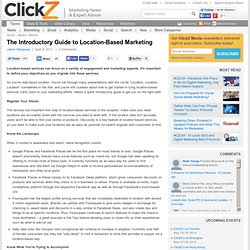 Changing consumer behavior is very difficult. Making things more efficient, easier, faster, or more convenient isn't enough if it requires a change in normal consumer behavior. Many tech startups fail because they don't consider the user experience and behavior changes required to use their amazing tech solutions. NFC (Near Field Communications) enables your smartphone to make digital payments. But will consumers care? Jean-Louis Gassee has an interesting take on NFC on Techmeme today.
NFC Digital Payments - what's in it for consumers?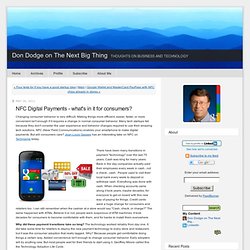 "Magic" Angry Birds Could Give NFC-Powered Nokia Phones A Bump
Rovio's incredibly popular Angry Birds game is about to take the next technological step with the Magic edition for Nokia phones. The secret here? You have to bang two NFC-enabled phones together to unlock game levels.