iOS
Levey/QuadCurveMenu - GitHub. Open Source iPhone Apps List – Real App Store Code Examples! | iPhone, iOS 4, iPad SDK Development Tutorial and Programming Tips. Welcome to the sixth iteration of the open source iPhone and iPad apps list.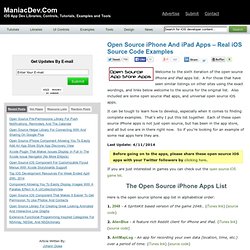 A For those that have seen similar listings on other sites using the exact wordings, and links below welcome to the source for the original list. Also included are some open source iPad apps, and universal open source iOS apps. Mobile Application Analytics | iPhone Analytics | Android Analytics. 1.0.5 Information | Three20. Included in this release: 1 new feature , and 10 resolved issues .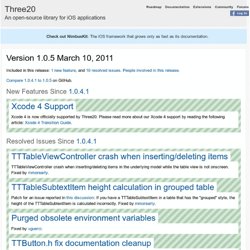 People involved in this release . Compare 1.0.4.1 to 1.0.5 on GitHub. New Features Since 1.0.4.1 Xcode 4 is now officially supported by Three20. 10 iOS Libraries to Make Your Life Easier | Brent Sordyl's blog. MBProgressHUD – Progress Indicator LibraryASIHttpRequest – HTTP Network LibraryJSON Framework – JSON SupportFlurry – Detailed Usage StatisticsRegexKitLite – Regular Expression SupportFacebook iOS SDK – Facebook API LibrarySDWebImage – Simple Web Image SupportGData client – iPhone library for all of Google's servicesCorePlot – 2D Graph PlotterThree20 – General iOS Library (Full Story: 10 iOS Libraries to Make Your Life Easier) Like this: Like Loading...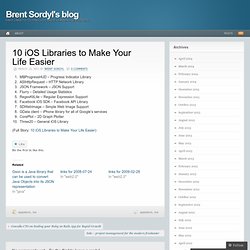 ---