Ecommerce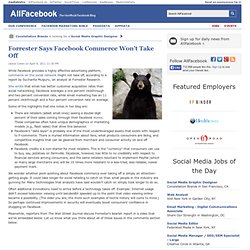 While Facebook provides a highly effective advertising platform, commerce on the social network might not take off, according to a report by Sucharita Mulpuru, an analyst at Forrester Research. She wrote that email has better customer acquisition rates than social networking; Facebook averages a one percent clickthrough and two percent conversion rate, while email marketing has an 11 percent clickthrough and a four percent conversion rate on average.
Forrester Says Facebook Commerce Won't Take Off
"You've got your Groupon and Living Social , and your Foursquare and Facebook Places," says Jonathan Marek.
Facebook Places, Foursquare: Social Media's Tiny 2% Impact on Businesses
CHART OF THE DAY: Facebook Has Little Effect On What You Buy Online
At this moment, the must-read stories in technology are scattered across hundreds of news sites and blogs. That's far too much for any reader to follow. Fortunately, Techmeme arranges all of these links into a single, easy-to-scan page. Our goal is to become your tech news site of record.
Facebook Ramps Up Big E-Commerce Drive (Olga Kharif/Business Week)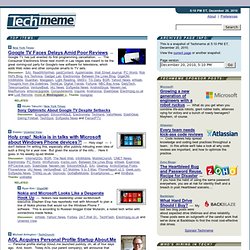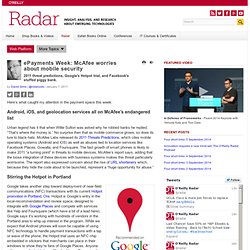 ePayments Week: McAfee worries about mobile security
Here's what caught my attention in the payment space this week: Android, iOS, and geolocation services all on McAfee's endangered list Urban legend has it that when Willie Sutton was asked why he robbed banks he replied, "That's where the money is." No surprise then that as mobile commerce grows, so does its lure to black-hats. McAfee Labs released its 2011 Threats Predictions , which cites mobile operating systems (Android and iOS) as well as abuses tied to location services like Facebook Places, Gowalla, and Foursquare.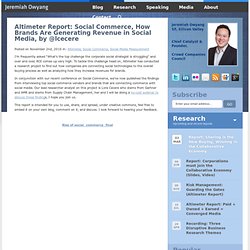 Altimeter Report: Social Commerce, How Brands Are Generating Revenue by @lcecere
I'm frequently asked "What's the top challenge the corporate social strategist is struggling" and over and over, ROI comes up very high. To tackle this challenge head on, Altimeter has conducted a research project to find out how companies are connecting social technologies to the overall buying process as well as analyzing how they increase revenues for brands. In conjunction with our recent conference on Social Commerce, we've now published the findings from interviewing top social commerce vendors and brands that are connecting commerce with social media. Our lead researcher analyst on this project is Lora Cecere who stems from Gartner and AMR and stems from Supply Chain Management, her and I will be doing a no-cost webinar to discuss these finding s, I hope you join us.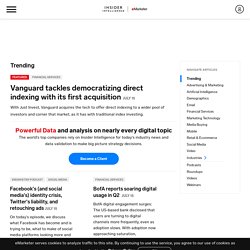 Today, Cyber Monday —once the biggest online shopping day of the year—may be losing much of its punch. Seduced by retailers' irresistible deals, shoppers didn't wait until Monday to buy online, but began purchasing over Thanksgiving weekend from the comfort of their homes seemingly before the pies were served. On Thanksgiving Day, online sales were up 33% compared to a year ago and the average order value rose 14.3% to $182.74 compared to $159.81 in 2009, according to IBM unit Coremetrics , a web analytics company.
Cyber Monday Is Dead, Long Live Online Shopping All Thanksgiving Weekend - The eMarketer Blog