Electronic music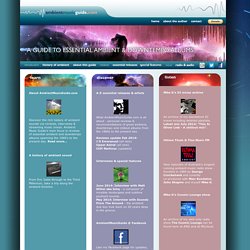 A-Z essential releases & artists What AmbientMusicGuide.com is all about - personal reviews & recommendations of great ambient, downtempo and chillout albums from the 1960s to the present day. Reviews update Feb 2014: J D Emmanuel (all new) Upper Astral (all new) Cliff Martinez (updated) Special features & interviews Latest addition: an interview with Steve Roach on the 30th Anniversray of his ambient classic Structures From Silence.
sljiva's Journal – My Top 50 Electronic Music Albums Of The 2000s – Last.fm
Somewhat late comes my list of the best albums of the last decade, but I was occupied alot the last couple of months and was rarely even online, plus I wanted to carefully check out all the albums released in 2009 to determine if something is suitable for the list (haven't unfortunately found anything exceptionally good), so better late than never I guess. I just want to say that in my opinion this last decade was amazing when it comes to electronic music. Technology really created a space for further experimentation and innovation and a lot of talented producers appeared who had an ability to fill up that space. Some others didn't even had to utilize the new technology to unleash the creativity which expanded and redefined some older styles and created some new ones.