Dubstep, Breakbeat, Electronic
Burial - Etched Headplate
Russian Lullaby - Butch Clancy dubstep
Don Diablo ft. Dragonette - Animale (Datsik Dubstep Remix)
DJ MADD - ARPZ3000
G Jones - N Judah
amon tobin - lost & found
Burial - Archangel
Trentemøller - Vamp [HQ]
Al Jawala - Heymischer Bulga (Bukez Finezt Dubstep Remix)
VLSONN - The Skinny - (Blynk Remix) Free DL @ Dubstep.Net
Black Sun Empire - Driving Insane Remixed
Phaeleh - Afterglow feat Soundmouse [OFFICIAL VIDEO]
Cypress Hill & Rusko feat Damian Marley - Can't Keep Me Down by Damian Marley on SoundCloud
Compa - Dem A Talk
Joker & Ginz - Purple City
Virus Syndicate ft David Lewis 'For the Music' (Official Music Video)
Skream - Rimz
rrkk
Deep & Eerie Riddims (Dubstep)
▶ Digital Pilgrimz - Shogun (pHybian remix) (clip) FORTHCOMING FUTURE FOLLOWERS by pHybian
Skream - Rutten | HD
Compa - Bacteria
Compa - Beginning
Compa - Dem A Talk
Deadmau5 - Meow (Skrillex remix) [HD] [Exclusive]
Lexx - El Sueno Lucido
April 2010 all vinyl dubstep set by Kombine on SoundCloud
Welcome to YouTube! The location filter shows you popular videos from the selected country or region on lists like Most Viewed and in search results.To change your location filter, please use the links in the footer at the bottom of the page. Click "OK" to accept this setting, or click "Cancel" to set your location filter to "Worldwide".
Widdler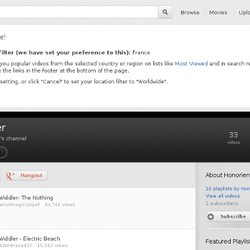 The Widdler - Dojo Nights
Subscape - Colour My World
RSD - Jah Way
Dub War - Keep On (1998) [HD]
The Widdler - Alleycat Blues
The Widdler - Origin (2010)
Antiserum & 12th Planet - Purple & Gold
[Dubstep] The Widdler - It's a Fine Day [HQ]
The Widdler - End Transmission
Amon Tobin - Nightlife
The Widdler - Sensi Samurai (HD Visualization)
The Widdler - Final Stage
▶ NiT GRit--Burning Man 2010 Mix by chrondog
▶ STEP´IN SOUND - ONE STEP FORWARD by KuosiK
Reggae Dubstep Mix (pt1/6) - by Jam I Am
OSC & DLG ft Budros Gali - One Mile High
Ripple- Sunday Morning Dub (HQ)
DJG- Shadow Skanking (HQ)
DJG - Duality
The Spit Brothers - Oh Contrarians
Jam I Am's sounds on SoundCloud
Unquote - Cold Tenderness
DFRNT Engine...Tenfold...dubstep
Shlomo - Ghosts
Andreya Triana - A Town Called Obsolete (Mala Remix)
Distance 'Falling' (Official HD Video)
Datsik @ Global Dance Festival - Kansas City on Vimeo
DatsiK - Nuke 'Em [Dubstep]
DatsiK - Jenova Project [dubstep] MENTALLLL
Glitch Mob live - Lincoln, NE on Vimeo
Chaîne de CrimeDub
Cyrus & Distance - Violate (RTP005) (HD)
Matty G feat Roommate :: Caetano :: Back To The Bay EP :: OUT NOW
Matty G :: True Soul :: Back To The Bay EP :: OUT NOW
Matty G & Ugene :: Back To The Bay :: OUT NOW
Joker - Back in the days Ft.Buggsy,Shadz,Scarz,Double....
Dragon Roost Island Dubstep Remix - Ephixa (Download at www.ephixa.com Zelda Step)
zedsdead's sounds on SoundCloud
Zeds Dead ft. Omar Linx - Out For Blood
Zeds Dead - Rude Boy [HD]
Massive Attack - Paradise Circus (Zeds Dead Remix)
Zeds Dead - Dark Side Dub
Joker - Milky Way [dubstep]
Benga - B4 the duel (Dubstep)
Benga - Crunked Up
Benga - I Will Never Change
Mala - In Luv
Mala - Forgive
Mala - Alicia
Rusko- Everyday Official Music Video
Rusko - Gully Flute
Rusko - Woo Boost
Kid Sister - Pro Nails (Rusko Remix)
Rusko - Cockney Thug
Rusko - Jahova
Coki - Mood Dub
Blackheart - Airbag
Kromestar - Konflict | 1080p
Kromestar - Medievil Warrior
Blackheart - Dazed
Black Sun Empire - Hyper Sun
Flux Pavillion - Night Goes On [HD]
Dub & Run - Milk
Antiserum & Ripple - Sound Biz
Blackleg - Smoke Test Dubstep HD
KOAN Sound - Trouble In The West