Opensource (general opensource)
Open source software is software that can be freely used, changed, and shared (in modified or unmodified form) by anyone. Open source software is made by many people, and distributed under licenses that comply with the Open Source Definition. The Open Source Initiative (OSI) is a global non-profit that supports and promotes the open source movement. Among other things, we maintain the Open Source Definition, and a list of licenses that comply with that definition. See our about and history pages for more. OSI Membership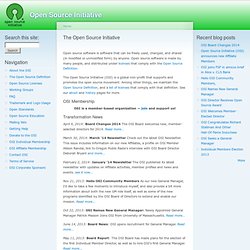 GnuPG is the GNU project's complete and free implementation of the OpenPGP standard as defined by RFC4880. GnuPG allows to encrypt and sign your data and communication, features a versatile key management system as well as access modules for all kinds of public key directories. GnuPG, also known as GPG, is a command line tool with features for easy integration with other applications.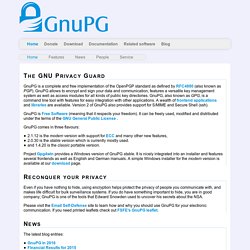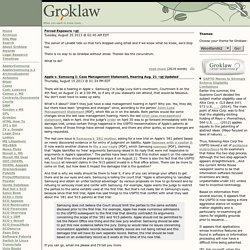 Themes Choose your theme for Groklaw: Presiding juror in Microsoft-Motorola trial a renowned geneticist Among the interesting tidbits to come out of the recently concluded Microsoft-Motorola patent trial is this fact: The presiding juror was Mary-Claire King, a University of Washington professor and a renowned geneticist who played a leading role in the identification of breast cancer genes. King, who declined to comment on the trial, led the jury that on Wednesday delivered a unanimous verdict in favor of Microsoft. [PJ: A "presiding juror" is a new phrase to me, as you normally see foreman or foreperson.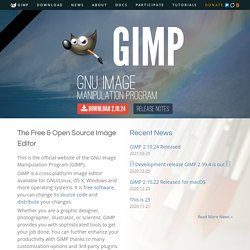 GIMP is the GNU Image Manipulation Program. It is a freely distributed piece of software for such tasks as photo retouching, image composition and image authoring. It works on many operating systems, in many languages.
GNU Telephony
From GNU Telephony GNU Telephony is a project to enable anyone to use free as in freedom software for telephony, and with the freedom to do so on any platform they choose to use. We also wish to make it easy to use the Internet for real-time voice and video communication, and in fact for all forms of real-time collaboration. Finally we wish to make it possible to communicate securely and in complete privacy by applying distributed cryptographic solutions. Our goal is to enable secure and private real-time communication worldwide over the Internet that is free as in freedom, and is also free as in no cost too!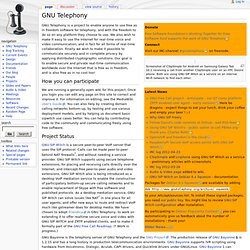 What is GNU? GNU is a Unix-like operating system that is free software—it respects your freedom. You can install versions of GNU (more precisely, GNU/Linux systems) which are entirely free software. What we provide.