Windows 8
Windows 8 is the next big thing from Microsoft. I really like somethings but remain unsure about others for the desktop. This is a collection of pearls releated to learning more about the new OS.
Info. Windows Store. News. Development. Reviews. Tips & Tricks. The Windows Explorer ribbon in Windows 8 is ready for prime time. Greg Shultz takes a closer look at some of the changes and new features in Windows Explorer in the Windows 8 Consumer Preview.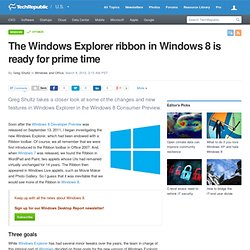 Soon after the Windows 8 Developer Preview was released on September 13, 2011, I began investigating the new Windows Explorer, which had been endowed with a Ribbon toolbar. Of course, we all remember that we were first introduced to the Ribbon toolbar in Office 2007. Microsoft Windows 8.
---